Intel Corp (NASDAQ:INTC) reported third quarter earnings on October 16 after the market close. The headline numbers were acceptable, but the 2013 commentary spooked traders. The stock sold off after hours and is trading down about three percent today.
Let's take a look at the report and earnings conference call in order to form a forward opinion on the company and its shares.
Intel Corp YTD Price, Volume and P/E Multiple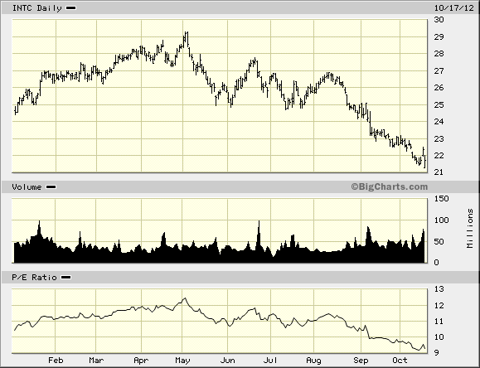 Courtesy of bigcharts.com
Third Quarter Numbers were Actually Pretty Good
Traders' current disdain for Intel was not based upon the third quarter figures. Top line revenue clocked in at $13.45 billion, flat with the previous quarter, and slightly ahead of Street expectations. Earnings per share were 58 cents, considerably ahead of the consensus forecast of 53 cents a share.
Margins remained sound. A key INTC financial metric is gross margin; watched closely by all analysts. The third quarter gross margin was 63.3 percent (GAAP) / 64.3 (non-GAAP). This beat Intel management's own expectations. Operating and net margins were actually better than the second quarter figures. Here's a quick summary table:
| | | |
| --- | --- | --- |
| Intel Corp | 3Q 2012 | 2Q 2012 |
| Revenues ($B) | $13.50 | $13.50 |
| Earnings per Share | .58 vs .53 forecast | .54 versus .54 forecast |
| Gross Margin Pct (GAAP) | 63.3 | 63.4 |
| Operating Margin Pct (GAAP) | 28.5 | 28.1 |
| Net Margin Pct (GAAP) | 22.1 | 21.2 |
So why all the long faces on Wall Street?
Storm Clouds on the Horizon
There were some more troublesome figures mixed in with the headline numbers
PC Client revenues were down 8 percent YoY; this business segment represents about two-third of Intel's total sales
PC and Server ASPs (Average Selling Price) were both down
Inventory was up. Third quarter inventory reached $5.3 billion versus $4.1 billion at the beginning of the year
Furthermore, company forecasts for the fourth quarter reflect ongoing weakness in most of Intel's business. In particular, final quarter gross margin is expected to come in about 57 percent (GAAP). This is a significant dropoff versus the first three quarters of 2012.
Forward Guidance is Uninspiring, No Catalyst for Change
The reason for selloff is the weak forward projections offered by Intel management. Indeed, while they deferred providing concrete numbers on the conference call, they set, at best, a lukewarm tone.
Management did not set expectations for an immediate recovery in margins, nor did they promise a quick turnaround in ASPs. Intel executives spoke about working off excess inventory via maintaining a lower factory utilization rate. While corporate leaders have historically under-promised and over-delivered, they clearly set a low bar going into 2013. Here's a conference call excerpt from CFO Stacy Smith; responding to a question about historical expenses as new process 14-nm technology ramps up:
I am not saying anything that would cause it to be off of historical patterns except if we look at what's happened in odd number years when we started the new process technology, you'll see a increase in startup costs that, it's pretty significantly in Q1 goes up somewhere in Q2 and then will start to come down from there, so I'm not saying (inaudible) that to be different from historical patterns.
On the positive side, management is optimistic about the dynamic future of information technology, and by definition, the chips that process that data.
So What's It Mean?
On the whole, Intel reported good third quarter numbers. However, going forward Intel recognizes a slowdown in the business. I believe what has changed is more of a worldwide macro issue, and less an "Intel is doomed" issue.
The Windows 8 refresh cycle could be a contributing factor, but I am not convinced (nor is Intel's management) that this is the sole culprit. Pundits have been calling for a retreat in PC sales for several years, and just now may this prediction moving from opinion to fact. Eventually they had to be right.
A question for investors is whether or not the PC sales issue is chronic. One could argue that if most of the world's large economies are stagnant or in decline, then the problem is cyclical. Historically, Intel has been part of a cyclical business. As the economies of the world recover, PC demand will improve: less so in the developed world, and more so in the emerging markets. I lean heavily towards this view. Smartphones and tablets are ancillary devices, but not out-and-out replacements for PCs. These new devices are good for receiving content, but content creation remains the purview of business and more traditional PCs and laptops. Furthermore, the advent of new hybrid technology will blur the lines between PCs and other devices. Detachable screens and keyboards are changing the traditional product lines. New first-time buyers in the emerging markets will continue to desire content-creating devices like a PC.
However, the bigger question for investors is their level of confidence in Intel's management. The Technology sector morphs and changes rapidly. As investors, a key premise is how we believe Intel's leadership will react to the situation going forward. What has happened looking backward is good reference, not a roadmap for the future.
Assuming that Intel staff will not or cannot react to the changes in the business would suggest a sale of the shares now. The skies are cloudy, and there is the potential of a downward spiral of both global economies as well as demand destruction for traditional PC products.
I suggest a much less dire view.
First, Intel is the biggest and strongest chip manufacturer in the world. They have the wherewithal to attract and retain the best and brightest minds in the business. The management team is experienced and strong. Financially, the company's balance sheet is pristine. Intel has the luxury of spending more on R&D than some of their competitors' annual net income.
Second, it appears to me that recent earnings conference calls indicate that Intel's management and board understand the industry challenges and INTC's related strengths and weaknesses. I do not subscribe to the opinion that the leadership is fighting against the business tide, nor lacks the vision to adapt and adjust to it. Assuming that Intel has been slow to the smartphone world, that would not, in isolation, be enough to suggest that INTC management is incapable or unwilling to change direction. Indeed, I believe re-imaging is exactly what they are doing. However, for a company with the span and scope of Intel, it takes time. It's like changing the course of a large ship versus a speed boat. Nonetheless, once a direction has been established, the momentum of such an enterprise is equally difficult to stop.
CEO Paul Otenelli offered the following comment on the call yesterday about this topic:
Intel has a history of navigating the industries transitions and emerging better and stronger. But the hardware and software road map expand the smallest portable devices to the most powerful data center servers and world leading silicon process technology, we are excited about the future and confident in our strategy and prospects in all the markets reserve.
Go-Forward Estimates
I modeled 2012 full-year earnings based upon the released data and Intel management's 4Q projections:
Intel Corp 2012 EPS Forecast
Revenues $53.5 billion
Cost of Sales <20.2> (based on 62.2 full-year gross margin)
MG&A plus R&D <18.1> (exc. Amortization of Intangible Costs)
Non-Op Inc. < 0.3> (interest, inv. income, non-op business)
Net Income BT $15.5 billion
Taxes < 4.2> (premise 27 percent rate)
Net Income AT $11.3 billion
Est. Average Shares Outstanding: 5.1 billion
PROJECTED 2012 EPS: $2.22
Without further company input, I have no strong view of 2013 earnings other than what the analyst's have projected. Their view is a flat year.
The Bottom Line
Intel's third quarter results were acceptable. However, their general go-forward guidance and business view is weak. Short-term, I see no real catalyst to propel that shares higher, other than the current over-reaction to management's conference call and earnings announcement. Assuming 2013 EPS is roughly in-line with projected 2012 results, it appears that a P/E of 12X is appropriate. Notably, the current trailing P/E is 9.2X. A 12X multiple suggests a target value of about $26 a share. The dividend (now yielding 4.15 percent) is secure.
For an investor with a longer view, one may recognize Intel as the reigning industry leadership giant. While change takes more time for a $50 billion a year company than a smaller enterprise, it would appear unlikely that Intel lacks the awareness, financial strength, or intellectual horsepower to morph and adapt to whatever the marketplace holds going forward. I hesitate to bet against Intel on the long-term.
The stock price appears a bit depressed, the valuation is attractive, and the balance sheet and cash flows are sound. While I do not plan to acquire more shares immediately, I plan to hold my position and continue to monitor carefully company and industry developments.
Disclosure: I am long INTC. I wrote this article myself, and it expresses my own opinions. I am not receiving compensation for it (other than from Seeking Alpha). I have no business relationship with any company whose stock is mentioned in this article.