NAND flash memory maker SanDisk (SNDK) is expected to benefit from the supply constraints faced after Toshiba and Samsung have cut their production. The benefits can be seen in the third-quarter earnings report, scheduled to be announced Oct. 18 after the market closes.
The demand for NAND flash memory will continue to be strong until at least the first half of 2013 if analysts' estimates are true. This optimistic view is based on some facts.
NAND flash memory is a component for smartphones, e-readers, media tablets, and ultrabooks. Typically, third and fourth quarters generate higher demand due to the holiday season in the fourth quarter. Smartphones and media tablets generate more interest among consumers.
There are reports suggesting that analysts' expect Apple's (NASDAQ:AAPL) iPhone 5 to record sales of at least 50 million units in the fourth quarter. SanDisk is one of the suppliers of NAND flash memory to Apple. SanDisk will also likely to benefit from Apple's lowered reliance on Samsung due to a changed relationship after the patent issue. Aside from this, Microsoft (NASDAQ:MSFT) is launching its surface tablet PC later this month. The software company will also unveil its much expected Windows 8. The launch of Windows 8 could lift the PC shipment to some extent as consumers who are holding off on their purchases may want to buy during the holiday season.
Nokia (NYSE:NOK), Amazon (NASDAQ:AMZN), and Motorola have either launched new products recently or will be launching new products in the coming weeks to take advantage of the holiday season sales. The first half also witnessed holding back of rebuilding the inventories due to macroeconomic issues. Now that the macro uncertainty seems to have receded from the sky-high levels, the rebound is expected in the second half. These factors should support the demand side.
The demand for NAND flash memory will exceed supply after Toshiba has initiated a 30% production cut from July 24. Samsung also followed suit and converted to produce logic products from memory chips. These two companies scaling down production plans have not only reduced the inventory in the market to improve the demand/supply curve, the move has also resulted in price stabilization at first. Now, the makers are effecting a price rise of up to approximately 15%.
Meanwhile, in a research note to clients, S&P Capital IQ analyst Angelo Zino thinks that the recent inflection in flash prices should result in higher gross margins for SanDisk. The analyst also believes that consensus is underestimating the price realization. Zino said, "We think supply constraints are likely to last through the first half of 2013, and we see healthy demand prospects." The analyst added, "We're keeping our 12-month target price at $55, on a blend of P/E and price-to-sales within peer and historical ranges."
Click to enlarge image.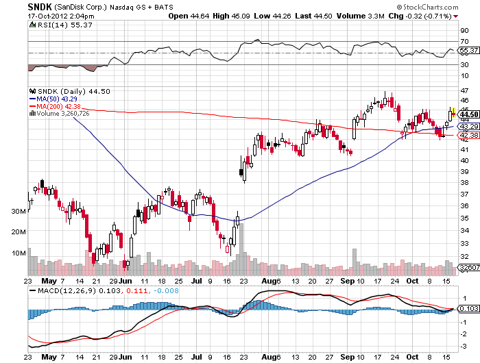 Interestingly, the point and figure chart above suggests a bullish price objective of $67.00. Currently, the stock is trading above the 50-day as well as the 200-day moving averages of $43.72 and $39.35, respectively. The chart also indicates that after the production cut was announced in July, the stock started moving on an upward trajectory. More weakening in end-market demand, competitive pressures, and price erosion could impact the results.
Disclosure: I have no positions in any stocks mentioned, and no plans to initiate any positions within the next 72 hours. I wrote this article myself, and it expresses my own opinions. I am not receiving compensation for it (other than from Seeking Alpha). I have no business relationship with any company whose stock is mentioned in this article.