Commodity Chart Of The Day
Daily Cotton
(click image to enlarge)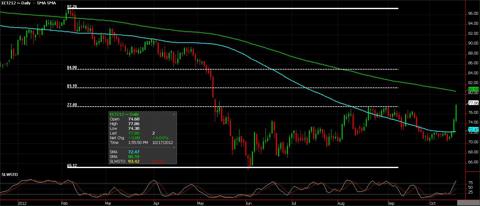 Click to enlarge
A daily limit in cotton lifts prices to five-month highs, as prices are above their 38.2% Fibonacci level for the first time since mid-May. The 100 day MA was resistance for several weeks but with the assault above that pivot point yesterday, prices are now on the move, appreciating nearly 10% in the last four sessions. I expect to see a trade near 81 cents, and potentially as high as 85 in December futures, which would complete a 61.8% retracement. Moving forward, I will be looking for signs to sell into this strength …stay tuned.
Risk Disclaimer: The opinions contained herein are for general information only and not tailored to any specific investor's needs or investment goals. Any opinions expressed in this article are as of the date indicated. Trading futures, options, and Forex involves substantial risk of loss and is not suitable for all investors. Past performance is not necessarily indicative of future results.
Disclosure: I have no positions in any stocks mentioned, and no plans to initiate any positions within the next 72 hours. I wrote this article myself, and it expresses my own opinions. I am not receiving compensation for it. I have no business relationship with any company whose stock is mentioned in this article.