On October 8, in my article "Taking A Flyer On DryShips," I explained the speculative motives why I entered a long position in DryShips (NASDAQ:DRYS). This article will serve as an update on that trading idea.
Baltic Dry Index
First of all, the improvement in pricing which led to the speculative trade has continued. As we can see below, the Baltic Dry Index continues to trade higher (source: Bloomberg).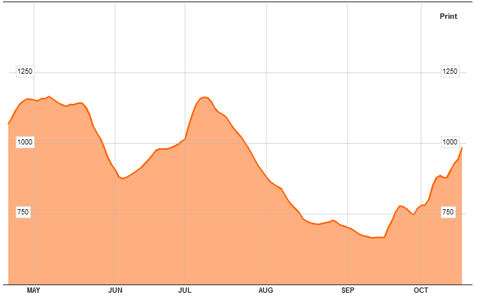 Click to enlarge
One of the alluring things about the Baltic Dry Index is that it trends rather well. Once it starts moving in a given direction, the movement tends to last for a while. This gives us some confidence that we won't quickly get blindsided by some huge fundamental movement against our rationale for taking the original position. If the freight pricing turns downwards, it should do so smoothly and be rather predictable.
However …
In my first article I already explained that most of the players in the dry shipping business are deeply indebted, and such debt carries large insolvency risk. In the last few days that risk has been hitting Overseas Shipholding Group (NYSE:OSG) pretty hard. Although OSG is a tanker company, the tanker business has been about as bad as dry shipping. When financial difficulties hit players in the tanking business, it's quite hard for investors and speculators not to draw the similarity with dry shippers and stay away from both tankers and dry shippers.
This kind of fear makes it harder for the trade to work.
Conclusion
Up to this point the fundamentals which drove me to take the flyer on DryShips remain favorable (in terms of evolution, not level). The stock hasn't moved much yet, just a couple of percentage points, but the rationale remains in effect.
I am also thinking of going long Diana Shipping (NYSE:DSX) under the same logic. Diana Shipping is in a much better financial position than most of its peers (including DryShips), as can be seen from reading J Mintzmyer's article, "Diana Shipping Will Benefit From Shipping Market Chaos."
Finally, I'd take any drop in the Baltic Dry Index that lasts about a week or so as a signal to exit these positions.
Disclosure: I am long DRYS. I wrote this article myself, and it expresses my own opinions. I am not receiving compensation for it (other than from Seeking Alpha). I have no business relationship with any company whose stock is mentioned in this article.
Additional disclosure: I may initiate a long position in DSX over the next 72 hours.