Introduction
After being surpassed by Samsung (OTC:SSNLF) as the world's largest mobile-phone maker, as a result of having a relatively disappointing current Lumia device set, an embarrassingly faked promotional advertisement for its flagship phone, a continual dwindling of market-share figures and the departure of its vice president Ilari Nurmi - where exactly is Nokia (NYSE:NOK) heading? The company's current market value is $11 billion, down 93% since 2007.
Company Profile
Nokia is a Finland-based mobile manufacturer. It ditched its old, in-house operating system, namely, Symbian, in 2011 for Microsoft's new Windows Phone software. It became a leading maps producer as it acquired the geographic information systems company NAVTEQ back in 2007 for $8 billion. Today, the company manufactures technological devices, providing mapping services thanks to NAVTEQ and provides professional services solutions to operators and service providers, under the Nokia Siemens Network banner. Nokia is ranked 22nd on world's most powerful brands list by Forbes magazine. The once reliable and market-leading mobile giant now has a dwindling market loyalty as customers switch to alternatives such as Apple (NASDAQ:AAPL) and Android.
Tracking Financials
The year 2012 has not been kind to Nokia, and much of it is the company's own fault, as it rolled out new products without providing maturity time for the previous phone models. Nor did it provide appropriate pricing strategies in Europe. In Q2 2012, the company earned €7.5 billion in revenue compared with €9.2 billion in Q2 2011, a year-on-year decrease of 18.47%. For the last five quarters, NOK stock has been experiencing a loss per share. The loss per share for Q2 2012 was €0.38, the largest loss value out of the last five quarters. Cash flow has been miserable as well, net income for Q2 2012 was a negative €2.3 billion compared with a negative €24 million in Q2 2011. Free cash flow also deteriorated to negative €0.73 billion in Q2 2012 compared with a negative €0.62 billion in Q2 2011.
As of October 17, 2012, data from Morningstar indicated Nokia's 52-week range varying from $1.68 to $7.38. The company has had dismal growth rates and margins over the past three years. Revenue growth has reached a negative mark of -8.7%. The ttm operating margin stands at -9.4% and ROE at an astounding -32.6. Nokia's debt looks under control as its debt/equity ratio stands at 0.4 compared with industry average of 2.4. Most financial and stock value indicators look grim for Nokia; the once dominant mobile company has fallen down the order exceptionally fast.
Stock Performance
At the time of writing, the company's stock has a price of $2.75 and a market capitalization of about $11 billion. Because the company competes in the mobile sector, it is up against hardware manufacturers for Android phones. In stock terms, its closest competitors are Ericsson Telephone Company (NASDAQ:ERIC) and Alcatel-Lucent (ALU). I realized that Nokia essentially aims to challenge Apple and Google for the mobile industry's top step, but comparison of the three companies would provide a skewed picture, which would not add value to the reader's experience. The rise of Apple and Google (NASDAQ:GOOG) on the stock market has been much documented, and comparing Nokia with their performance would be pointless.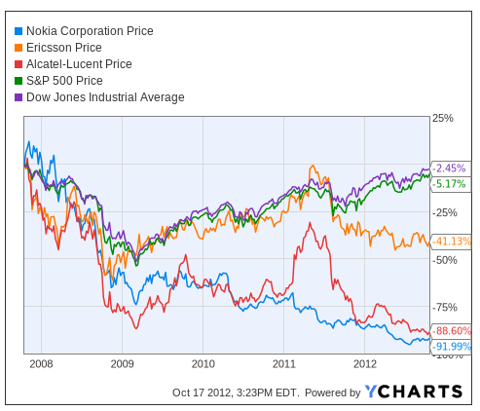 The graph illustrates the Nokia's performance against the S&P 500 and the Dow Jones Industrial Average, which has been downward and deteriorating with each year. In 2012, this stock hit its lowest value for the past 5 years. Compared with its peers, Nokia has been underperforming for the past year and a half because of the lack of expected and anticipated results. The company's share price has been sliding down.
What does the future hold?
At present, Nokia have almost 16,000 patents for telecom­mu­ni­ca­tion in the US and an estimated 20,000 patents out­side the US. On average, there are 13 years of patents still left for the company to use especially since some of the next-gen­er­a­tion building blocks for mobile services are in the company's patent portfolio, such as GSM, 3G, and LTE. A 2011 sur­vey showed that Nokia was the largest patent holder for essen­tial tech­nolo­gies in respect of LTE. This gives Nokia an inherent advantage for the development of mobile phones, especially when the current market leaders are embroiled in bitter patent infringement rows.
Since the demand for the company's Symbian mobile deteriorated much faster than the company expected, and the first crop of Windows Phones failed to take off as the company anticipated. However, the smart-phone industry of today remains a two-horse race in the US with Google and Apple. Learning from its mistakes of the past, Nokia will now be offering Lumia 900 exclusively with AT&T, making it more accessible to buyers.
In the mapping industry, Apple and Google are not the only companies in a race to re-create the world virtually. Nokia has invested billions of dollars, employs thousands of mapmakers, and even drives around its own version of Google's fabled "Street View" cars. With the acqui­si­tion of Navteq, Nokia became the largest provider of map­ping ser­vices in the world. The company's clients for mapping services include Google, UPS, Fedex, and many large play­ers in the auto­mo­tive industry. The primary advantage Nokia maps have over Google or Apple Maps is that it is does not require a data connection to function. This differentiating factor is the major reason that Nokia's navigation technology serves 90% of the automobile market. Nokia's services can be employed to improve Apple maps if the competitor aims to take such a direction. Furthermore, the company also provides mapping services to Google, which provides a significant amount of revenue to Nokia.
Make or Break for Investors
Nokia's stock performance has been nothing less than dismal over the past year. Investor confidence has dwindled, and the opinion to 'Sell' is shared by four of the ten analysts estimating Nokia. One analyst has provided an 'Underperform' status to the stock while the remaining five have advised to 'Hold' the stock. Now, there seems no promising development to spur investor interest in the stock, and relying on the flagship Lumia product for a change in fortunes is somewhat farfetched.
Bottom Line
Nokia's lack of innovation and drive has left it far behind the competition; the company's product offerings do not warrant burgeoning growth in the future. All the above-mentioned facts make me consider Nokia a 'Sell' option.
Disclosure: I have no positions in any stocks mentioned, and no plans to initiate any positions within the next 72 hours. I wrote this article myself, and it expresses my own opinions. I am not receiving compensation for it (other than from Seeking Alpha). I have no business relationship with any company whose stock is mentioned in this article.