PulteGroup (NYSE:PHM) shareholders got more good news from the Census Department, which reported that building permits came in at a seasonally adjusted 894,000 in September. Permits were 11.6% higher than August and an impressive 45.1% higher than a year ago. Housing starts were also strong, with 15% more breaking ground than in August, good for 34.8% year-over-year growth.
When coupled with August new-home sales, which rose 27.7% as inventory fell to 4.5 months from 6.6 months year over year, you get a compelling argument for buying homebuilders like Pulte.
Rising demand and tightening supply suggests Pulte's margins will thicken as pricing firms.
The company is scheduled to report Q3 earnings on Oct. 25 and investors are hoping results will prove as strong as Q2. During the second quarter, Pulte reported earnings of $0.11 per share as orders increased 32%. The results were a significant improvement from the $0.04 loss in Q2 2011.
More units sold -- the company's backlog expanded 31% to 7,560 homes -- helped adjusted gross margin climb 3.2% from the year before to 20.3%. A tight grip on spending allowed SG&A to drop to 12.1% of revenue, down from 15.4% a year ago.
Pulte's 14% quarterly revenue increase was driven by an 8% bump up in pricing. However, the company also benefited from growing appetite for securitized mortgages. Pulte's finance arm turned a profit of $16 million, vs. a $17 million loss in Q2 2011.
The sales and margin strength allowed Pulte to increase its cash position to $1.4 billion, up $96 million sequentially and equal to $3.44 per share. If the company posts similar results for Q3, analysts will push estimates higher, providing share price tailwinds. In the past 90 days, they've already upped 2013 forecasts to $0.91 per share from $0.65. This gives Pulte a forward P/E a shade above 18, which is below its five-year P/E low of 23.
The recovery remains in the early stages, which suggests plenty of room to run.
An even better reason to own Pulte and competitors like Lennar, which I discussed here, is potential future growth. While stocks have moved markedly from recession-era lows, they still remain solidly below mid-decade peaks. Even with analysts expecting a 75% jump in Pulte's 2013 EPS from 2012, the $0.91 still pales in comparison to the $5.47 it earned during the homebuilding frenzy in 2005.
While those heyday peaks may seem far-fetched, there's still plenty of runway to simply get back to multidecade averages, as shown on the following chart.
Click to enlarge images.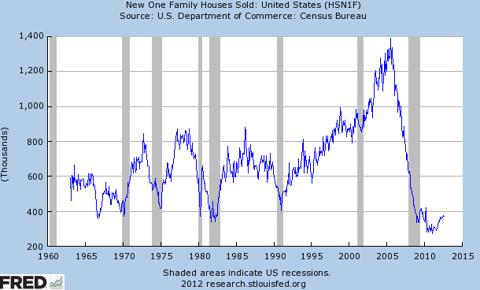 The broader homebuilding basket has been one of the top performers this year, with the Homebuilder ETF (NYSEARCA:XHB) up 49.7% in 2012. So it's likely we'll see institutions picking up shares into year-end. However, the basket is volatile too, with a daily standard deviation of 1.88% vs. 1.03% for the SPDR S&P 500 ETF Trust (NYSEARCA:SPY). This suggests investors should use down days and pullbacks to pick up shares.
The following chart shows Pulte's 10-year average monthly returns for Q4, suggesting early-quarter buyers are rewarded into year-end.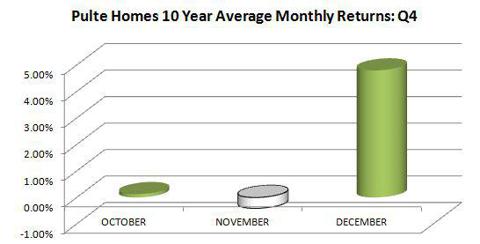 Source: Seasonal Investor.
Disclosure: I am long PHM, LEN. I wrote this article myself, and it expresses my own opinions. I am not receiving compensation for it (other than from Seeking Alpha). I have no business relationship with any company whose stock is mentioned in this article.