Freeport-McMoRan Copper & Gold Inc. (NYSE:FCX), based in Phoenix, Arizona, is engaged in the exploration, mining and production of mineral resources. It conducts its operations primarily through its three main subsidiaries, PT Freeport Indonesia, Freeport-McMoRan Corporation and Atlantic Copper. PT Freeport Indonesia's main asset is the Grasberg mine, which holds the world's largest copper and gold reserves. There are many reasons to like this company from a long-term perspective. Some of the more important ones are:
It is the world's largest low-cost producer of Molybdenum. Management is currently working to ramp up production at the Climax molybdenum mine and the company expects to produce roughly 20 million pounds of Molybdenum in 2013. After that gold production is 30 million pounds a year.
Construction at Tenke (Africa) is moving along well and is projected to be completed by 2013.
Management has stated that they will spend roughly $275 million on exploration in 2012 compared to $221 million last year. The company expects copper production to increase by approximately 25% over the next 3 years.
The $4 billion project in Cerro Verde to expand the concentrator facilities continues to go forward. Management wants to expand the concentrator's capacity from 120,000 metric tons to 360,000 metric tons of ore per day. Additionally, the goal is to increase annual production of Molybdenum and copper to 15 million pounds and 600 million pounds respectively by 2016. The company expects copper production in its North and South America operations to reach 3.5 billion pounds by 2016.
Additional reasons to consider Freeport-McMoRan Copper
Drilling data in North America continues to illustrate that there is potential to expand sulfide production.
Production at Chino is projected to increase from 69 million pounds of copper in 2011 to 200 million pounds by 2014. Freeport-McMoRan has started expanding its milling and mining capacity at Morenci to process more Sulfide ores. This project is expected to increase milling rates from 50,000 metric tons to 115,000 metric tons of ore per day. Management also wants to incrementally increase annual copper production with a target of raising production to 225 million pounds of copper in three years.
Annual EPS before NRI increase from $3.43 in 2008 to $4.84 in 2011
A decent yield of 3.10%
An excellent levered free cash flow of $2.17 billion
A good long term debt to equity ratio of 0.35
A quick ratio of 2.00
A five year dividend growth rate of 5%
Net income rose from $2.7 billion in 2009 to $4.56 billion in

2011

Cash flow per share increased from $4.44 to $5.95 per share
A low payout ratio of 32%
A good retention rate of 68%
An estimated EPS growth rate of 6.9% over the next 3-5 years
A an excellent interest coverage ratio of 22.5
A year over year projected growth rate of 42% for 2013
A strong current ratio of 3.5
$100K invested 10 years ago would have grown to $239k as indicated by the table below. We simply multiplied 1K by a 100 to arrive at our figure.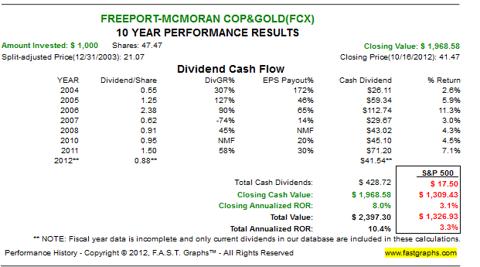 Technical outlook
The stock corrected rather strongly after it topped out in January of this year and lost over 33% of its value by May 2013. From May to July, it was essentially trending sideways and managed to break out of this base formation when it traded past $36.00 in August. The $36.00-$37.00 ranges now serve as support points (former resistance turned into support) and should serve as a short- or mid-term floor. The stock is currently building up momentum to break out, and a weekly close above $44 should result in a retest of the highs. Consider waiting for a test of the $40.00 ranges if you already have a position. If not you could deploy some at the current price, but keep some money aside just in case it pulls back.
Alternatively, you could sell in the money puts. When you sell puts that are in the money you have a higher chance of having the shares put to your account. For example, you could sell the May 2013, 43 puts are trading in the $4.95-$5.05 ranges. If you sold them at $5.00 or higher and the shares were put to your account, your final price would be $39.00. If the shares were not put to your account, you would walk away with a gain of roughly 12% in roughly 7 months.
Freeport-McMoRan Copper Versus the Competition
We are going to rate it against its main competitors using a host of key ratios such as quarterly earnings growth, P/E, operating margins, PEG, etc.
| | | | | |
| --- | --- | --- | --- | --- |
| | FCX | (NYSE:NEM) | (NYSE:SCCO) | Industry |
| Market Cap: | 40.19B | 27.72B | 31.14B | 16.81M |
| Quarterly revenue growth | -0.23 | -0.07 | -0.08 | 1.93 |
| Revenue | 18.44B | 10.42B | 6.88B | 445.95K |
| Gross Margin | 0.46 | 0.60 | 0.60 | 1.00 |
| EBITDA | 7.72B | 5.00B | 4.01B | -1.26M |
| Operating Margin | 0.35 | 0.38 | 0.54 | -2.91 |
| Net Income | 3.17B | 305.00M | 2.38B | N/A |
| EPS | 3.33 | 0.46 | 2.83 | N/A |
| P/E | 12.72 | 120.39 | 12.94 | 12.50 |
| PEG (5 yr expected): | 2.90 | 0.12 | 1.38 | 0.41 |
M= million B= billion
Charts and date of value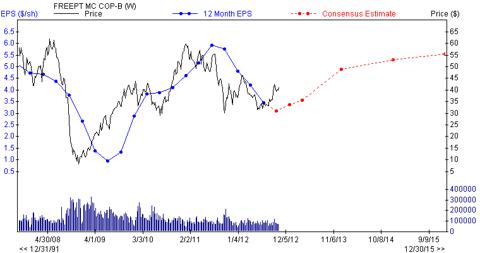 The stock has traded past the EPS line and usually when this occurs it is a signal of higher prices. Based on this recent breakout, the stock should trend higher over the short to midterm time frames.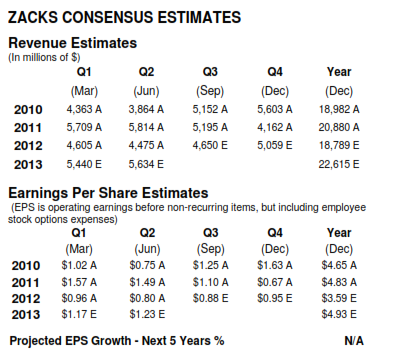 Zacks has an EPS estimate of $4.93 for 2013, which is almost 32% higher than its EPS estimate of $3.59 for 2012.
Conclusion
The stock has broken out nicely from a base formation that was in play from May to July of this year. It is currently attempting to build momentum to trade higher. A weekly close above $44 should result in a test of the $48.00-$49.00 ranges. The company will announce its results on the 22nd of October, and it appears that analysts are turning bullish on the company. The consensus estimate has moved up from $0.73 per share to $0.75 per share. The long term fundamental outlook for the company remains bright as indicated by the many bullish reasons provided in the body of this article. If you already have a position, consider waiting for a test of the $40.00 ranges before committing new funds to this play.
EPS charts obtained from zacks.com and some of the research data used in this article was obtained from zacks.com.
Disclaimer
It is imperative that you do your due diligence and then determine if the above plays meets with your risk tolerance levels. The Latin maxim caveat emptor applies-let the buyer beware.
Disclosure: I have no positions in any stocks mentioned, and no plans to initiate any positions within the next 72 hours.
Business relationship disclosure: This article was prepared for Tactical Investor by one of our analysts. We have not received any compensation for expressing the recommendations in this article. We have no business relationships with any of the companies mentioned in this article