Wendy's (NYSE:WEN) is undergoing the most radical transformation in its 40-plus years as a company. Bold new initiatives announced in the past 10 months are more audacious than many recent QSR turnarounds - yet the market is not listening. Such company-wide changes have potential to recast the long-term growth trajectory for shareholders and franchisees who are willing to look beyond the next few quarters. In the following article, I will continue my discussion on "A Long-Term Value Case for Wendy's."
As I will explain in Part III (due in the next few days), patient shareholders don't need to wait indefinitely. Rather, Mr. Market merely needs to begin discounting some of the catalysts described below. As I hope to make clear in the following articles, a recalibration of investor expectations is no longer a question of "if," but "when."
Part I Recap
In Part I of this series, I highlighted the recent historical context and Wendy's competitive positioning within an evolving dining out of home ecosystem. As mentioned in Part I, Wendy's lost its way after the death of co-founder Dave Thomas in 2002. M&A distractions and marketing boondoggles diverted attention from core operations. Shareholders paid the price. I concluded by explaining how, despite numerous missteps, the Wendy's brand remains resilient with end consumers. The following discussion will highlight the recent revitalization efforts and spotlight the growing list of catalysts for unlocking value.
Part II: Reaccelerating the Wendy's Flywheel
In his best-selling book titled Good to Great, author Jim Collins uses the flywheel analogy to capture the dynamic of change in an established business such as Wendy's. Collins says the following:
Now picture a huge, heavy flywheel. It's a massive, metal disk mounted horizontally on an axle. It's about 100 feet in diameter, 10 feet thick, and it weights about 25 tons. That flywheel is your company. Your job is to get that flywheel to move as fast as possible, because momentum-mass times velocity-is what will generate superior economic results over time.
As if writing with Wendy's shareholders in mind, Collins continues:
Right now, the flywheel is at a standstill. To get it moving, you make a tremendous effort. You push with all your might, and finally you get the flywheel to inch forward...You keep pushing steadily. It makes three turns, four turns, five, six. With each turn, it moves faster, and then -- at some point, you can't say exactly when--you break through. The momentum of the heavy wheel kicks in your favor.
To use the Collins analogy, the flywheel remains in good order. However, requiting the growth and excitement of Jim Near requires "tremendous effort" to move this flywheel back into high gear. Concentrated investment across the Wendy's eco-system must precede the realized benefits of renewed momentum and shareholder wealth creation. The following is a high-level overview of initiatives designed to re-energize the business.
Management shake up and new top-notch team in place as of 6/12 with a highly motivated activist investor (Trian Group) pushing for change. Trian Co-founder Nelson Peltz has a solid corporate turnaround track record. According to Peltz, "what we try to do is find a business, a good business that is not living up to its potential." Trian works with management to craft a winning strategy. However, unlike many activist shops, Trian focuses on improving company-operating leverage. As Peltz says "if you find a dollar on the balance sheet, it's worth a dollar, and we're not going to walk past a dollar. But if you find a dollar on the income statement, it's worth ten, fifteen or twenty dollars depending on the multiple that the stock trades at." As the Wendy's lead director, Peltz has focused on the less sexy and longer-term operational improvements. Hiring great people is the first step. Recently they added:
CEO Emil Brolick in late 2011. Emil has a winning track record as former COO of YUM. Interestingly, his career started at Wendy's as a key player in the 1980s Jim Near turnaround.
Chief Marketing Officer Craig Bahner from P&G in March of '12.
HR officer Scott Weisberg in May '12 from MEMC and General Mills.
SVP of Operations John Peters promoted in April '12 as long-time Wendy's veteran and former head of the western region.
Image Activation. On June 6, 2012, management announces they will upgrade 50% of company owned stores by 2015. Results in early Image Activation stores are off the charts…sales are up +25% and sustained thus far. Also, 50% of sales are now coming from the dining room (positively correlated with higher average guest check). They are seeing sales increase across all day-parts (including breakfast). Image Activation goes far beyond remodeling stores. They are:
Rebuilding human resource assets from the ground up, re-interviewing all store employees, re-hiring general managers and district managers.
Significantly improving customer service across the entire restaurant network through better analytics and benchmarking.
Delivering "bold and innovative design" of stores, logos and marketing. Aim is deliver the "wow" factor rather mere incremental improvements.
Re-building a new coherent marketing campaign for the first time in 8 years. Introduction of "Red" spokesperson and Wendy Thomas. The new CMO from P&G with extensive consumer product experience is directing the efforts.
An important leading indicator for Image Activation progress is franchisee buy-in. These entrepreneurs are the heartbeat of Wendy's. No significant corporate initiative will take root without franchisee backing. Anecdotal evidence suggests some of these key constituents support Image Activation. In late July 2012, the CEO of an 89 unit Wendy's franchise said:
The Image Activation program-the modernization of Wendy's restaurants-along with new restaurant acquisitions remain the focus of our 150 restaurant growth plan. We are allocating substantial resources toward Wendy's capital improvements and new store development, which we believe will ultimately accelerate sales growth as the Wendy's system transitions to a modern image…we are optimistic about the long-term growth and modernization prospects being developed by the Wendy's brand. The Wendy's opportunities for Meritage include revitalization of the core premium products, facility modernization-Image Activation, new store acquisitions, development and re-focused marketing initiatives. -- Robert E. Schermer Jr., Meritage CEO
Meritage (OTCQX:MHGU) is doubling down on its investment by purchasing additional Wendy's stores. It plans on adding 5 to 10 new units in 2012 with a goal of owning 140 units longer term (vs. 89 in July).
In addition, WendPartners, a 331 unit franchisee and GE recently announced a $16.1m sale-leaseback to "free up capital to reinvest in our business", according to franchise Lewis Topper. Clearly, something is in the works when major franchisees are taking these bold actions.
As seen in the June 28th IR day, ROI on the initial Image Activation stores is compelling-especially for well-capitalized franchisees. Assuming a 70% LTV ratio, 30% equity contribution and a 7% interest rate, ROI on a typical 14-unit franchise with a gradual four-year upgrade is 18% with the levered ROE of 48%.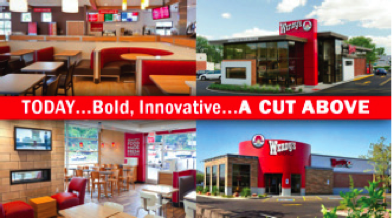 Menu extension and day-part expansion. Innovative menu pipeline and upgraded packaging in conjunction with Image Activation could reignite historic sales growth. Every $0.10 increase in average customer check results in a 1.5% sales lift per restaurant - no small potatoes when replicated across 6,500 locations.
International expansion. With a mere 355 international stores today, management conservatively expects an additional 350 units by 2016. At present they have 1,000 new international stores under development with line of sight to 8,000 units over the long-term. Keep in mind, the average unit volume (AUV) and profit contribution per unit is meaningfully higher than typical U.S. restaurants.
Other Catalysts
Wendy's offers a treasure trove of resource conversion opportunities for an activist investor and or Private Equity (PE). For example, 1,417 company-owned stores could be gradually re-franchised like BKC. Real estate assets could be spun off or sold. As I will explain in Part III, this business has great curb appeal as an LBO, merger or acquisition target. There's a reason private equity loves QSR chains.
A well-established QSR chain generates copious amounts of cash flow. This allows for leverage, financial engineering, or special dividends.
The market frequently undervalues this type of franchise network due to lack of appreciation for the unique financial characteristics. PE has the privilege of reframing a franchise in terms of what can be done with this long-term annuity like royalty stream.
In the case of Wendy's, Trian Group is the lead candidate given their 27% equity position. However, near-term takeover efforts are hampered by Section 203 of Delaware General Corporate law, which blocks business combinations for a period of three years after acquiring 15% or more of the company. Trian Group effectively faces a poison pill from Delaware law.
Though Peltz and company cannot incrementally acquire more than 32.5% ownership, they are permitted to bid provided they buy control of 50% at once. The WEN board of directors recently approved amendments that allow shareholders of 20% or more voting power to call special meetings - an important symbolic move that went largely unnoticed by the market at the last annual meeting.
Though a near-term takeover/resource conversion event is not expected, this possibility is on the table. There are many levers to pull at Wendy's and Trian bleeds green. As I will explain in Part III, this silent takeover is a major risk for some shareholders.
Summary
In spite of management missteps since the death of Dave Thomas in 2002, the Wendy's brand remains alive in the hearts and minds of American consumers. In Part II, I have just provided a glimpse into a few key catalysts. As mentioned above, the Wendy's board, at the behest of Trian Group, has taken bold steps to radically redirect the future growth trajectory for shareholders and franchisees. Efforts to re-engage the flywheel are beginning to bear fruit as seen in the recent SSS comps, marketing campaigns, and franchisee support. In the next article (Part III), I well examine NAV (net asset value) and quantify the potential upside for long-term investors.
Disclosure: I am long WEN. I wrote this article myself, and it expresses my own opinions. I am not receiving compensation for it. I have no business relationship with any company whose stock is mentioned in this article.