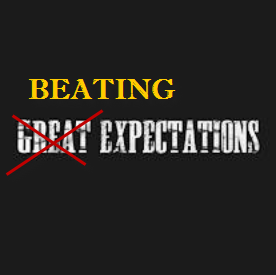 Another short post, as I have my usual seasonal bug, which with meds, renders me weak. Moving on, we see Housing Starts increasing by 15%, which makes me wonder, do we need more inventory? But realtors like to tell me people want "new" versus older homes. I can understand this, but many older homes are still selling way below their replacement costs.
The old game with earnings reports is still ubiquitous -- companies and analysts lower expectations sharply, then reports beat and relevant stocks rise. There's also little new with accounting gimmicks and adjustments. Bank of America (NYSE:BAC) is still writing down its Countrywide assets, so net of that, the company beat lowered estimates. With the combination of adjustments and lowered expectations, the company beat by reporting flat earnings vs. a small loss. On the other hand, IBM (NYSE:IBM) missed on revenues, which saw the stock much weaker. As a heavyweight in the price-weighted DJIA, the headline index was somewhat weaker, but ex-IBM, was probably much higher. Intel (NASDAQ:INTC) beat earnings expectations as well but forecast weaker growth going forward, and the stock declined. Most importantly, most revenues are declining, as American Express (NYSE:AXP) just reported earnings that matched expectations, but revenues missed and declined.
Leading markets higher were financials (NYSEARCA:XLF), energy (NYSEARCA:XLE), and homebuilders (NYSEARCA:ITB). The dollar (NYSEARCA:UUP) was much weaker, while precious metals (NYSEARCA:GLD) and (NYSEARCA:SLV) were only slightly higher. Bonds (NYSEARCA:TLT) were weaker, while commodities (NYSEARCA:DBC) and oil (NYSEARCA:USO) struggled to maintain unchanged levels.
Overseas, markets were cheered by some partial agreements with Spain (NYSEARCA:EWP), which makes me think current "baby steps" will see us revisit the situation again and again.
Volume on Wednesday was ultra-light once again, and breadth per the WSJ was positive overall.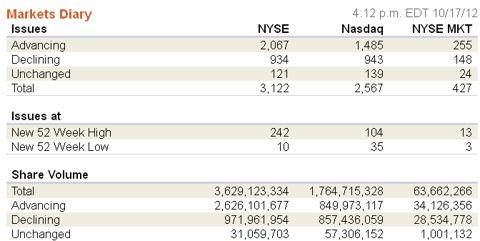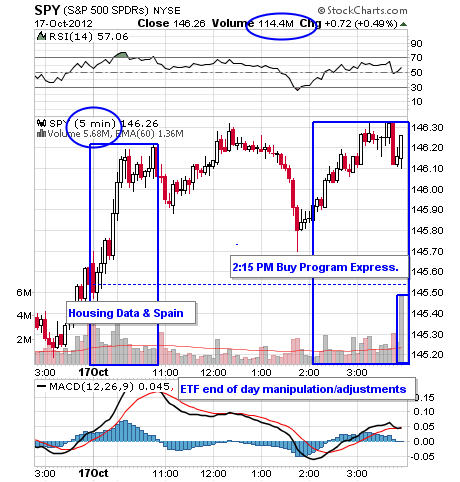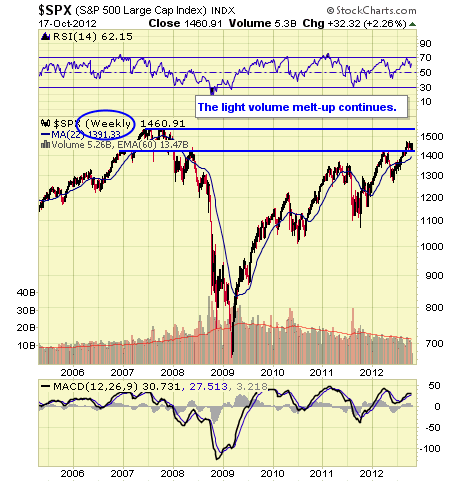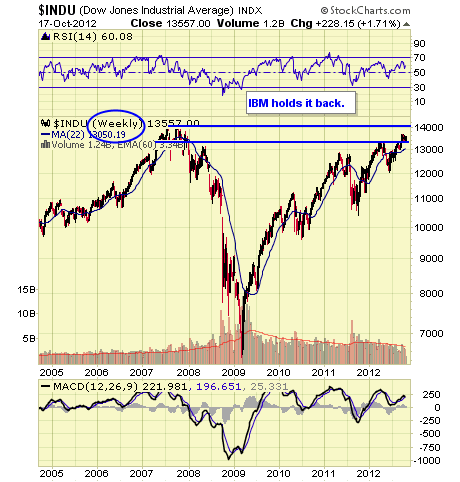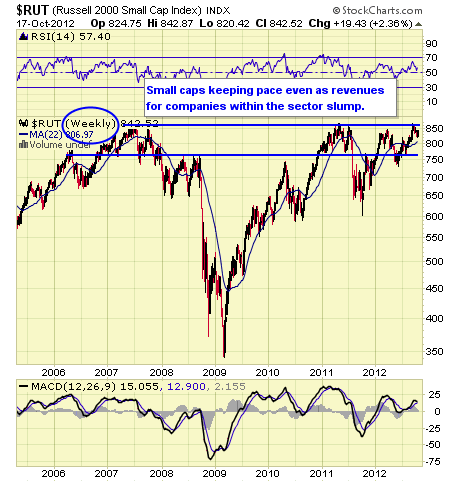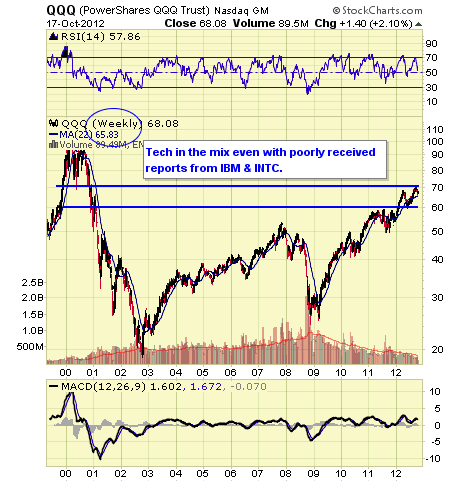 Continue to U.S. Sector, Stocks & Bond ETFs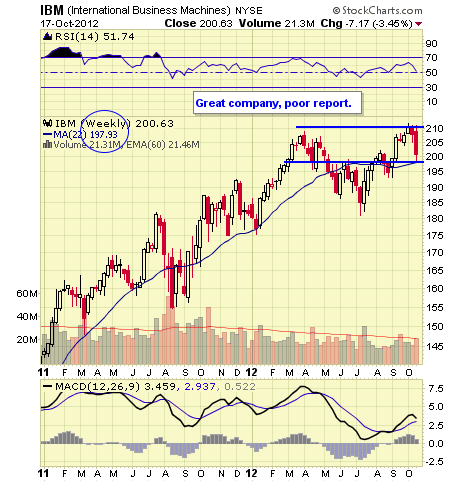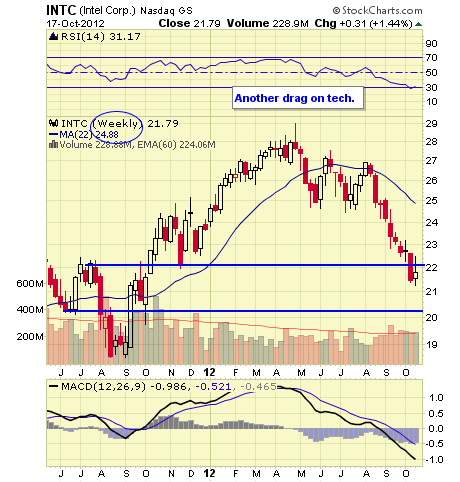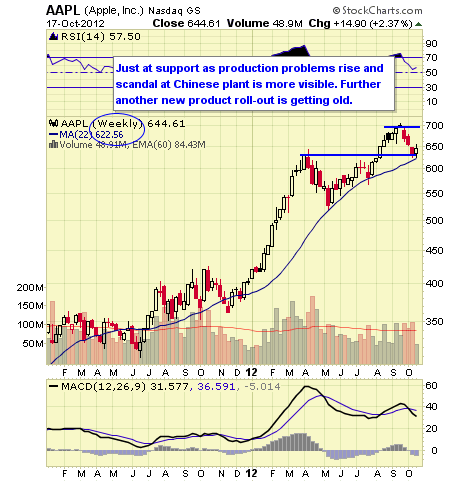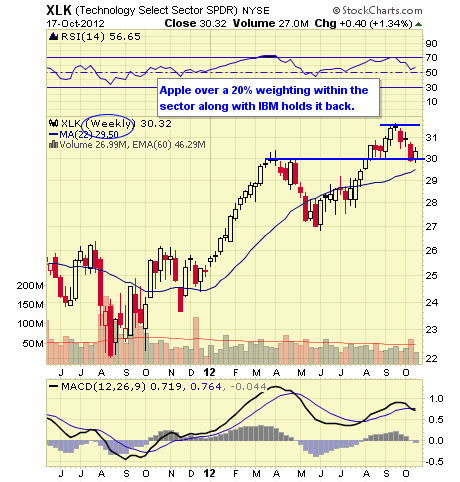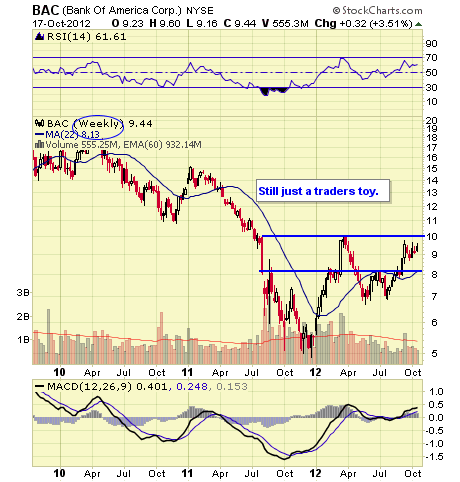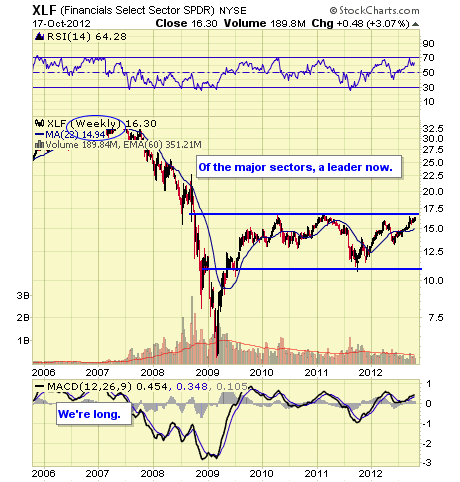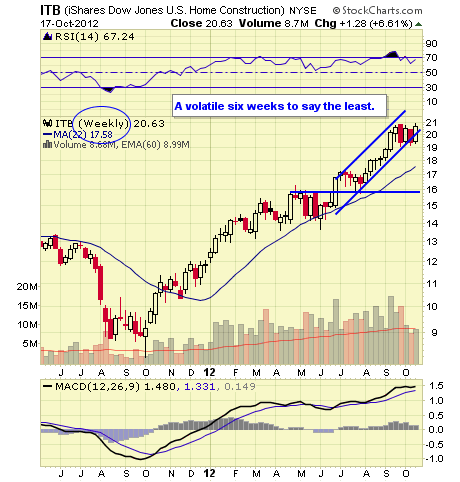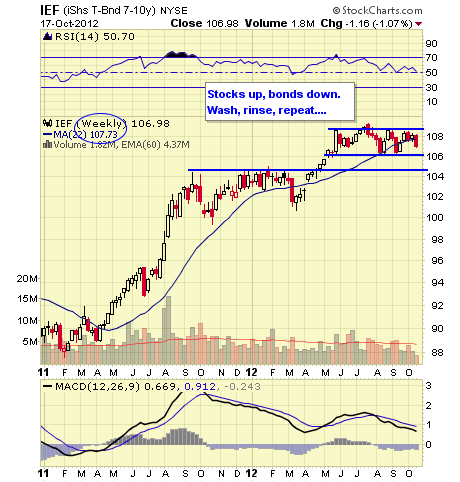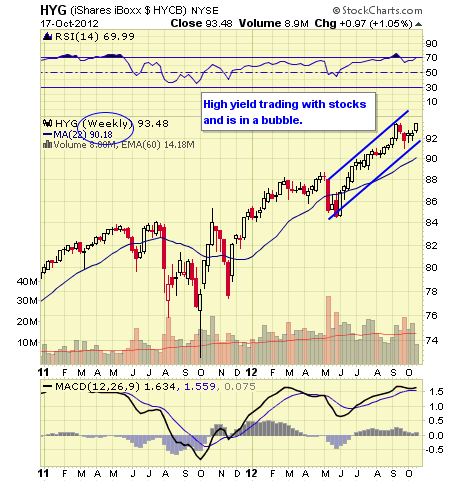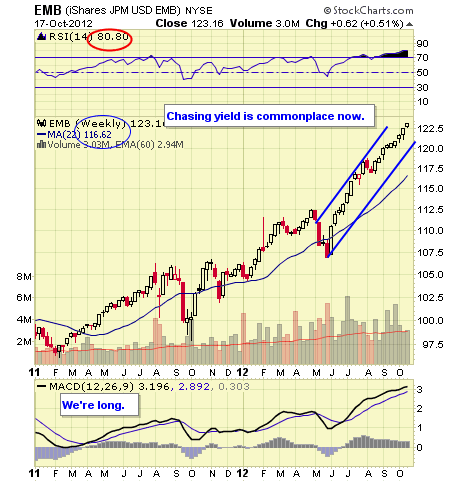 Continue to Currency & Commodity Market ETFs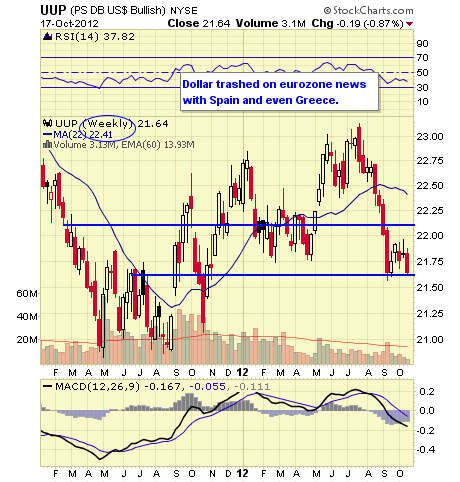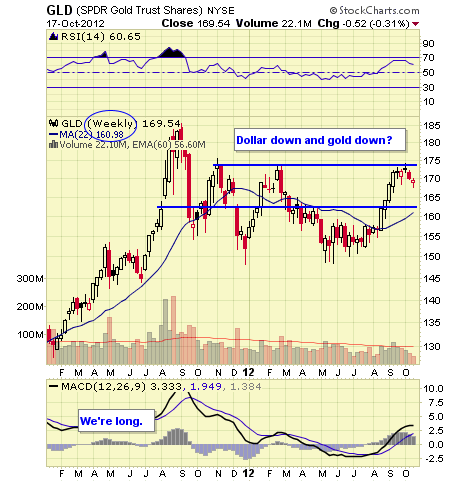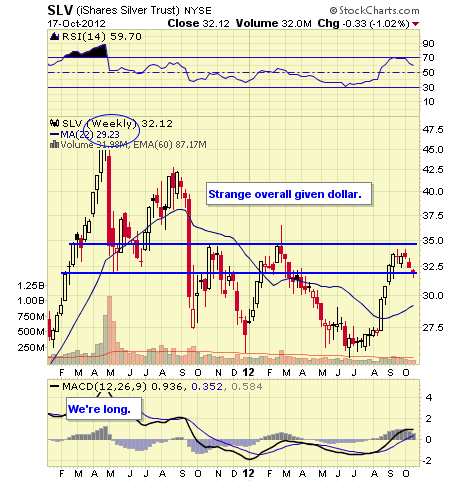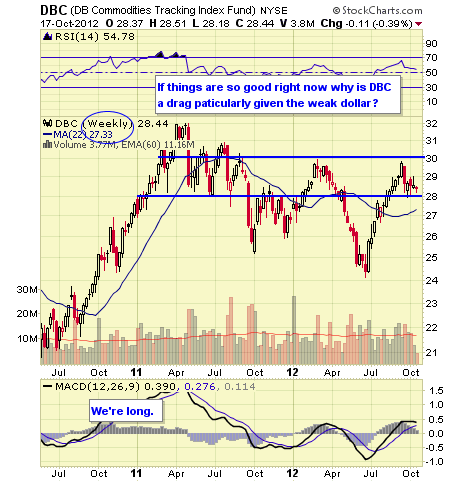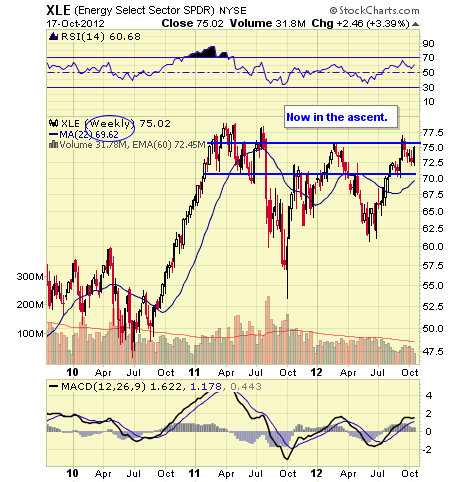 Continue to Overseas Sectors & ETFs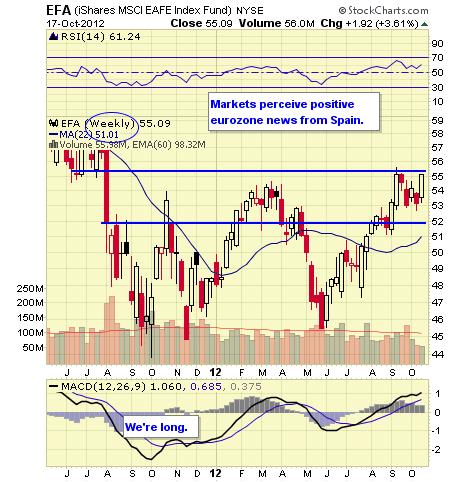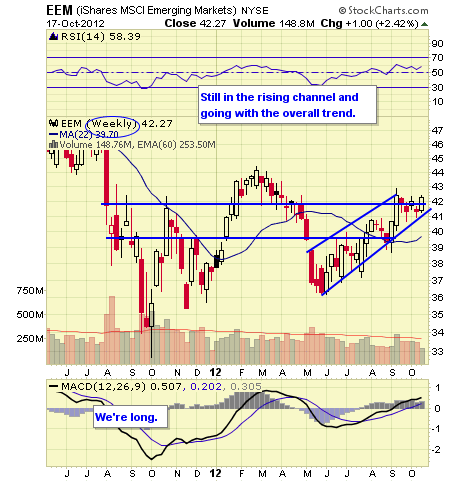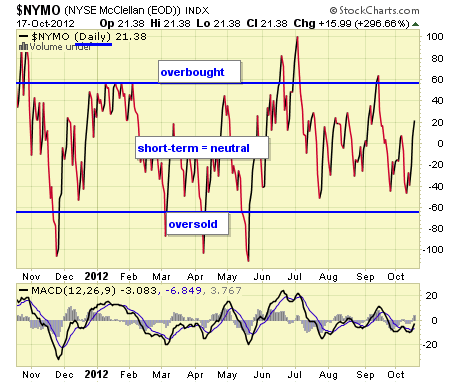 The NYMO is a market breadth indicator that is based on the difference between the number of advancing and declining issues on the NYSE. When readings are +60/-60, markets are extended short-term.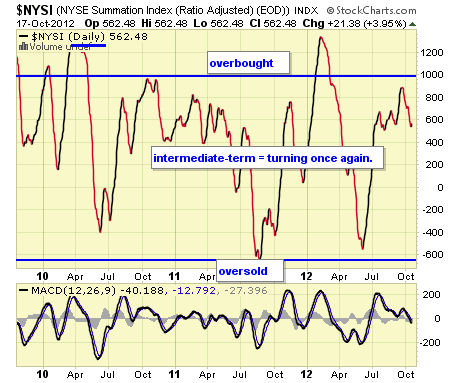 The McClellan Summation Index is a long-term version of the McClellan Oscillator. It is a market breadth indicator, and interpretation is similar to that of the McClellan Oscillator, except that it is more suited to major trends. I believe readings of +1000/-1000 reveal markets as much extended.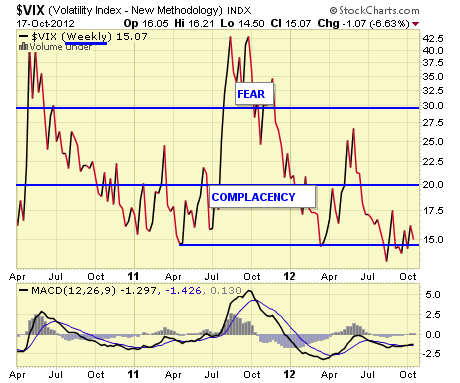 The VIX is a widely used measure of market risk, and is often referred to as the "investor fear gauge." Our own interpretation is highlighted in the chart above. The VIX measures the level of put option activity over a 30-day period. Greater buying of put options (protection) causes the index to rise.
Concluding Remarks
Thursday brings Jobless Claims, and we'll see if the BLS can re-engineer the previous week's strangeness. Also on tap is the Philly Fed Survey and Leading Indicators. Earnings will feature Microsoft (NASDAQ:MSFT), Morgan Stanley (NYSE:MS), and Travelers (NYSE:TRV), among many others.
Disclaimer: The ETF Digest maintains an active ETF trading portfolio, and a wide selection of ETFs away from portfolios in an independent listing. Current "trading" positions in active portfolios, if any, are embedded within charts: Lazy & Hedged Lazy Portfolios maintain the follow positions: VT, MGV, BND, BSV, VGT, VWO, VNO, IAU, DJCI, DJP, VMBS, VIG, ILF, EWA, IEV, EWC, EWJ, EWG, & EWU.
The charts and comments are only the author's view of market activity and aren't recommendations to buy or sell any security. Market sectors and related ETFs are selected based on his opinion as to their importance in providing the viewer a comprehensive summary of market conditions for the featured period. Chart annotations aren't predictive of any future market action rather, they only demonstrate the author's opinion as to a range of possibilities going forward.
Disclosure: I have no positions in any stocks mentioned, and no plans to initiate any positions within the next 72 hours. I wrote this article myself, and it expresses my own opinions. I am not receiving compensation for it. I have no business relationship with any company whose stock is mentioned in this article.