After Chipotle Mexican Grill (NYSE:CMG) reported earnings in July, the stock fell 21.6%. This loss was CMG's biggest in its almost seven years as a publicly traded company. The stock sold off another 12% before finding a bottom. This bottom has managed to hold despite a retest almost two weeks ago after David Einhorn revealed his short position in the stock.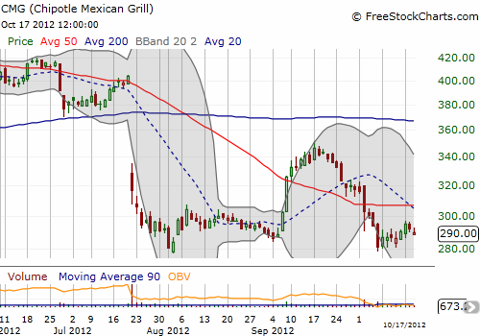 CMG struggles to stay aloft after July's disastrous earnings report
Source: FreeStockCharts.com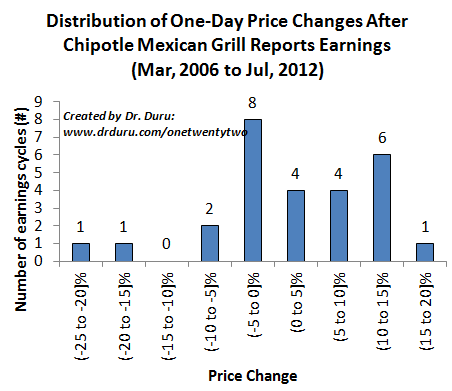 Distribution of One-Day Price Changes After Chipotle Mexican Grill Reports Earnings (Mar, 2006 to Jul, 2012)
Source: stock prices from Yahoo! Finance, earnings dates from briefing.com
The distribution of one-day post-earnings moves shows that typically CMG delivers positive gains after earnings. Large changes are heavily skewed to the plus side.
CMG steps up for judgment once again when it reports earnings after the market closes on Thursday, October 18th. The stock should naturally attract a lot of attention given its status as a highly shorted (12% of float), richly valued, (former?) high-flying momentum stock. The headwinds appear to be building against the business and investors and traders will be looking for some evidence that CMG is somehow already managing to turn the corner. Given the likely attention focused on CMG, I decided to pull out my "earnings trade template" and determine whether it can provide any clues on CMG's likely direction post-earnings.
It turns out that strong correlations between pre-earnings trading and post-earnings trading have only appeared across the last four earnings cycles. Interestingly, what little correlations exist, they are almost all negative, meaning that the immediate reaction to earnings tends to move inversely to the trading that preceded earnings.
The following charts show the correlation between the one-day price change immediately following earnings and the price changes before earnings for 1 day, the 7-day average, and the 14-day average. (Note that these are trading days and 7-day and 14-day are also referred to as 1-week and 2-week, respectively. I will change the labeling in future posts).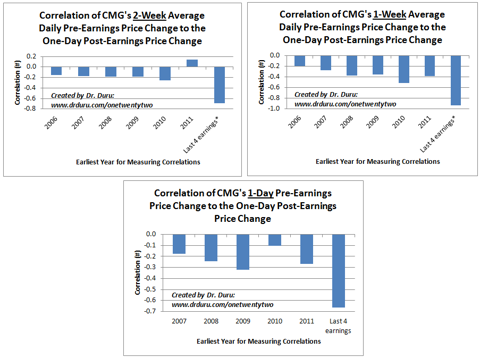 Correlations Between Price Changes Before and After CMG Reports Earnings
The recent mild bounce in CMG ahead of earnings has produced a split in the 7 and 14-day averages for price change, implying that the price change for Thursday may cast the deciding ballot. Over the last 14 trading days, CMG has experienced an average price change of -0.61% while over the past 7 days the average daily price change has been 0.55%.
The patterns segmented by quarters do not fare much better. The first and fourth quarters of the year experience the largest gaps between number of positive and negative responses to CMG earnings.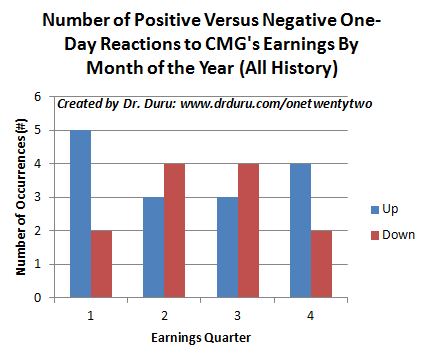 Number of Positive Versus Negative One-Day Reactions to CMG's Earnings By Month of the Year (All History)
However, the correlations are quite mixed. Only two scenarios show relatively strong correlations: the first quarter of the year for the 7 trading days ahead of earnings and the fourth quarter of the year for the 1-day price performance ahead of earnings.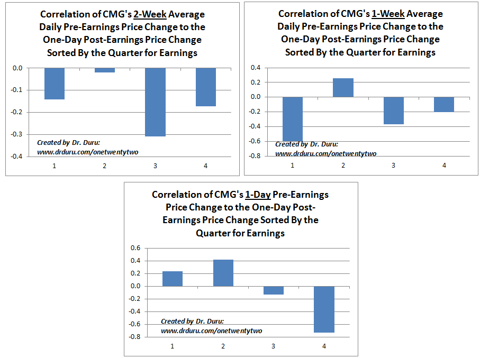 Quarterly Correlations For Trading Before and After CMG Reports Earnings
Given this is the fourth quarter of the year, the one-day price change once again sticks out as a potential deciding factor.
This mix of data generates the following trading rules for CMG earnings for this quarter:
Keep positions small - do not make aggressive trades.
Trade bullishly if CMG trades down significantly, trade bearishly if CMG trades up significantly. I define "significantly" as at least double the absolute value of the average percentage move over the last 14-days => +/-1.2% (round it to +/-1.5% to place an even higher hurdle on executing a trade).
I am advising small positions because CMG is the most uncertain of all the pre-earnings trades I have analyzed with this method (AAPL's last earnings was almost as uncertain as CMG - a disappointment since April earnings was such a resounding success). This is also the first time where the 7-day and 14-day averages pointed distinctly in different directions ahead of earnings.
Finally, CMG shorts are quite clear in their expectations for a poor showing. The chart below shows that CMG shares short experienced a resurgence either before or immediately after July's earnings. These shorts have stayed at 52-week highs since August. This also suggests that a lower risk (although lower upside potential) trade is to simply follow the post-earnings momentum. If CMG surprises, short-covering and the rush to re-establish positions could carry CMG far. If CMG disappoints, shorts will likely add to the selling pressure once again.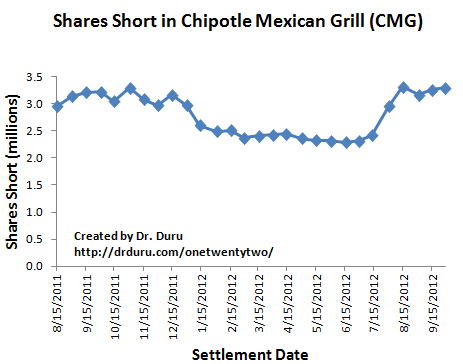 Shares Short in Chipotle Mexican Grill
Source: NASDAQ.com short interest
Be careful out there!
Disclosure: I have no positions in any stocks mentioned, but may initiate a long position in CMG over the next 72 hours. I wrote this article myself, and it expresses my own opinions. I am not receiving compensation for it (other than from Seeking Alpha). I have no business relationship with any company whose stock is mentioned in this article.
Additional disclosure: As discussed in the post, I may go long or short CMG depending on various scenarios.