With Google's (NASDAQ:GOOG) soon-to-come earnings release it's worth considering a long straddle position for the company. The long straddle is entered by purchasing a put option and a call option at the same strike price and same month of expiration. The position is profitable for a large movement in price up or down. So if the stock tanks or if the stock goes ballistic, the position generates a profit. If the stock price remains near the current price, then the position results in a loss.
Google is a lightning rod waiting to be electrically dinged. The question is not if, but when will the lighting strike. The acquisition of Motorola Mobility and its related patents provided Google with some protection related to intellectual property, however, the acquisition combined a low profit margin hardware company with a high profit margin Internet company. So what's the potential result of combining a high profit margin business with a low profit business? Yep, mediocre profit margin business.
Additionally, Google faces potential flak related to antitrust and privacy issues in the U.S. and in Europe. The company has drawn regulator interest due to complaints related to Google's potentially giving its own applications higher ranking as compared to "others". It's just a matter of time until regulators get intimately involved in the company's business.
Yet Google has a lot of future growth potential related to the mobile arena, as Nikesh Arora, SVP and Chief Business Officer, noted in his presentation on September 6, 2012 at the 2012 Citi Technology Conference. Mr. Arora noted mobile opens up opportunities that wouldn't be present otherwise.
On the one hand Google has some potential profit margin and regulatory headwinds, but on the other hand, the company has some potentially significant tail winds in the mobile arena.
Google's stock price has been ballistic over the last three months or so as shown below: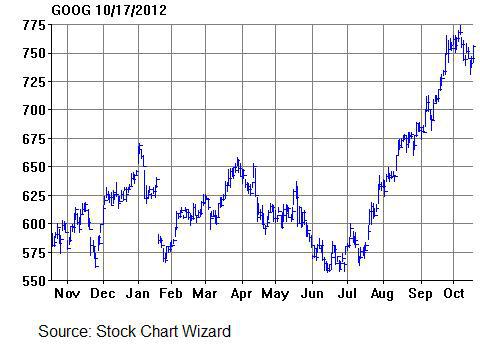 With Google's upcoming earnings release, ballistic stock price, potential regulatory and price margin issues and potential with respect to mobile, Google looks primed for an upward or a downward move - perfect for a long straddle.
Using PowerOptions, a couple of long straddle positions for Google are available for November option expiration as shown below: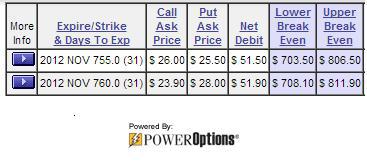 In deciding which long straddle to select, it must be decided as to which direction Google's stock price is most likely to move - up or down. Currently, it appears there are more negative issues related to Google than positive, so the 2012 Nov 760 long straddle is selected, as it provides a higher break even point of $708.10 on the low side as compared to the 2012 Nov 755 long straddle's break even point of $703.50. However, the upper break even point of $811.90 for the 2012 Nov 760 long straddle is higher than the $806.50 break even point for the 2012 Nov 755 long straddle. So, the 2012 Nov 760 long straddle will perform better for a downward move and the 2012 Nov 755 long straddle will perform better for an upward movement in stock price.
To enter the 2012 Nov 760 long straddle for Google, the 2012 Nov 760 call option is purchased for $23.90 and the 2012 Nov 760 put option is purchased for $28.00.
Google Long Straddle Trade
Buy GOOG 2012 Nov 760 call at $23.90
Buy GOOG 2012 Nov 760 put at $28.00
Look forward to hearing your comments below!
Disclosure: I have no positions in any stocks mentioned, and no plans to initiate any positions within the next 72 hours. I wrote this article myself, and it expresses my own opinions. I am not receiving compensation for it (other than from Seeking Alpha). I have no business relationship with any company whose stock is mentioned in this article.