As a McDonald's (NYSE:MCD) shareholder I was intrigued when I saw the financial statistics for Cracker Barrel Old Country Store, Inc. (NASDAQ:CBRL). Both companies have similar characteristics that make them solid long-term investments. The companies do differ significantly in the type of restaurant category. McDonald's is fast food, while Cracker Barrel is a full-service restaurant with a gift shop. McDonald's is a large-cap company, while Cracker Barrel is still a small-cap. However, I find many similarities in the financials among the two.
Both companies pay consistent dividends. McDonald's pays a 3.3% dividend and has raised the payment every year since 1976. Cracker Barrel pays a dividend of 3% and has increased the payment every year for the past 10 years. Both companies are committed to rewarding shareholders by sharing profits.
Let's take a look at the key statistics of these restaurant chains:
| | | |
| --- | --- | --- |
|   | McDonald's | Cracker Barrel |
| Forward PE | 15.79 | 12.23 |
| PEG Ratio | 1.91 | 1.43 |
| Profit Margin | 20% | 4% |
| Dividend | 3.3% | 3% |
| Current Ratio | 1.24 | 1.06 |
| Total Debt/Equity | 96.71 | 146.19 |
| 5-Yr. Expected Annual Earnings Growth | 9.06% | 10% |
Both companies are fairly valued, although Cracker Barrel has a slightly lower valuation. McDonald's has a price to book ratio of 6.72, while Cracker Barrel has a price to book ratio of 4.1. The relative consistency of these restaurants keeps their valuation fair. They don't experience drastic negative surprises too often.
The profit margins are one major difference between the two. McDonald's enjoys a high profit margin of 20%, while Cracker Barrel sports a modest 4% margin. McDonald's has a strong advantage here. Its large economies of scale allow the company to keep costs under control. Cracker Barrel doesn't have as much wiggle room with rising costs.
These companies have similar healthy current ratios on their balance sheets. This shows that their short-term debt is under control.
McDonald's has grown earnings at over 13% annually for the past five years, while Cracker Barrel grew at about 10% annually over the same period. The analyst's earnings estimates are typically conservative for the future. Although Cracker Barrel is given almost a 1% expected earnings edge over McDonald's, I wouldn't be surprised to see McDonald's exceed its estimates by 1% or more. The reason I believe that is the large economies of scale that the company benefits from and its revenue and earnings consistency over time.
Both companies are good for dividend reinvestment. By reinvesting the dividends, shareholders can build up their shares over time which can significantly enhance total returns. Alternatively, the dividends can also be used as a source of income while the shares appreciate in value.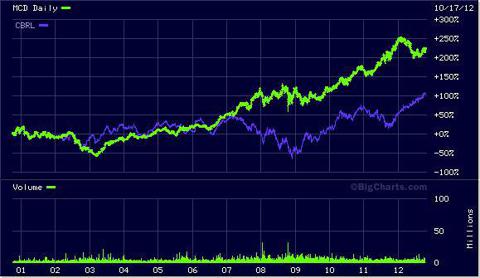 Click to enlarge
Both companies continue to expand, although on much different scales. Cracker Barrel has plans to open about 13 new stores in 2013, while McDonald's opens about 1,000 new stores per year.
Although there are a few differences between these two restaurant companies, both are consistent dividend paying growers with a bright future for growth. Investments in either company should do well over the long haul.
Disclosure: I am long MCD. I wrote this article myself, and it expresses my own opinions. I am not receiving compensation for it (other than from Seeking Alpha). I have no business relationship with any company whose stock is mentioned in this article.