Sprint (NYSE:S) shares had been on a nice run in recent months, as the company's financial prospects appeared to be improving nicely. Certain Q2 metrics were extremely positive, and Sprint raised its 2012 forecast. Shares had more than doubled off their 52-week lows, and everyone was celebrating the fact that Sprint seemed back from the dead. Recently, everything changed with the news that Japan's Softbank (OTCPK:SFTBF) was making a bid to acquire a large stake in Sprint. For a running diary of the Softbank saga, click here.
By now, everyone seems familiar with the terms of the deal, and I covered them in a recent article, so I won't waste your time repeating them. But while investors mainly focus on the deal, there is something important to remember. Sprint will still remain, and shares will continue to trade. This is not the end of Sprint, but it is a new beginning. The Softbank deal gives Sprint a shot of fresh capital, which is likely to help Sprint improve things even more. Investors must remember that when it comes to Sprint, don't forget the fundamentals. It is the improving condition of Sprint that led Softbank to this deal, and shares will likely continue higher from here.
The numbers are getting better in certain respects, and the most important number for investors currently seems to be revenues. Analysts currently are looking for Sprint to grow revenues by 4.7% this year, as seen in the table below. At that level, Sprint would almost be back to its pre-recession revenue level from 2008. In 2013, Sprint is projected to beat that 2008 figure. Now, Sprint still has two quarters left to report for this year, so it is certainly possible that if it beats expectations some more, it could get close to the 2008 level. I don't think it'll get there in 2012, but I think it's fair to expect more than $36 billion in 2013.
At the same time, Sprint has been losing tons of money. Sprint has lost more than $2.4 billion in each of the past four years. 2012 is expected to be worse, with a loss of approximately $5 billion. Some improvement is expected in 2013, with current forecasts calling for a loss of almost $3 billion. This fact is not new. Sprint's merger with Nextel caused a ton of losses, and as Sprint shuts down the Nextel network, plus upgrades its current one, losses have increased. But as the old network is shut off, expected around mid-2013, expenses should ease. If Sprint can achieve the margin improvement it has been describing, Sprint could be profitable in 2014 or 2015.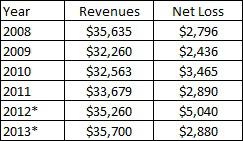 *Analyst estimates as of 10/17. Numbers in millions.
So how can Sprint get to profitability quicker? Well, as I described in my most recent article on the company, it all comes down to debt. Sprint has a little more than $21 billion in debt currently, although most of it isn't due for a while. Only about $1.65 billion is due over the next 19 months. About half of Sprint's debt isn't due until 2019 or later.
This is where the Softbank deal comes in. As Sprint receives funds from Softbank, it should definitely use some of them to pay down debt, and most expect it will. Obviously, getting rid of as much debt, and as quickly is possible is key. But the other key is which debt they do retire. The obvious decision is to retire debt with higher interest rates. The chart below shows how much debt it has in certain interest rate ranges. I mentioned in my latest Sprint article that Sprint had $5.2 billion of debt with interest rates of 9% or higher. That is just from the issuer listed as "Sprint Nextel Corporation". Sprint also has another $700 million in tower financing obligations carrying a 9.5% interest rate. So really, the total at 9% or above is close to $6 billion. $1 billion of that even carries an interest rate of 11.5%.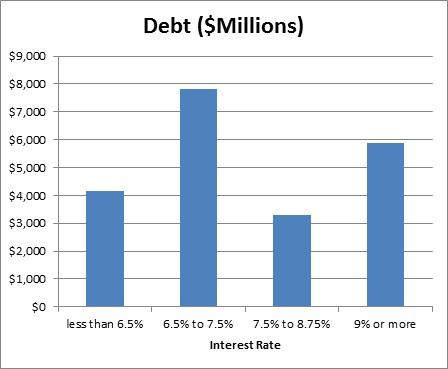 Just on the debt with interest rates of 9% or more, Sprint is paying about $561 million in interest per year. The average rate on that $5.9 billion is about 9.51%. Imagine how Sprint's net income would change for the better if Sprint could eliminate that debt overnight.
If the Softbank deal goes through, I believe that Sprint's first priority has to be getting the debt down. Now, I'm not considering the network upgrade and Nextel shutdown a priority because it's not new, it's something already announced. Getting the debt down would be a new objective. I also would not go out and buy Clearwire (CLWR) at this point either. The possibility of Sprint buying out Clearwire was initially suggested during the Softbank talk, but Sprint has since said it has no interest at this point. Sprint already owns a large stake in Clearwire, and there may be some regulatory issues Sprint would have to overcome to get a Clearwire deal through. The company might even try some other method, instead of an outright buyout. I don't think it is worth it for the company to try at this point. Once (but really if) the Softbank deal goes through, debt is the first priority.
Back to fundamentals, and my argument about investors caring about top line revenues. How do you increase revenues? For Sprint, it comes down to getting more customers. One way to do that is to increase your product offering. That initially happened a year ago when Sprint came to an agreement with Apple (NASDAQ:AAPL) to sell the iPhone. Sprint sold about 4.8 million iPhones in the first three quarters it sold the device, and we will get the 4th quarterly number next week.
At this point, I don't see any problems in Sprint's relationship with Apple. But I think it can get better, and probably bigger. Even before the Softbank deal, Sprint's fundamentals were getting a bit better. But if this deal goes through and Sprint can pay down a bunch of debt and finish the network upgrade, I think Sprint can make a case that it is fundamentally sound enough to get Apple's iPad. I think it might be a bit of a stretch for Sprint to start selling the iPad mini when Apple announces it next week, but a year from now, I could see it happening.
Sprint getting to sell the iPad would be tremendous for the company. Getting the iPhone was a start. The iPhone and iPad are two of the hottest products on the planet, as seen in the table below. Apple sold more iPhones and iPads in the first three quarters of its 2012 fiscal year than it did in all of the 2011 fiscal year. In fact, during the first nine months, iPhone unit sales were up 78% and iPad unit sales were up 108%. Just imagine what will happen once the mini is released. Janney thinks Apple could sell more than 25 million iPads in its holiday fiscal Q1 quarter, including about 6 million minis.

*First three quarters of Apple's fiscal year. Numbers in thousands.
Apple sold over 98 million iPhones in the first three quarters of its year, and Sprint sold about 4.8 million of them. There is plenty of room to grow there, and plenty of market share for Sprint to steal. The company's unlimited talk, text, and data plans will definitely help. Sprint has sold about 5% of all iPhones. Imagine if it could sell 5% of all iPads. 3 to 4 million iPads could be $1 billion in revenues, and that's just from sales of the tablet. That doesn't include the revenues from data plans required for the tablet, or from a shared plan (with a phone).
If Sprint could get the iPad, that would be an immense positive for shareholders. If you figure Sprint starts selling the iPad by the end of 2013, you could be looking at a company that could do $40 billion in revenues by 2015, maybe 2014 if it really improves its iPhone customer base. Increase revenues by $5 billion, cut your costs by a few billion, and reduce your debt, and that is a formula for a profitable company. How many thought profitability for Sprint was that close before the company got the iPhone? Not many, I assume.
So when it comes to Sprint, don't just think about the Softbank deal. Remember that the fundamentals are just as important. The Softbank deal should help to decrease Sprint's debt load, and Sprint's network upgrade and shut down (Nextel network) should help margins improve going forward. Sprint has sold a good amount of iPhones, and I think Apple has to give Sprint the iPad at some point. This company is probably still 2 or 3 years away from profitability, but that's not terrible considering how much it is losing now. With Sprint's fundamentals looking better and better, investors should consider a position in this name. Yes, the stock is fairly close to its 52-week highs, as seen in the chart below. If you want to wait for a pullback, that's fine. But don't forget that Sprint reports Q3 results next week. If the fundamentals continue to show improvement, you might miss your chance to get in.
Click to enlarge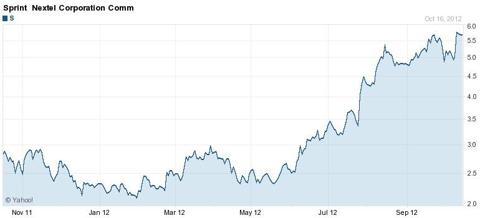 (Source: Yahoo! Finance)
Disclosure: I have no positions in any stocks mentioned, but may initiate a long position in S, AAPL over the next 72 hours. I wrote this article myself, and it expresses my own opinions. I am not receiving compensation for it (other than from Seeking Alpha). I have no business relationship with any company whose stock is mentioned in this article.