Boaz Weinstein, the founder and Chief Investment Officer of Saba Capital, a $5.7-billion credit relative value hedge fund, is one of the hedge fund managers identified in Ernst & Young and The Hedge Fund Journal's Tomorrow's Titans 2012, a list of 40 emerging hedge fund managers who are making significant contributions to the industry's development and success. Weinstein gained his reputation as a derivatives trader at Deutsche Bank, where he was the youngest-ever managing director. After 12 years at Deutsche Bank, Weinstein established Saba Capital and moved his Deutsche Bank team to the hedge fund.
Recently, Weinstein gained visibility as one of the biggest traders on the other side of JPMorgan's (NYSE:JPM) botched trade in the derivatives market that will end up costing the bank some $6 billion. Despite the gains on the JPMorgan trade, Weinstein's hedge fund is still up only marginally this year. Saba Capital returned 9% in 2011 and almost 11% in 2010. The fund has a target return range between 12% and 15% per year.
Weinstein thinks that Italian government debt is undervalued relative to Italian bank debt, given that the two recently had comparable yields. Saba Capital was bullish about the broad S&P 500 index in the second quarter, and was also long several stocks that pay decent dividends, including children's toy and game makers. Here is a closer look at four such dividend stocks: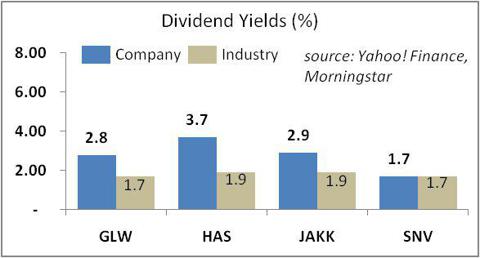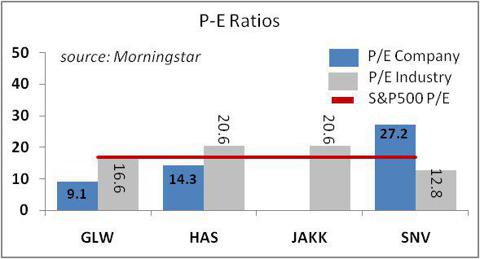 Corning, Inc. (NYSE:GLW) makes specialty glasses, ceramics, and related materials. Its main customers are the display, environmental, and telecommunications technology industries. While Corning has seen lower revenues and EPS due to oversaturated markets in LCD glass, the future demand for Corning's products is likely to revive amid a robust demand for mobile computing devices, such as cell phones and tablets. An expected improvement in the battered PC and notebooks market, which still looks to be on the secular decline, could support its performance. The introduction of Windows 8 bodes well for the company's sales, given the greater utilization of the touch-screen technology. Still, analysts are cautiously optimistic about Corning's forward EPS, which they see growing on average 3.6% per year for the next five years. That rate is slower than the average rate achieved over the past five years. After several years with no dividend growth, the company's dividend has increased 80% since August 2011. Currently, the stock is yielding 2.8%. Its payout ratio is very low at 25%, supporting additional dividend hikes in the future. Corning's competitors Sumitomo Electric Industries Ltd. (OTCPK:SMTOY) and TE Connectivity (NYSE:TEL) are yielding 2.4% and 2.6%, respectively. LG Display Ltd. does not pay any dividends. As regards its valuation, on a forward P/E basis, the stock is trading below its respective industry. The stock is popular with billionaire Richard Chilton and fund manager John A. Levin (Levin Capital Strategies).
Hasbro Inc. (NASDAQ:HAS) is one of the world's largest retailers of children's toys and games. The stock has been an attractive dividend play, as its dividend yield is currently 3.7% and its dividend growth over the past five years averaged 18.7% per year. However, the global economic slowdown is dampening the demand for toys and games, with U.S. per capita spending on toys and games dropping 5% to 10% year to date, which is a reason for the latest Goldman Sachs downgrade of Hasbro to sell. In general, analysts expect to see a moderate growth averaging 8% per year for the next five years, compared to nearly 17% achieved over the past five years. A Goldman Sachs analyst believes that "meaningful dividend increases may be limited given Hasbro already pays out 75% of its free cash flow to investors via dividend." Still, Hasbro has a strong product line-up and is growing its presence in emerging markets, which bodes well for future growth amid rising incomes and discretionary products demand in the developing world. Hasbro's rivals Mattel Inc. (NASDAQ:MAT) and JAKKS Pacific Inc. (NASDAQ:JAKK) pay dividend yields of 3.4% and 2.9%, respectively. With regard to its valuation, on a forward P/E basis, the stock is trading at a discount to its respective industry, including a small discount relative to Mattel's ratio. Billionaires Cliff Asness and Ken Griffin hold small stakes in the stock.
JAKKS Pacific is another toys and games maker, with $354 million in market capitalization. The company's shares have been recently under pressure due to lower domestic product sales and a decline in product orders before the holiday season. Higher input costs have been hurting margins. That weak performance prompted the company to slash its outlook for the year. Especially sobering was the fact that the company revised its outlook downward after previously issuing a very upbeat forecast that failed to materialize. The stock saw a slew of downgrades over the past month or so, mainly on expectations of negative surprises in the holiday season. Currently, this stock is yielding 2.9% on a payout ratio of 42% of last year's free cash flow. (On a trailing twelve months basis, the company has been operating at a loss.) Its competitors, the much larger Mattel and Hasbro, are yielding more. Over the past five years, this company saw a sharp EPS contraction averaging 33% per year. Analysts forecast that the company's EPS will expand at an average annual rate of 15% for the next half decade. This growth forecast is likely exaggerated. As regards its valuation, on a forward P/E basis, the stock is excessively priced relative to its respective industry. Its forward P/E of 26.6x compares to the ratios of 14.0x for Mattel and 13.6x for Hasbro. The stock is popular with Cliff Asness.
Synovus Financial Corporation (NYSE:SNV) is a small position in Saba Capital's portfolio. Synovus Financial is a $2-billion financial services and bank holding company. The stock has seen a strong upward price momentum in recent months, rising 69.5% since the beginning of the year. While the bank had been on the brink of a collapse some two years ago, it has since returned to profitability as net charge-offs fell off sharply. Over the past five years, the company's EPS contracted at an average rate of 18% per year, while its dividend collapsed in 2009. Since then, it has remained at the same rate of $0.04 per share annually. Analysts forecast that the Synovus Financial's EPS will expand at an average annual rate of 8.5% for the coming five years. Still, the company is a major risk as it is owes almost $1 billion in government TARP money. Synovus Financial stock is currently yielding 1.7% on a payout ratio of 44%. Its competitors Regions Financial Corp. (NYSE:RF) and SunTrust Banks, Inc. (NYSE:STI) pay lower dividend yields of 0.5% and 0.7%, respectively. In terms of valuation, the stock is priced excessively above the average for its peer group. The stock has a price-to-book of 1 and a low ROE of 4%. Fund manager Kevin Michael Ulrich of Anchorage Advisors and billionaire Ken Griffin are big fans of the stock.
Disclosure: I have no positions in any stocks mentioned, and no plans to initiate any positions within the next 72 hours. I wrote this article myself, and it expresses my own opinions. I am not receiving compensation for it (other than from Seeking Alpha). I have no business relationship with any company whose stock is mentioned in this article.