Healthcare Services Group Inc. (NASDAQ:HCSG) has paid a dividend for 38 straight quarters. Riding on 'the graying of America' and a focus on cost containment, this provider of housekeeping and dining services for the healthcare industry reached a 52-week high of $24.11 on October 1, 2012. With a long-term expected earnings growth rate of 18%, this Zacks #2 Rank (Buy) presents a solid opportunity for investors seeking both growth and income.
A Decent Quarter
On October 9, Healthcare Services Group reported that third quarter net income rose 15.2% year over year to $11.5 million. Earnings per share of 17 cents matched the Zacks Consensus Estimate and beat the year-ago earnings by 13.3%. Revenues rose 24% to $272.7 million and surpassed the Zacks Consensus Estimate by almost 1%.
Gross margin came in at 14.1% in the reported quarter, flat year over year. Operating margin declined to 6.5% from 7.6%.
Solid Dividend Yield
Healthcare Services Group has increased its dividend for 37 consecutive quarters. The quarterly dividend was recently raised by 0.7% to 16.5 cents, payable on November 30. Currently, the stock offers a healthy dividend yield of 2.82%. The company's commitment toward enhancing shareholder returns is reflected in a trailing 12-month payout ratio of 104%.
Earnings Estimates Inch Higher
The Zacks Consensus Estimate for 2012 is unchanged at 66 cents per share. However, the Zacks Consensus Estimate for 2013 has moved up 1.3% to 80 cents over the last 60 days, representing an estimated annualized growth of 22.6%.
Stretched Valuation
Healthcare Services Group currently trades at a forward P/E multiple of 36.4, a 75% premium to the peer group average of 20.8. The price-to-sales ratio of 1.53 is almost 110% higher than the peer group average of 0.73. The PEG ratio comes in at 1.97, above the benchmark of 1.0 for a fairly priced stock. It has a trailing 12-month return on equity (ROE) of 19%, 19.5% below the peer group average of 23.6%.
A Look at the Chart
The graph indicates that the stock has reacted favorably to the rising trend in estimates. Healthcare Services Group posted a year-to-date return of 34.9% compared with 14.5% for the S&P 500.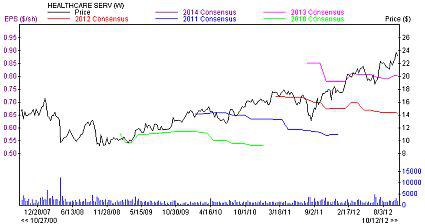 Healthcare Services Group provides professional services in the fields of housekeeping and dietary services for the healthcare industry, including nursing homes. The company provides its housekeeping services at about 3,400 locations while dietary provisions are given at approximately 600 venues. Housekeeping provided about 69% of company-wide revenues while Dietary accounted for the balance in the six months ended June 30, 2012. The company has a market cap of about $1.6 billion.