An American Realty Capital Trust (NASDAQ:ARCT) shareholder has decided to oppose the company's proposed merger with Realty Income Corporation. Luxor Capital Group LP, which beneficially owns and controls 10,112,796 common shares, or about 6.4 percent of the outstanding shares of American Realty, said in an October 15 news release that it will not support the proposed merger agreement in its current form.
Under the planned arrangement, American Realty shareholders will receive 0.2874 share of Realty Income for every 1 share of American Realty. Luxor Capital said the deal would be beneficial to Realty Income shareholders. However, for American Realty shareholders, the deal is dilutive to AFFO per share, and would bring additional lease-roll risk and dilute the dividend yield, according to Luxor Capital.
In reviewing the SEC Schedule 13D, you will find that Luxor acts as the investment manager of the Onshore Fund, the Spectrum Onshore Fund, the Wavefront Fund, the Offshore Master Fund, the Offshore Feeder Fund, the Spectrum Offshore Master Fund and the Spectrum Offshore Feeder Fund and to accounts it separately manages. Christian Leone is the managing member of Luxor Management.
In the Schedule 13D the hedge fund manager spells out the reasons for the opposition:
The transaction's benefit to Realty Income shareholders is apparent. The merger is instantly accretive to adjusted funds from operations per share, it allows for a substantial and immediate increase in Realty Income's pro forma dividend per share, it extends Realty Income's weighted average lease life and it raises occupancy rates on a pro forma basis. In one transaction, Realty Income will be able to increase its dividend per share by an amount greater than it has achieved through acquisitions and organic growth over the last 4 years combined.

In contrast, for ARCT shareholders, the deal is dilutive to AFFO per share, brings additional lease roll risk and, most importantly, dramatically dilutes the dividend yield. Prior to the proposed merger, ARCT had approximately a 6% dividend yield with high-quality tenants and no material lease rolls for five years. Realty Income had a 4.3% dividend yield and greater lease roll risk over the next five years. Luxor does not believe that increased size and liquidity warrant such a dilutive deal.
The hedge fund also opposes the transaction for reasons related to the compensation structure at ARCT. Prior to its public listing, ARCT was an externally-managed, private REIT with a promote structure to reward the external manager (essentially the current management team of ARCT).
As part of the public listing process, ARCT converted the external manager to an internal manager, thereby doing away with the promote concept for existing management. In its place, the former ARCT management company was awarded a one-time payment for the "value" it would create for ARCT shareholders over the 180-day period post ARCT's IPO listing. This "value" created was defined as the difference between the Strike Price and $9.81 per ARCT share, with the "Strike Price" defined as the weighted average trading price for ARCT shares for the 30-day period commencing on August 28, 2012.
Luxor further asserts that:
Had Realty Income stock appreciated on news of the highly accretive transaction with ARCT, management of ARCT would have profited materially, drawing into question, to Luxor, the motivations of the merger with Realty Income particularly in light of the fact that previous overtures by Realty Income to acquire and/or merge with ARCT had been repeatedly rejected.
The Hedge Fund
In a recent Seeking Alpha article (Vornado Realty Trust: Simply A Hedge Fund In A REIT Wrapper), I used an analogy and a childhood fable that goes something like this:
A fox and a hedgehog were strolling through a country path. Periodically, they were threatened by hungry wolves. The fox - being blessed with smarts, speed and agility - would lead packs of wolves on a wild chase through the fields, up and down trees, and over hill and dale. Eventually the fox would return to the path, breathless but having lost the wolves, and continue walking. The hedgehog, being endowed with a coat of spikes, simply hunkered down on its haunches when menaced by the wolves and fended them off without moving. When they gave up, he would return to his stroll unperturbed.
Now, as mentioned above, the opposing ARCT shareholder group is the hedge fund known as Luxor. With around $119 million invested in ARCT, there is likely evidence that the hedge fund would have spent considerable time on due diligence before purchasing shares in ARCT. Or did they?
The Fox
In the REIT-dom, there are also foxes and hedgehogs. ARCT (and its management team) is an example of a successful fox with a very complex thinking skill-set. The company's largest individual shareholder, Nicholas S. Schorsch, has a unique talent for mastering multiple real estate platforms by utilizing his differentiated intellectual capabilities - making him a "jack of all trades".
Schorsch is known to be a shrewd businessman who knows the meaning of the words "you make money when you buy". As evidenced by his savvy business skills, Schorsch and his colleagues (including William M. Kahane, the co-founder and President and CEO) acquired most of the ARCT portfolio during the depths of the recession and capitalized on the higher cap rates and properties acquired from cash strapped developers.
Any prudent investor (and certainly a hedge fund) would have researched the management of ARCT prior to making an investment (and a sizable one at that) to determine whether the management team was a fox or a hedgehog. Without a lot of research, it is very clear that Schorsch has a track record for raising money through non-traded REIT channels, not operating public REITs.
In fact, Schorsch and his related companies have become a beacon for investors wanting to achieve diversification without stock market volatility. In light of all of the recent negative publicity associated with non-traded REITs, Schorsch has become a dominant force behind the evolution of the non-traded fixed-income alternatives. In addition to ARCT, Schorsch has also been instrumental in raising funds for two other publicly listed REITs: Healthcare Trust of America (NYSE:HTA) and American Realty Capital Properties (ARCP). (see ARCP article here).
The Hedgehog
Alternatively, Realty Income (NYSE:O) operates more as a hedgehog with a keen ability to focus and drive its core-focused platform (of triple-net properties) along a simple path (see my previous article on Realty Income here). Realty Income has maintained a focused platform of single-tenant net lease investments and its accomplishments include a track record of paying over 18 years of consistent and increased dividends.
The argument waged by the hedge fund against the fox is simply dumb. Would you rather have a fox watching the hen house or a hedgehog managing it? Would you actually consider walking away from one of the best managed and best capitalized REITs (the hedgehog) on the planet? Do you actually think that there is another REIT willing to step in with an offer as strong as the big O? Most importantly, would you prefer to own a company with a bulletproof balance sheet and one of the widest capital moats in REIT-dom?
If the deal closes, Realty Income (as merged entities with ARCT) will have a combined market cap of around $7.6 billion making the company the world's largest triple-net REIT and the overall 18th largest public REIT.
Do You Want a Fox or a Hedgehog?
If the deal doesn't close, ARCT shareholders are exposed to the risk of a price decline and the likelihood that the high-quality portfolio will become much less attractive as the cost of capital (i.e. interest rates) rises. The chances of selling the portfolio to another buyer with the same low-cost capital and experienced management team (as O) is as likely as Realty Income cutting its dividend. It Won't Happen!
Luxor Capital made a good choice when it decided to start buying shares in ARCT. In fact, other institutional investors have gravitated to the defensive "triple-net" sector. Notably, Oak Street Capital owns around 3.93 percent of shares in Getty Realty (NYSE:GTY) - a very bad bet, but I will save that for another day.
No wonder the hedge funds have underperformed the S&P 500. Accordingly, quantifying hedge fund performance so far in 2012, with an average return of 4.6 percent as of August 3 compared to a 12 percent return for the S&P, a pathetic 11 percent of all hedge funds are beating S&P year to date. This is the worst yearly aggregate S&P 500 underperformance by the hedge fund industry in history.
Maybe the angst opposition, Luxor Capital, is panicking because there are just three months left until it can beat the S&P or face redemption requests? Or maybe it has not researched the net lease market to determine that a 5.9 percent cap rate is a very reasonable price to pay. Nonetheless, Thomas Mitchell with Miller, Tabak, and Company sides with my argument:
The argument against the deal is lop-sided: the benefits to Realty Income shareholders include an immediate accretion in FFO and dividend payments; while ARCT shareholders would actually see substantial dividend dilution. Also, we think there is no question that ARCT's portfolio mix is of higher quality than Realty Income's with longer term leases, many fewer expiring leases soon, and a higher proportion of investment grade tenants. Nevertheless, we don't see fighting the deal as necessarily a smart decision for investors who still own ARCT.
Alternatively, Realty Income operates more as a hedgehog with a keen ability to focus and drive its core-focused platform (of triple-net properties) along a simple path (see my previous article on Realty Income here). Since 1970, Realty Income has maintained a focus platform of single-tenant net lease investments and its accomplishments include a track record of paying over 18 years of consistent and increased dividends. The hedgehog, otherwise known as "The Monthly Dividend Company" has a blue chip record of dividend repeatability, as illustrated below:
Click to enlarge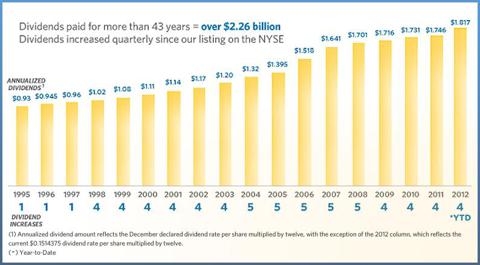 Click to enlarge
Boiling It All Down
The argument boils down to one fact (and a quote I use often from Howard Marks in The Most Important Thing):
It's the investor's job to intelligently bear risk for profit. Doing it well separates the best from the rest.
Realty Income - the hedgehog - is undeniably one of the best managed REITs in the world. The company's dividend performance record consists of a remarkable 18 years of increased dividend payments. American Realty Capital Trust - the fox - has done an outstanding job at originating a sound portfolio of high-quality assets.
American Realty Capital Trust investors should consider the premium advantage of owning shares in Realty Income. Pundits should consider the reduced dividend yield a bonus in that Realty Income's management team is "hunkered down on its haunches" and its risk control practices are invisible in good times or bad (when menaced by the wolves or increasing interest rates).
If Luxor and its opponents are able to count votes and find enough to mount a credible proxy fight, Schorsch and company probably would simultaneously win the fight. The fox does not lose too many fights and the hedgehog always wins. And Luxor, if you are reading, if you are looking for a "flight to quality" in triple-net investing, Realty Income is heaven (in other words, it doesn't get any better than the big O).
Realty Income closed today at $41.14 per share with a market capitalization of $5.49 billion. The hedgehog has returned 34.59 percent, year-over-year (source: SNL Financial), beating the S&P 500 index by over 10 percent (S&P returned 24.4 percent).
Click to enlarge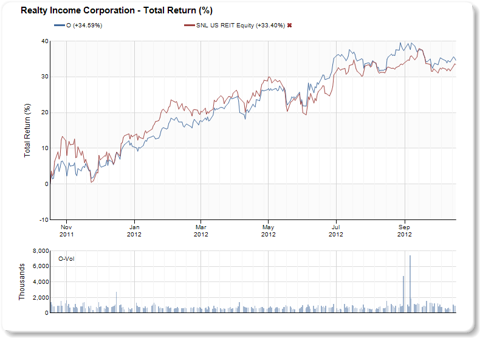 Click to enlarge
If you are wondering why Realty Income Shares warrant a valuation premium due to exceptional risk management, click here.
Disclosure: I have no positions in any stocks mentioned, and no plans to initiate any positions within the next 72 hours. I wrote this article myself, and it expresses my own opinions. I am not receiving compensation for it (other than from Seeking Alpha). I have no business relationship with any company whose stock is mentioned in this article.