On the one-year anniversary of Nelson Peltz's White Paper on State Street Corporation (NYSE:STT), the Financial Times reported that Peltz allegedly gained three new allies in his activist strategy to unlock shareholder value at State Street. Before September, we were sure that the company would be engaging in empire building acquisitions because in its Q2 conference call to investors, every other word out of the mouths of STT's management was related to acquisitions. We responded with a report that stressed that STT's management had lost the confidence of investors and needed to complete its $1.8B buyback program. In our September report on State Street, we could see that State Street's management has seen the light with regards to its number one job. And every rational investor knows, management's number one job is increasing shareholder value in a legal manner. While we're not ready to call for new management just yet, we believe that 2013 is a year of no excuses for STT's management.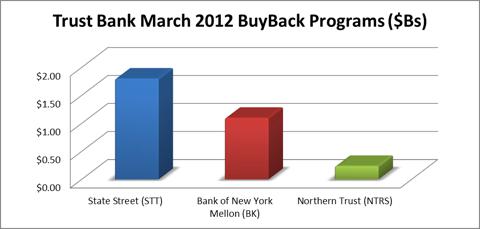 Source: Our August Report on State Street Corporation
Notable Items that Investors Have Been Focused on With State Street Corporation
While it was impressive that State Street beat the consensus adjusted EPS estimates by $.03 in the most recent quarter, we found that it was more impressive that it met the $.99 adjusted EPS consensus estimates that analysts were targeting in the first half of 2012. We were also impressed that its EPS was comparable to Q3 2011 levels despite its foreign exchange trading woes resulting in a 44% decline in foreign exchange trading revenues. STT's competitor Northern Trust saw its foreign exchange revenues decline by 49% so it's not like STT is alone in that boat. We were also pleased that declines in its recurring operating expenses helped offset revenue declines on a linked quarter basis and that its recurring operating expenses declined by 3% on a year-over-year basis, which was greater than the 1% expense reductions at Northern Trust and the 2.4% reductions at The Bank of New York Mellon (NYSE:BK).
State Street's Intractably Recurring "Non-Recurring Charges"
With regards to the intractably recurring "non-recurring charges", State Street saw a one-time benefit from these. On a pre-tax basis, State Street harvested $362M from a benefit related to claims associated with the Lehman Brothers bankruptcy during the quarter. This was partially offset by a provision of $60 million for litigation exposure related to its asset management and securities lending businesses and a charitable donation of $25 million. State Street also harvested $40M in discount accretion related to its former conduit securities, down from $46M in Q3 2011.
State Street Global Services
State Street Global Services is State Street's bread-and-butter asset servicing business and it reports revenues that declined slightly versus last year due to the impact of a weaker Euro and business mix partially offset by market impact and up by 1.3% on a linked-quarter basis. It was awarded $211B in new asset servicing mandates during the quarter and it completed the Goldman Sachs Administration Services acquisition on October 15th. 45% of SSGS's new mandates came from outside of the US. $86.1 billion of these new mandates were installed in the quarter prior to September 30, with the remaining $125.2 billion expected to be installed during the remainder of this year and later. SSGS also installed approximately $115.7 billion of new business and assets to be serviced that we were awarded in prior periods. SSGS saw its assets under custody and administration increase by 4.55% in the linked quarter and by 9% year-over-year, which was above its peer group average. SSGS's AUC Growth in the linked quarter significantly exceeded that of Bank of New York Mellon and J.P. Morgan Chase, slightly exceeded that of Northern Trust and was slightly below Citigroup's (NYSE:C) AUC Growth.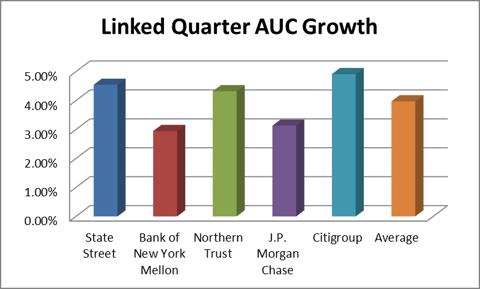 Sources: Q3 Reports for State Street, BNY Mellon, Northern Trust, JPM and Citigroup
State Street Global Advisors
State Street Global Advisors reported encouraging results. Investment management fee revenues grew by 2% in the linked quarter and by 9.6% on a year-over-year basis. The firm won $78B in net new mandates, which represented 4.1% in organic growth during the quarter. The bulk of the new net fund inflows were for a large, passive-index mandate by a large Asian Pacific client. $13B of the net inflows went to SSgA's ETF product line, mainly in its SPDR S&P 500 (NYSEARCA:SPY), SPDR Gold Trust (NYSEARCA:GLD) and its fixed income products. Over the last 18 months, SSgA has introduced 54 new ETF strategies. SSgA saw its assets under management increase by 8.23% in the linked quarter and by 9% year-over-year, which significantly exceeded that of its peer group of Bank of New York Mellon, J.P. Morgan Chase, and Northern Trust. Citigroup is not included as an asset management peer since it sold its Smith Barney Asset Management business to Legg Mason.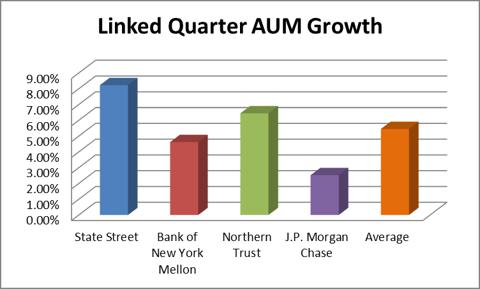 Sources: Q3 Reports for State Street, BNY Mellon, Northern Trust, and JPM
State Street Corporation's Capital Position
State Street's capital ratios are among the highest in the financial services industry and we can't stress enough how State Street's dividend increase and share repurchase program was greater than what Northern Trust and BNY Mellon offered to shareholders after all three trust banks passed the Federal Reserve's CCAR stress tests. State Street restored its dividends per share back to the pre-crisis peak of $.96, which was last achieved in 2008. State Street's share repurchase program of $1.8B exceeded the combined $1.34B that BNY Mellon ($1.1B) and Northern Trust ($0.24B) offered in March. We believe that investors will give this program greater credibility because State Street has repurchased $960M of the $1.8B authorized, which exceeded the $686M spent by BNY Mellon ($586M) and Northern Trust ($100M) have spent so far. STT's estimated pro forma tier 1 common ratio under the recent U.S. Basel III Notices of Proposed Rulemaking was 11.3% as of Q3 2012, an increase of 30bp from Q2 2012. STT's tangible common equity was 7.6% during the quarter, which was comparable to the 7.5% TCE ratio for Northern Trust and both were significantly higher than BNY Mellon's 3.92%. State Street's adjusted ROE of 9.6% was comparable to Northern Trust's 9.59% and was slightly higher than BNY Mellon's 9.2%. State Street also saw its deposits grow by 8.4% year-over-year while BNY Mellon saw its deposits grow by 5.7% and Northern Trust saw its deposits decline by 2%. State Street had a higher net interest margin than its trust bank peers in both Q3 2011 and Q3 2012 and this helped it grow its net interest income by 7.1% year-over-year while Northern Trust saw flat net interest income and BNY Mellon saw its net interest income decline by 3.35% due to a 10bp NIM compression.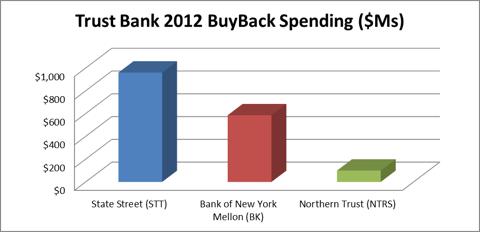 Sources: Q3 Reports for State Street, BNY Mellon, Northern Trust, and JPM
Conclusion
Our confidence in State Street and its management has been restored based on this quarter as well as the recent change in tone by STT's management. We are more optimistic about capital market performance next year due to the expected results of the US elections. We expect positive changes in fiscal and macroeconomic policies that will come out of the new administration versus the current administration and the fact that we don't expect to see divided control over Congress. This will serve as a tailwind to more upbeat capital market performance and serve to increase STT's asset-price-based fees from average assets under custody, administration and management, as well as trading. We believe that STT's foreign trading volumes will bottom out this year Also we believe that the new asset servicing and management mandates won in Q1 will serve as another revenue tailwind for STT's fee-based revenues. Finally, we are highly confident that STT's net interest income performance will meet exceed our expectations, as we have a very low bar on this metric in that we expect STT's net interest income to be flat on a year-over-year basis as increased deposit volumes will offset lower net interest spreads.
Disclosure: I am long STT, C. I wrote this article myself, and it expresses my own opinions. I am not receiving compensation for it (other than from Seeking Alpha). I have no business relationship with any company whose stock is mentioned in this article.
Additional disclosure: This article was written by an analyst at Saibus Research. Saibus Research has not received compensation directly or indirectly for expressing the recommendation in this article. We have no business relationship with any company whose stock is mentioned in this article. Under no circumstances must this report be considered an offer to buy, sell, subscribe for or trade securities or other instruments.