What I love and hate about the stock market is how much it mimics nature. As animals, we hunt and we are hunted. Consequently, we chase after that one stock that will bring us double digit returns and hope to find the ultimate kill that will bring us praise among our family and friends. Investors in Sarepta Therapeutics (NASDAQ:SRPT) had that moment recently when their $3.00 stock topped out at $45 within a few weeks time. This hunting metaphor however, is not the best one to facilitate a profitable stock selection process. Allow me to introduce you to a better one.
In a Figure-4 Dead Fall Trap, bait dangles precariously near the base of a large rock held in place by a construct of flimsy sticks designed to topple when the target tugs and to crush it unaware. In this metaphor, the bait is tantalizing profits. The rock is bad news. And the sticks are constructs we use to justify owning the stock. If the metaphor seems a bit perverse, think of the bruised and battered shareholders of Questcor Pharmaceuticals (QCOR), when their holdings were buried beneath a mountain of bad news plunging from $51 to an earth shattering $17 in a matter of a few short weeks.
In this allegory, we're not the hunter, we're the hunted. The hunters are groups of individuals gathered as corporations that want our money to make their wealth grow. So when the CEO of a pharmaceutical company gives a presentation at a healthcare conference it may sound like an exercise in academia, but it is in fact, a sales pitch for our investment dollars. As a result, these companies prefer that we don't see the flimsy nature of the sticks propping up the large rock of bad news hanging over our heads. They are indifferent to our success or failure. They just want us to take the bait, because if we take the bait, win and get away, - they make money. And if we take the bait, lose and get crushed - they make money on that too. They always make money, because they own the trap.
Financial firms and writers in publications like this one tend to the trap and often use it for their own selfish reasons. You didn't think that reiterated "hold" position was to help you in your investment decision making process, did you? In this analogy, financial firms and writers are part of the apparatus that holds up the illusion of safety. They are the flimsy sticks we must carefully examine or pay a great price for ignoring.
To be successful at stock selection within the model of a Figure-4 Dead Fall Trap, this is what we need to do.
Ask ourselves if we're hungry enough to risk taking the bait
Determine if the bait is good enough
Survey the scene - especially by examining the sticks that form our investment hypotheses.
Having taken the bait - know when dinner is over!
Stock Recommendations For Thursday, October 18, 2012
<Stick> When Bret Jensen recommends a biotechnology stock here on Seeking Alpha - buy it! Preferably buy it on the same day he recommends it. Note that I did not say buy it and hold it indefinitely. I said, buy it! Bret is a savvy investor who knows a good investment when he sees one. He doesn't always give accurate responses to your queries because he is more salesman than educator. Additionally, he is a very busy man!
<Rock> Questcor Pharmaceuticals is an excellent value at its present price of $25. I believe this stock will hit $32 within the next six weeks. When it does, sell it! There's too much residual bad news hanging overhead to hold it for longer than that, despite what Q-Cor adherents will tell you.
Sunshine Heart (NASDAQ:SSH), one of Bret's picks back in early September is not a good long-term hold at this time. The stock will suffer from sporadic spurts of elevation followed by long steady declines over the next three years. This is primarily because Sunshine Heart's 388-patient trial won't be completely populated with patients until the year 2015. You see, it's far more difficult to enroll patients in an experimental study involving a surgical procedure on their heart than it is to enroll patients in a procedure that involves taking a pill or receiving an injection. If a 20-patient study takes six months then a 388-patient study, if I do the math correctly, might take nine years. Fortunately, Sunshine Heart is more optimistic. The year 2015 however, is an enrollment date, not a study completion date. Data will have to be analyzed and sent to the FDA with an application for final approval that will require even more time. Then there will have to be production of the finished product, the hiring of sales persons and so much more. Accordingly, we can expect a U.S. sales date of no earlier than the year 2017, unless of course we're talking about sales directly related to the 388-patient trial.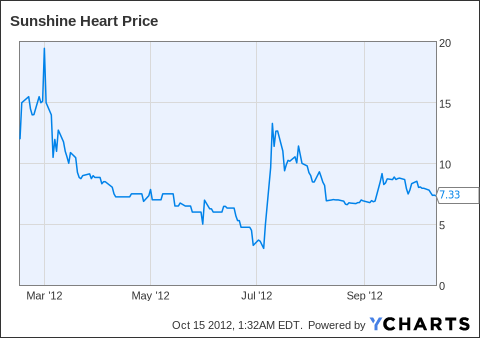 4. <Bait> I like both Stem Cells (STEM) and Novavax (NASDAQ:NVAX) as speculative plays. Choosing between them, I prefer Novavax for the very same reasons that others recoil. Their management staff, though indulgently compensated is professional, knowledgeable and well connected. Note: If for some reason the rock of bad news tramples your shares, hold them for a rebound. Novavax will be a double-digit stock one day.
Disclosure: I am long QCOR. I wrote this article myself, and it expresses my own opinions. I am not receiving compensation for it (other than from Seeking Alpha). I have no business relationship with any company whose stock is mentioned in this article.
Additional disclosure: I plan to initiate a position in NVAX in the next 24 hours.