Linn Co (LNCO) is really just a shell company that will make it easier for Linn Energy (LINE) to access a greater number of investors. LINE operates as an MLP. As such you sometimes will have to worry about UBTI -- Unrelated Business Taxable Income. You will have to pay taxes on this even if you own LINE in an IRA. If you do not own LINE in an IRA or other retirement account, you will have to file a form K-1 for LINE distributions. This too is extra tax work. Many people do not want to have to deal with any extra complications, so they choose not to own great stocks like LINE. This includes many institutional investors. LNCO is a way to allow those lazy investors to participate in Linn Energy without having to go to any extra tax trouble. LNCO's just completed IPO sold 30.25 million shares at $36.50 each to raise $1.1B.
Linn Co's (LNCO) reasons for being are to own Linn Energy stock/units, to pay any Linn Energy UBTI taxes, and to convert the Linn Energy distributions into the simple dividends (form 1099-div) of Linn Co (LNCO). Linn Co is not a REIT, although it is an LLC (limited liability company) like Linn Energy . Linn Co is expected to receive a tax shield in excess of 100%. However, Linn Co is expected to pay taxes due to the alternative minimum tax (AMT). Linn Co's income tax liability is estimated to be between 2% and 5% of LINE's cash distribution to Linn Co for the next three years (2012-2015). However, owners of LNCO should be aware that distributions from LINE in excess of earnings and profits will be treated as a return of capital; and they reduce the basis in LNCO shares. The percentage of distributions that will be treated as a return of capital are expected to be between 40% and 100% through 2015. One good thing is that the calculation of earnings and profits is slightly different for LNCO than for LINE. Income is generally higher for LNCO since items such as accelerated depreciation and current deduction of IDC's are not allowed. LNCO shareholders do have voting rights for LINE, but LINE will have all voting rights for the election of LNCO's board.
Now you only have to decide if you want to own Linn Energy. Linn energy is an oil and gas E & P MLP. It pays a hefty dividend of 7.08%. LINE likes to buy already developed properties about which there is little doubt as to productivity. It continues production, and it develops further resources on the already significantly proven fields. Lately it has been acquiring properties at a rapid rate. LINE spent $1.35B in 2010, $1.48B in 2011, and $2.80B in 2012 to date. The chart below shows LINE's acquisitions growth and its planned potential organic growth over the next few years.
Click to enlarge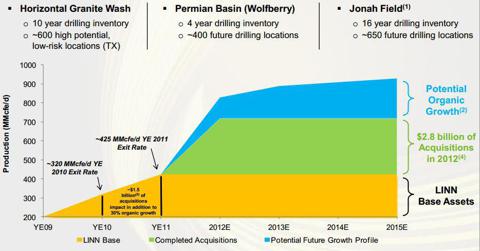 LINE is planning to roughly double production from about 425 Mcfe/d at the end of 2011 to about 825 Mcfe/d at the end of 2012. Nearly doubling production within a year is impressive for any developer. In LINE's latest guidance on September 27, 2012, LINE estimated its total production for Q3 to be between 760 Mcfe/d and 780 Mcfe/d. This is already getting close to LINE's previously stated goal of 825 Mcfe/d by the end of Q4. In fact, if LINE averaged the above during Q3, then daily production may already be near or even above 825 Mcfe/d. LINE was particularly successful in its Hogshooter wells during Q3. It drilled nine new wells in the Hogshooter with an average initial production rate of 1,983 bopd, 534 bpd of NGLs, and 3.4 Mcf/d of natural gas. All told, LINE has now drilled 12 Hogshooter wells with an average initial production rate of 2,110 bopd, 528 bpd of NGLs, and 3.4 Mcf/d of natural gas per well. LINE plans to drill at least another 8 Hogshooter wells in Q4. These new wells should significantly improve oil production for LINE. LINE controls about 95,000 net acres in the Granite Wash -- the area that contains the Hogshooter.
The following charts give a good assessment of LINE's growth history.
Click to enlarge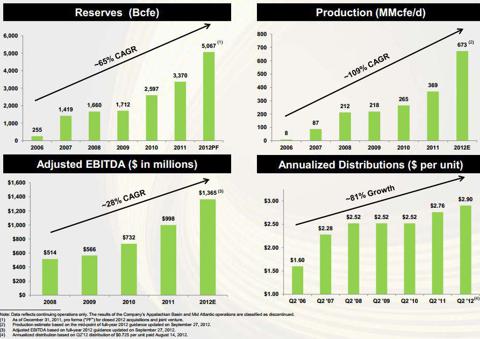 LINE has grown reserves and production at astounding rates over the last five years. For those who worry this might not carry over to per unit growth, the annualized distribution per unit chart shows that LINE has also managed good growth per unit with about 81% growth since Q2 2006.
LINE is fully hedged for many years into the future in both oil and natural gas. However, it has no NGLs hedging. When the NGLs prices fell by approximately 38% in Q2 2012 alone, this resulted in a 0.18 times reduction in LINE's distribution ratio by itself. Since that time NGLs prices have rebounded a bit, and they seem likely to rebound further with an el Nino winter forecast for 2012-2013. This along with the great new organic growth should easily push the distribution ratio up substantially from its Q2 0.97x ratio. Since LINE has only projected a 1.1x distribution coverage for 2H 2012, it should easily be able to make this. In fact it should exceed it handily. The chart below shows the EIA's near-term propane history and forecast for prices in the US. It should give a good idea of how NGLs prices are likely to behave in the near future. Propane is an NGL (natural gas liquid).
Click to enlarge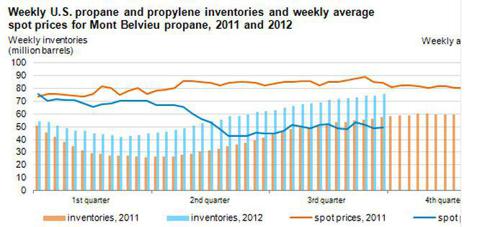 The idea of Linn Co (LNCO) is a good one. It should give LINE an advantage over competitors in raising funds for new acquisitions. With a possible recession in the US in 2013, there are bound to be some great properties available at bargain basement prices. If LINE can take advantage of this, its unit holders and LNCO's shareholders are all likely to benefit. This should give LINE (7.04% dividend) an advantage over its competitors such as: BreitBurn Energy Partners LP (BBEP) -- 9.24% dividend, Vanguard Natural Resources (NYSE:VNR) -- 8.08% dividend, and Penn West Petroleum Ltd. (NYSE:PWE) -- a Canadian company with foreign tax issues and a 7.78% dividend. These competitors have no LNCO's to attract more investors with.
The two-year chart of LINE gives some technical direction to this trade.
Click to enlarge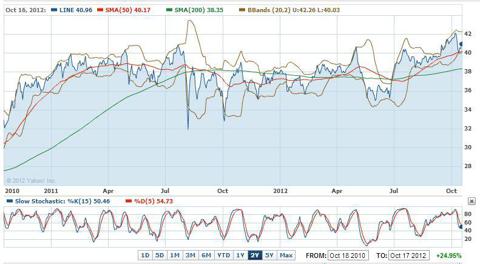 The slow stochastic sub chart shows that LINE is neither overbought nor oversold. The main chart shows that LINE has been in a consolidation pattern for almost two years. Recently, LINE has attempted to break out of this pattern to the upside. The success of this break out may depend more on the behavior of the overall market than any other factor. Still the recent Hogshooter results, which are mostly high in oil content, bode well for LINE's future. LINE is a buy. However, the overall market is overbought; and it is likely overpriced, especially when many of the companies reporting in the Q3 2012 season are missing on revenues. Averaging in around the fiscal cliff, which may take the overall market down substantially, may be a good idea. Most investors are buying LINE or LNCO for the dividend and the good, steady growth. You don't want to jeopardize your profits by buying all of your LINE pr LNCO holdings at a near term top. LINE is trading at a very reasonable PE of 8.80. LINE has an average analysts' recommendation of 1.6 (a buy) and a CAPS rating of five stars. A lot of people like it. LNCO is essentially LINE with fewer tax issues.
NOTE: some of the above fundamental financial data came from Yahoo Finance.
Good Luck Trading.
Disclosure: I have no positions in any stocks mentioned, but may initiate a long position in LINE over the next 72 hours. I wrote this article myself, and it expresses my own opinions. I am not receiving compensation for it (other than from Seeking Alpha). I have no business relationship with any company whose stock is mentioned in this article.