In this article, I aim to describe three fundamentally undervalued tech stock picks. The focus here will be on stocks with low price-to-earnings multiple relative to peers and healthy balance sheets whose growth may have sputtered in the face of macroeconomic issues. It is on this non company-specific weakness that I believe the opportunity presents itself. For a longer term, contrarian investor, the following companies seem to particularly compelling:
1. Marvell Technology Group (NASDAQ:MRVL)
Marvell Technology Group is a fabless semiconductor designer. This means that the firm develops designs and then has these designs built at a dedicated foundry such as Taiwan Semiconductor (NYSE:TSM). The company has its hands in a number of semiconductor products: storage controllers, application processors and baseband chips for smartphones, and network processors.
The company trades at 11.61x past earnings and just 8.41x expected forward earnings. Further, the firm is sitting on $2.1B in cash and no debt, meaning that its net cash position represents no less than 40% of its market capitalization ($5.02B as of last close). Marvell pays a dividend of $0.24/share on an annualized basis, aggressively buys back shares, and is trading at 1.04x book value.
The reasons for the company's share price decline appear to be:
Marvell's wireless and mobile division has historically been highly levered to Research In Motion (RIMM), which is seeing significant headwinds. Further, it has been rumored that RIM will be using Qualcomm's (NASDAQ:QCOM) Snapdragon S4 apps processor and LTE-baseband in its upcoming "BlackBerry 10" phones.
The PC industry is in a slump and 47% of its revenues come from selling storage controllers to the hard drive and solid sate drive makers, both highly levered to the PC.
Should the PC market rebound and should Marvell's smartphone processor sales resume on a growth trajectory, the stock could see significant upside while having limited downside at $9/share as it trades near book (and most of that is tangible cash).
2. Nvidia (NASDAQ:NVDA)
Nvidia is a fabless semiconductor designer. The company's product offerings center around the GPU or "graphics processing unit". It is thanks to GPU technology that smartphones, tablets, and PCs can render visually rich games. Further, GPUs can be appropriated in other areas such as workstations, scientific computing, and even in supercomputers (the Top 500 list of fastest supercomputer has 35 machines accelerated by Nvidia's products).
The company trades at 17.05x past earnings and 12.32x expected forward earnings. Further, the company is sitting on $3.28B of cash, or just about 40% of its $8.09B market capitalization. The company does not pay a dividend, nor has it bought back shares in recent history. However, to make up for this, it has a compelling growth story:
The company is currently taking market share from its rival, AMD (NYSE:AMD) in the notebook GPU segment.
The firm's latest "Tegra 3" system-on-chip for smartphones and tablets has managed to score a number of high profile design wins such as the Microsoft (NASDAQ:MSFT) "Surface", the Google (NASDAQ:GOOG) Nexus 7, and the HTC One X+.
While PCs are in a slump, Nvidia, according to its latest 10-Q, still expects to be supply-constrained during the current quarter as demand for its 28nm products outstrips supply.
The need for power efficiency in the data center for high performance compute applications makes the firm's "Tesla" products compelling. The firm recently refreshed its product lineup in this area with its K10 and K20 parts, which should help drive sales for this segment in the back-half of the year.
The likely reasons that the company is trading off of its 52-week high of $16.90:
GPU sales are levered to the PC. While a good chunk of the company's sales actually occur in the channel rather than through OEMs as desktop graphics boards are usually an "upgrade" for existing systems, notebooks are less flexible and as a result come with GPUs pre-installed from the factory
The smartphone and tablet system-on-chip space is fiercely competitive, and "Tegra" is far from the market leader in the space.
3. Seagate (NASDAQ:STX)
Seagate designs and develops storage solutions for consumer and enterprise environments. The company's primary focus is on traditional hard disk drives, but it is also develops hybrid hard disk/flash solutions. Further, as the company recently made a number of strategic moves to ready itself for a more solid-state world such as partnering with Samsung for flash memory supply, and taking an equity stake in DensBits, a TLC-NAND specialist.
The company trades at a mere 4.4x trailing earnings and 4.29x forward earnings. The company has a net debt position of $740M, pays a juicy $1.28/year in dividends coming out a 4.51% yield at the last closing price of $28.38. Seagate also very aggressively engages in share buybacks: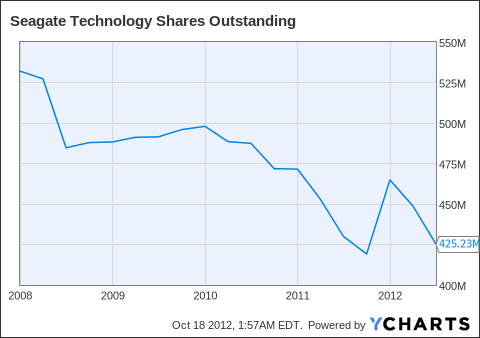 STX Shares Outstanding data by YCharts
While the company's growth prospects aren't all that exciting, there's a dirty little secret everyone needs to know: weak PC sales aren't going to hurt the company. Why?
Well, there are only two major hard disk manufacturers: Western Digitial (NYSE:WDC) and Seagate. The barrier to entry into the hard disk space is quite high, and both of these companies run the dupoly that they do today because they aggressively bought out all other competitors. Before the Thailand floods, hard disks were a commodity product that commanded razor thin margins. However, after the floods, when the drive makers realized that there will always be a strong need for storage, the prices got jacked up. And they've stayed up well after supply issues have waned.
So say solid state drives become more popular, or suppose that PCs demand is soft - it doesn't matter! The hard disk players can very easily compensate for the lack of volume by jacking the prices of the drives up. Also, while the consumers might have a choice to go with SSDs, the enterprise space cannot. Flash memory is expensive and as such solutions are only really suitable as accelerators/caches in support of a massive hard disk based infrastructure.
More importantly, as the "cloud" expands to accomodate the ever- shrinking amounts of local flash storage available on smartphones, tablets, and even notebooks, it will need to be filled to the brim with hard disk drives, as the cost per gigabyte of flash memory is simply too prohibitive to be viable for the cloud.
So with a solid, stable business model, 4.5% yield, and massive share buybacks, it's hard to say no to Seagate after it has pulled back quite nicely from its 52-week high of $35.
Disclosure: I am long MRVL, NVDA. I wrote this article myself, and it expresses my own opinions. I am not receiving compensation for it (other than from Seeking Alpha). I have no business relationship with any company whose stock is mentioned in this article.