Analysts' expects EPS of 1.48 and revenues of $7.2 billion the third quarter. As revenues were just $6.9 billion in Q2 (and analysts were too optimistic on that quarter as they expected $7 billion), I think it is worth taking a closer look on whether theyalso are too optimistic on Q3.
Therefore I have made a short analysis of each region with separate estimates for revenue and operating margin.
The US
For most market leading companies it is difficult to gain additional growth, but McDonald's (NYSE:MCD) has over the last years expanded its product line and obtained growth through breakfasts offering and its McCafé line. However, last quarter was somewhat mediocre with a growth rate of just 3.6% in same store sales (which is also known as comp growth).
Nevertheless, the growth rate in terms of revenues was still pretty impressive (6.6%), as McDonald's opened new stores which boosted sales.
For Q3 2012 I expect comp growth of 3.5% and a growth rate in revenues of 6.5%.
click to enlarge images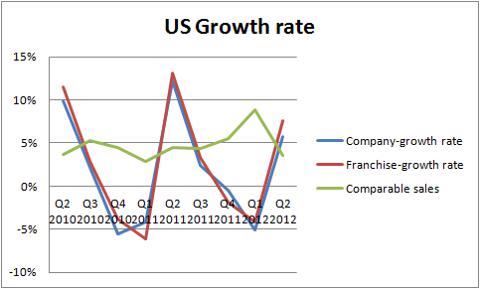 Click to enlarge
In terms of profitability, not much has changed over the two years. The franchise business continues to be very profitable as McDonald's do not have a lot of costs associated with franchises and gets paid in royalties.
In Q2 2012 margins were hit by higher commodity, labor- and occupancy costs. But in general, the economy in the US is relatively sound, and in Q3 I expect a franchise margin of 84% and a company margin of 20%.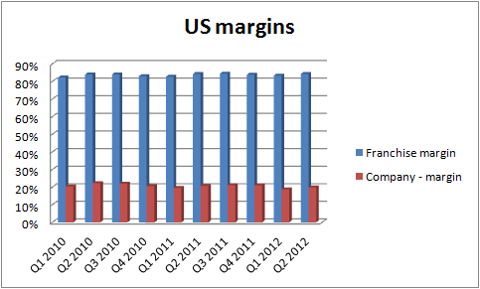 Click to enlarge
Europe
I think McDonald's has been (surprisingly) resilient to the European crisis. The comp growth rate has been around 5% over the last two years, and though the rate declined to 3.8% in the last quarter, it's still pretty impressive. Especially the UK and Russia delivered strong sales, while France and German were also positive. In this quarter I think sales from France could be further improved as McDonald's has increased media spend to gain additional awareness of the Petit Plaisir line up of smaller premium sandwiches. In Germany, I think we will continue to see positive comp growth rate as well, due to bubble tea being implemented in its 800 MCCafes.
For Q3 2012 I expect a 3% comp growth rate in Europe and an 8% total growth rate in revenues.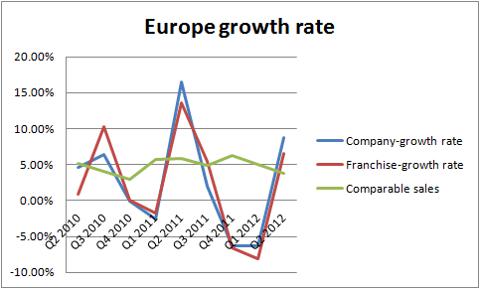 Click to enlarge
In terms of profitability, franchise margins are slightly lower in Europe than in the US. Over the last quarters, European company margins have been hit somewhat by higher occupancy- and commodity costs, and due to the austerity measures in Europe, it is more difficult for McDonald's to raise prices than in the US. Therefore I expect a slight decrease in both company- and franchise margins to 79% and 19% respectively.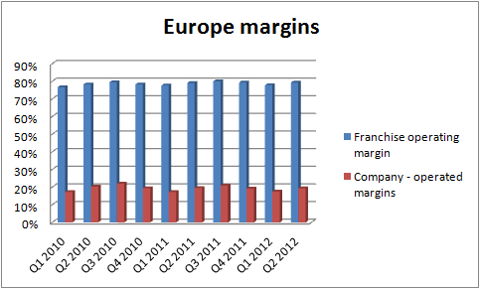 Click to enlarge
Asia Pacific, Middle East and Africa (APMEA).
As you can see in the below graph, the growth rate in APMEA has actually been quite disappointing over the last quarters. Management has three explanations:
Fragile consumer confidence in Australia
Japan's uneven recovery
Economic slowdown in China
I am not convinced, however, that these explanations are anything but excuses for mediocre management. Europe is definitely in worse shape from a macroeconomic point of view than APMEA and despite that, the management team in Europe has accomplished a much better growth rate than the management team of APMEA.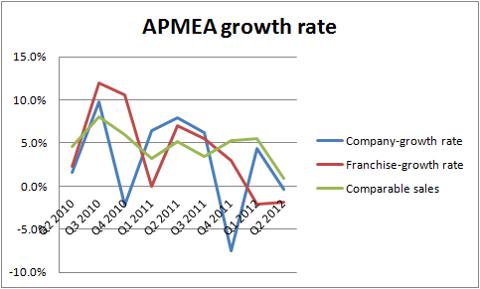 Click to enlarge
For this quarter, however, I believe we will see an improved growth rate due to a store expansion in China and a growing beverage business in Japan. Therefore I believe we will see a comp growth rate of 2% and a growth rate in revenues of 6%.
In terms of profitability, company-operated margins decreased to 15.3% in Q2 from 17% in Q1. In the next quarter I think we will a small improvement as McDonald's has changed its platform in Australia, which could lead to consumers migrating from the value offerings to the rest of the menu. As margins typically are higher on more expensive products, I think McDonald's will benefit from this (expected) change.
Therefore I estimate that McDonald's will obtain company-operated margins of 16.8% and franchise margins of 89% in Q3 2012.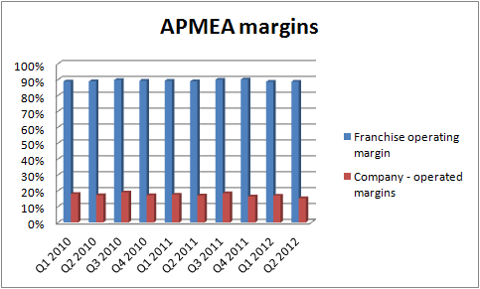 Click to enlarge
Earnings estimate
As you can see, I expect a $1.37 EPS, which is slightly below analysts' estimates who think McDonald's will obtain an EPS of $1.48. I think they might be a bit optimistic in terms of revenues, as they expect $7.2 B compared to my $7.05 B estimate.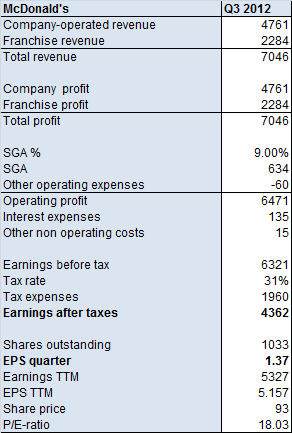 Disclosure: I have no positions in any stocks mentioned, and no plans to initiate any positions within the next 72 hours. I wrote this article myself, and it expresses my own opinions. I am not receiving compensation for it (other than from Seeking Alpha). I have no business relationship with any company whose stock is mentioned in this article.