How do REIT investors today find reliable sources of income? Clearly, traditional mortgage REITs are beginning to show signs of weakness as they have lost about 6 percent of their value in the past week, extending a decline that started after the Federal Reserve said in September that it would buy an additional $40 billion of securities a month.
That move by the Fed has pushed down bond yield, narrowed spreads and reduced homeowner borrowing costs-squeezing mortgage REIT earnings and dividends. As a result, mortgage REITs are losing investors who have been attracted by average annual dividend yields currently at about 13 percent, or almost seven times that of S&P 500 companies.
The immediate challenge to mortgage REITs comes from a jump in homeowner refinancing driven by record rates. That will force the companies to write off the premiums they paid for bonds faster and reinvest at lesser yields. Applications to replace mortgages rose last month to the highest since 2009.
Denahan-Norris, who last week was named co-CEO of Annaly (NYSE:NLY), one of the largest mortgage investing REITs in the U.S., recently said:
It's not just at the mortgage REITs where the returns in this market are being put under assault, It's the general global landscape where you have an incredible mispricing of risk that's being delivered at the hands of academics at the central banks of the world.
That mispriced risk means that the high-yielding mortgage are at a crossroads where refinancing activity is nearing a severe chapter and the days of "gun-slinging" returns are in the past. So how do REIT investors find sustainable dividend paying stocks with attractive risk-adjusted returns?
What About Principal Preservation?
For some people, the goal of investing is not so much getting ahead as it is not falling behind. Because inflation marches forward each and every year, the fear is that your buying power will diminish if your investments don't appreciate as quickly as the cost of what you buy.
Theoretically, there's a risk of deflation too, but economists tend to agree that it's not likely. There's also a fear among some that the U.S. dollar could simply become worthless someday, whether because of hyperinflation or some other reason.
In short, the strategy of preserving principal is a losing proposition as most bank accounts can be eaten up by inflation and bonds are particularly vulnerable. On the other end of the spectrum, the mortgage REITs are becoming less reliable sources of income as their value proposition has become impaired by less sustainable fundamentals.
So How Do You Beat Inflation While Also Steering Away From Mortgage REIT Risk?
One very compelling alternative are equity REITs - a sector with historically good inflation protection due to commercial leases with rent increases tied to a price index. This more dominating REIT sector (equity market cap is $514 billion vs. mortgage REIT market cap of $63 billion) comprises 129 REITs with average year-to-date total return performance of 16.09 percent with an average dividend yield of 3.35 percent.
Comparatively speaking, equity REITs have gained broad recognition for maintaining strong consistency in dividend performance defined more by their income performance in that the owned properties are leased to a wide variety of tenants in a less concentrated politically regulated structure (like mortgage REITs).
Furthermore, equity REIT investors have an increasingly wide menu of selections that include industrial, office, shopping centers, malls, free-standing properties, apartments, hotels, health care properties, self storage, and timber. In addition, the selection of securitized real estate options is getting much broader as I wrote in a previous Seeking Alpha article (REITs Allow A Broad Menu Of Appetizing Options: If It's Eat-Able, It's REIT-Able):
Any type of business that requires the business to either own a lot of real estate in order to function or lease a lot of real estate in order to function is "REIT-able.
In fact, there is a wave of new REIT conversions including companies like Iron Mountain (NYSE:IRM), Lamar Advertising (NASDAQ:LAMR), and Equinix Inc (NASDAQ:EQIX). As I wrote:
By becoming REITs-corporations engaged mainly in owning and operating real estate, they can return excess cash to shareholders, while avoiding federal income taxes, and get a chance to boost their stock market valuations, which has led some investors to push for the change. Also helping the trend: a broader definition by the Internal Revenue Service of the types of assets that qualify for REIT conversion.
As a fixed-income alternative, equity REITs have become more mainstream today as the benefits for investing in these high-quality alternatives include high yields (average 15-year dividend yield is around 8 percent), simple tax treatment (REITs send form 1099-DIV to their shareholders, containing a breakdown of dividend distributions), liquidity (shares are bought and sold on a stock exchange), and diversification (adding REITs to a diversified investment portfolio increases returns and reduces risk since REITs have little correlation with the S&P 500).
One sector that I have been increasingly bullish on is healthcare. The primary advantage to owning healthcare properties is that they tend to be recession resistant in that demand for health services is relatively inelastic. That consistency in need-based services is the primary reason that healthcare REIT shares have performed significantly better than their peers during periods of economic weakness.
One health care that I recently wrote about is Healthcare Trust of America (NYSE:HTA). Based in Scottsdale, this $2.15 billion REIT recently (June 6, 2012) listed its shares on the New York Stock Exchange. The HTA portfolio consists of around 12.4 million square feet in 26 states and the company boasts a dividend yield of 5.73 percent - almost three times the sector average.
The majority of HTA's medical office properties are located on-campus or affiliated with leading health systems. These health systems have invested significant capital in these locations, helping ensure that the properties remain core, critical real estate in this needs-driven sector. These inflation-hedged attribute distinguish other REITs in that property values should increase substantially over time. HTA's differentiated investment approach is explained in a recent interview with the company's CEO, Scott Peters:
HTA is somewhat unique in that we have remained narrowly focused on the MOB subsector. We believe that MOBs stand to benefit over the coming years from several macroeconomic trends, including increasing healthcare expenditures and employment, the movement of care to the lower cost, outpatient MOB setting, and the continued integration and coordination of care between health systems and physicians which was accelerated by the Affordable Care Act. MOB's stand to benefit from all of these trends, yet have limited exposure to government reimbursement risks.
HTA closed Wednesday at $10.03 per share, just $.02 below its listing price (and 52-week high) of $10.05.
Click to enlarge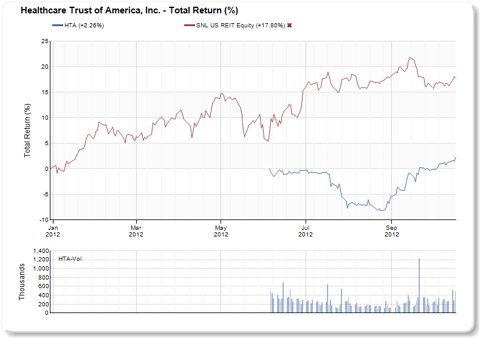 One other REIT that offers compelling yield-enhancement is American Realty Capital Properties (ARCP). As I wrote in a recent article:
ARCP certainly has "yield appeal" and there is worthy temptation to capitalize on the intoxicating yields. However, the shorter and medium-term leases become a more risky proposition - especially when there is less than a year remaining - and the true value (or the alpha) for ARCP will be its ability to manage risk and retain tenants over time.
The triple-net REIT has grown from 63 properties to over 120 and this has substantially increased its diversity in tenant, geography, and industry. I applaud the REIT for sourcing more accretive deals that should further enhance portfolio returns and increase investor confidence driven by reliability. ARCP has a current market cap of $146.7 million and its shares closed at $13.14 per share. The current dividend yield is 6.81 percent and the year-to-date total return is 34.98 percent.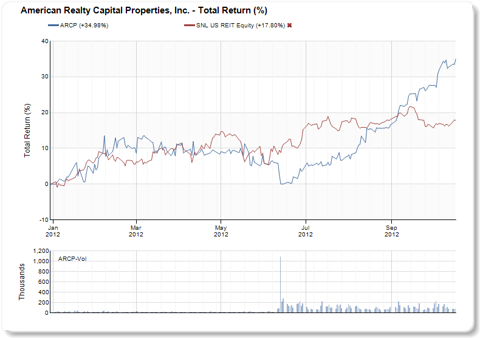 One final REIT to consider and one that has an extraordinary inflation-hedged advantage is Regency Centers (NYSE:REG). Founded in 1963 and public since 1993, Regency has built a dominating grocery anchored portfolio of many of the "best in class" grocery chains such as Publix (OTC:PUSH), Whole Foods (NASDAQ:WFM), and Kroger (NYSE:KR). (Note: Shares of Kroger were up 2.2 percent Tuesday after Jefferies took its rating on the grocery store chain up to Buy from Hold. The firm sees Kroger taking market share from rivals and improving its ROIC).
With 364 shopping centers and approximately 50 million square feet, Regency continues to grow its diversified highly productive grocery anchored centers by maximizing traffic and tenant sales. The current share price is $49.55 and the market cap is $4.457 billion. Regency's current dividend yield is 3.73 percent and the company's annualized total return is 35.75 percent.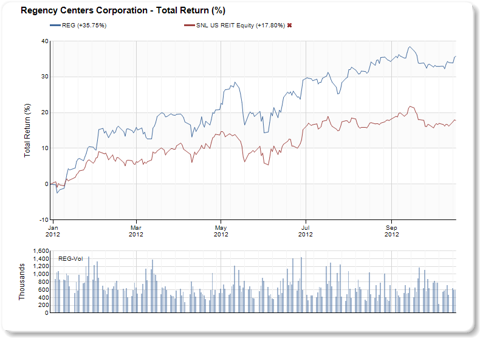 Sleep Well At Night with Inflation-Hedged Equity REITs
Stormy weather can be brutal for mortgage REIT Investors and a solid investment portfolio should be built on a strong foundation of stocks that preserve principal. Alternatively, an inflation-hedged blanket can help the chill of the seemingly low-yielding stocks that offer little security for a sleep-well-at-night portfolio.
Equity REITs are proven alternatives that provide both sound principal preservation and predictable risk-adjusted returns. This combination provides no substitute and is also the primary appeal to the value proposition: REITs provide a dividend-anchored total return component that makes for a most attractive "bond-like" income stream - and a safe haven model rooted by sustainability and durability.
This attraction to dividend repeatability is the strongest source of REIT differentiation and the essence of the stability that makes the lower volatility fixed-income alternative attractive. One should consider the stability of the dividend yields, as a well-balanced equity REIT portfolio should include REITs that provide essential income durability along with attractive capital growth. As Ben Graham wrote (in The Intelligent Investor),
It is the consistency in the products that creates consistency in a company's profits. Consistency and durability are attributes for competitive advantage.
Source: SNL Financial, Bloomberg Businessweek
Disclosure: I have no positions in any stocks mentioned, and no plans to initiate any positions within the next 72 hours. I wrote this article myself, and it expresses my own opinions. I am not receiving compensation for it (other than from Seeking Alpha). I have no business relationship with any company whose stock is mentioned in this article.