On Wednesday August 27 before the market open, Brown Shoe Co. (BWS) reported Q2 earnings of $0.05 per share or $2.2 million on $569.2 million in revenue vs. $0.22 per share or $9.8 million, a drop of 77.4% compared to a year ago (see conference call transcript). The results included a $0.15 charge for the relocation of its Famous Footwear unit's headquarters from Madison, WI to St. Louis, MO (the transition should be completed by the end of Q3). Analysts expected earnings of $0.06 per share on $589.9 million, missing both earnings and revenue targets. Shares dropped around $15 or down 5% in the pre-market, opened at $14.95, and closed at $15.37, down 3.2% on 1.5 million shares (over 2x average daily volume). 
Inventory increased to $502.9 million vs. $474.5 million vs. a year ago, an increase of 6%. Wholesale sales declined 9.3% to $180.1 million vs. $198.4 million. This is due to increased inventory control of retailers. The Nauralizer and LifeStride brands did poorly, but the Franco Sarto, Etienne Aigner, Via Spiga, and Original Dr. Scholl's did well. BWS is also releasing a brand with Fergie and entered into a partnership with Vera Wang's Lavender Label Collection.     
BWS announced that they have implemented SAP's Apparel and Footwear Solution for Consumer Products provided with Parametric Technology Corporation (PMTC), and will continue into 2011. Also, the Enterprise Resource Planning info tech system will be implemented to create efficiency in BWS's day-to-day operations. An improvement in the supply chain and overall operations will increase profitability and efficiency going forward, but the cost of implementation will be approximately $0.04 per share. Chairman and CEO Ron Fromm stated: "We are taking a cautious approach to the back half of 2008 by appropriately reducing guidance and tightening our standards for capital management".  
Management also cut both Q3 and the full fiscal 2008 year's guidance. For Q3, management revised earnings estimates lower to $0.31 - $0.41 per share. Analysts were expecting $0.69 per share.  For the fiscal year, Management revised their forecast lower and expected to earn $1.12 - $1.29 per share on $2.38 - $2.40 billion in revenue. The previous forecast was earnings of $1.29 - $1.53 million on $2.43 - $2.48 billion, revising down both earnings and revenue estimates. Analysts, up to that point, expected BWS to earn $1.39 per share on $2.43 billion in revenue.  
For the fiscal year, BWS expects to open 90 Famous Footwear stores compared to previous plans to open 130 stores, a 31% change. BWS currently operates 1,127 Famous Footwear stores and 295 Naturalizer stores. This is due to the fact that same-store sales declined 2.9% at the chain. This drop in consumer traffic will also lead to a closing of 30 stores. For the Nauralizer and Franco Sarto brands, BWS expects to open 25 to 30 stores, about half of which will be in china (15 to 20), and close 3 stores.  
The apparel retail industry outlook remains neutral to negative. This is due to the overall weakness in the economy where consumers' incomes are spent mostly on essential items. I expect a continued decline in spending and traffic to stores for the short-term, however, I believe BWS's current strategic plan of expansion and management will allow the company to position itself for future growth in the long-term. 
Currently, 6 firms publish recommendations on BWS with 3 "Buy" ratings and 3 "Hold" ratings. On August 28, Sterne Agee downgraded BWS to "hold" from "buy" and reduced their target price to $17 from $23. I expect additional analyst actions in the next few weeks. Insiders have purchased 23,500 shares and sold 0 shares in the past 12 months. Institutions in the past 3 months have sold a net 7.23 million shares representing a 20% change in ownership. 
Technically, BWS has been trading in a range since the start of this year (8 months). Bullish indicators include: a flattening of the 200-day MA, a rise in the 50-day MA, higher lows and higher highs. There is major long-term support at $12 and major long-term resistance at $17-$18. For the short-term, BWS entered into a short-term trading range and found support at $14 on August 28.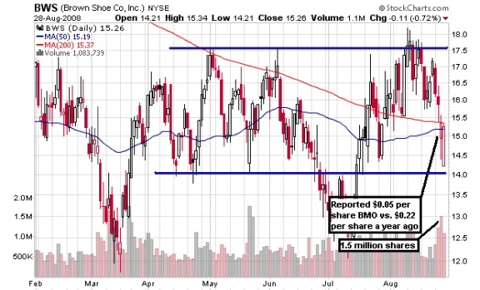 Disclosure: none