By Jim Wiandt
Matt Hougan has a great list of 5 Good ETF Ideas That Haven't Caught On (Yet). It made me curious about returns...which are few and far between this year.
It made me think - so which ETFs are at the top in performance for 2008? I realized I really have no idea, unless I REALLY start thinking about it. What would it be? Inverse EAFE? Still commodities?
Well - here's that actual list. In fact, let's make it 25. This is just right off www.indexuniverse.com/data (in the process of being radically expanded, by the way). And we're not at the end of August yet. So this is end of July YTD data:
click to enlarge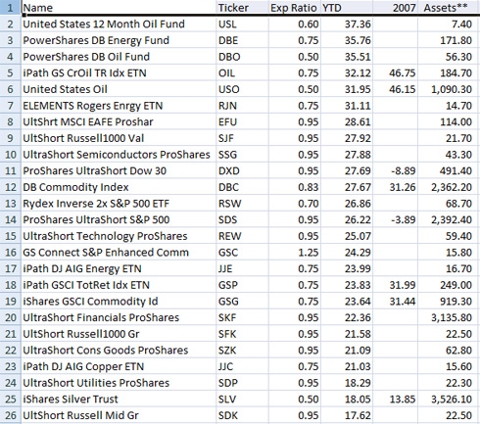 Click to enlarge
All I have to say is, what a mess of a market we're in. Oil and short equity and a few other commodities and that's about it. And I'd also say that for YTD 2008, anyway, the old adage "You've got to pay to play" holds, as there's not ONE ETF at less that 50 basis points in expense ratio in the top 25 performers. And I'd also note that the reason I'm showing so little in past returns is that there ARE no past returns. Not ONE ETF in the top 25 performers has even been around long enough to have full year 2006 returns.
Wow.
As long as I've been around I'm always surprised in some way when I go digging around in the data a little bit. Oh, by the way, we've got 798 ETFs and ETNs in our database, and of those, were 657 of those were underwater YTD through July. Thank goodness for the wave of fixed income launches...
Matt's mention of the China Small Caps (which certainly does have a nice ring to it) is timely with the interview of Kevin Carter, whose idea that was, and who I believe works on that fund with Mr. China, Burton Malkiel. Of the others, near-term I might be looking on the short side of the MENA and Oil funds (and you better believe you can get THAT in ETFs too, now). As a side note, you note how BIG USO is. And that fund is still a piddly billion dollars.
I've just never understood with all the interest in commodities, an insanely surging petroleum market, and even a retreat in the futures market from contango, that none of the oil ETFs (which when launched were supposed to overtake sliced bread at the breakfast table) have ever REALLY gotten off the ground. I mean GLD alone has $20 billion in assets, and you can't even burn that stuff.
I'll also note that the NYSE Arca Tech 100 (which tracks used to be the old Pacific exchanges Tech 100 index) is like a blast from the past. I remember in my early days around the ETF business in the big run-up to March, 2000, that index consistently blew everything else out of the water on the tables, and not much else was exactly IN the water. So what could have been, I guess. And I still follow that thing, and it's always had an interesting look to it.
Data say the darndest things!