Priceline.com ("PCLN" or the "Company") reported earnings in early August, exceeding Street estimates and raising guidance for the year.  On the surface, those results would usually lead to a strong rally in the stock, but PCLN shares instead fell by over 10% after earnings.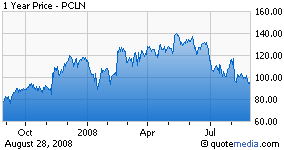 Even with the stock under $100 and over 30% off its peak, shares in PCLN may still be overvalued given the headwinds currently facing the Company.
Smaller "Beat" Rates: PCLN has benefited from good execution by management and management's ability to outperform not only its own expectations, but Street expectations as well.  However, the Company's Q2 beat was its smallest in six quarters, beating Street estimates by just 9.9%.  With the exception of the Company's Q1 08, the trend in terms of the size of the EPS beat has been declining over the past several quarters.  PCLN has been a classic "beat and raise" story for the past few years, but the level of both the "beat and raise" is decreasing. As PCLN's earnings growth decelerates, PCLN's valuation multiples could experience compression, further pressuring shares.
TABLE I: PCLN ACTUAL VS. CONSENSUS ESTIMATES
Guidance Assumptions: Another reason for concern is that PCLN's forward guidance incorporates a few assumptions that may prove vulnerable. 
While management has done a good job in operating PCLN, the Company has benefited tremendously from the EUR/USD exchange rate as the EUR has appreciated significantly against the USD.  In Q2 07 the exchange rate was EUR1.35/1.00USD while in Q2 08 the exchange rate was EUR1.55/1.00USD.  In Q2 08, revenues were up 82% but in local currency the growth was 66%.  Given PCLN's valuation and expectations, the EUR/USD exchange rate may be obscuring the true forward earnings power of PCLN.  PCLN does not fully hedge its FX risk either.  Management's guidance for 2008 incorporates the expectation that the EUR/USD exchange rate will be EUR1.55/1.00USD while the current exchange rate is EUR1.47/1.00USD.  Despite this 5% decline in the EUR/USD exchange rate and the fact that over 40% of PCLN's revenues are generated in foreign currencies, analysts have not made any adjustments to their estimates.
Another aspect of management's guidance relates to Average Daily Rates ("ADRs") charged by hotels.  Management expects ADRs to be flat in the U.S. and down 1-2% year over year in Europe.  ADRs are driven in part by hotel occupancy rates and given that the U.S. is in a recession and Europe is experiencing a slowdown across many of its countries, this assumption could be at risk as leisure travel abates, reducing occupancy rates and ADRs.  According to PCLN's filings, the Company's fees are proportionately tied to ADRs so lower ADRs negatively impact PCLN's hotel business and gross profits.
Airline Consolidation: The consolidation occurring in the airline industry could also pressure PCLN.  While the Company is not as dependent on the airline business as its competitors, as airlines merge and strip out excess capacity via reduced routes and flights, the cost of air travel will rise and possibly reduce the amount of leisure travel.  Consequently, second order effects of airline consolidation could be reduced lodging and rental car demand which would adversely impact the Company.
Increased International Competition: PCLN has done an excellent job with Booking.com but competitors like Expedia.com ("EXPE") have been making inroads in Europe.  EXPE's purchase of Venere could pose a threat to the Company in the form of requiring additional advertising spending by PCLN to offset competition by Venere. In addition, PCLN's Booking.com business has been maturing and as this occurs, PCLN will require greater incremental spending to generate similar levels of growth.
While PCLN is the best operator in its sector, the valuation premium it commands relative to its recent "underperformance" relative to expectations and very real headwinds it faces make the Company much more vulnerable than peers to a significant correction in its valuation.
DISCLOSURE: AUTHOR MANAGES A HEDGE FUND THAT IS SHORT PCLN