"Filling a need that others aren't addressing has always been a focus of the companies that I have been involved with." - ex-Clearwire Chairman Craig McCaw.
"I don't talk about any specific detail of our strategy. I never do that in advance," Softbank President Masayoshi Son.
Synopsis: Clearwire (CLWR) potentially offers the highest bandwidth for mobile data download compared to AT&T (NYSE:T) and Verizon (NYSE:VZ); it also offers unlimited plans. Such huge download speeds are required for mobile video, which, according to this report, is a major emerging phenomenon. There is a very large market waiting to be developed in this space, and Clearwire holds the key to it. With a stake of 56.6% in Clearwire, Sprint (NYSE:S) holds the key to Clearwire. Sprint also has the highest number of mobile broadband licenses according to the FCC's active license database. Sprint has 5567 licenses, Clearwire holds 568, while AT&T is second with 2,543 and Verizon is third at 1,486. Between the two of them, Sprint and Clearwire hold a majority of mobile broadband licenses by a large margin.
This article speculates that this is the sector Masayoshi Son's Softbank might be very interested in their $20.1 billion acquisition of Sprint. It is possible that they will spin off this segment as a separate company, allot the spectrum licenses and Clearwire's stake to this spin off, and make this company focus on the emerging mobile video market with tie-ups with mobile video content providers.
Background To Clearwire And The Mobile Spectrum Market
Early History - In 1998, Clearwire was spun off from Sierra Technologies Inc. The next year, it offered wireless Internet service in Dallas "using the unlicensed 2.4-gigahertz (GHz) bandwidth of the radio spectrum." Its service, at 640 kbps, was faster than dial-up and less expensive than ISDN, T1, cable, and DSL. In 2001, Clearwire signed an agreement to lease space on licensed frequencies of the broadcast spectrum from "the Instructional Television Fixed Service Spectrum Development Alliance (ITFS), a group of instructional television providers allotted bandwidth by the Federal Communications Commission in the 1960s. The agreement allowed Clearwire to lease wireless spectrum in the 2.5- to 2.7-GHz spectrum, giving it access to the frequency rights held by ITFS in roughly 100 cities." At this time, it received $22 million in funding from Dallas-based Cardinal Investments Inc, and another $97 million from Goldman, Sachs & Co. and Liberty Associated Partners L.P. to further develop its line-of-sight (LOS) Internet services. However, soon after, Clearwire began shutting down its services in most of its markets.
Years Under Craig McCaw - Craig McCaw, the reclusive telecom billionaire, had been trying to open up the cable-less Internet market for years. With Bill Gates in 1994, McCaw formed XO Communications out of the former Teledesic to offer satellite-based broadband internet. This was a prescient venture in a market not yet open to the idea; by 2003, XO had sold its spectrum licenses and filed for bankruptcy.
In 2004, Craig McCaw rebounded back with the purchase of Clearwire, launching its services in Jacksonville, Florida; St. Cloud, Minnesota; and Abilene, Texas. Clearwire began its second Phase with the McCaw purchase. Key differences between the original Clearwire and the McCaw version were:
| | |
| --- | --- |
| Original Clearwire | Clearwire under McCaw |
| Targeted Business Customers | Targeted Residential Customers |
| Operated almost exclusively on the unlicensed range of the radio spectrum. | Operate on the licensed bandwidth allotted by FCC to schools and nonprofit organizations, from whom McCaw leased. |
| Used line-of-sight wi-fi system with lower range. | Used Nextnet's non-line-of-sight (NLOS) plug-and-play system, the precursor to Wi-Max. |
| Speed 640 kbps | Upto 1.5 MBPS, matching the speeds of DSL/Cable. |
By 2007, Clearwire offered services in 46 markets in the U.S. and 4 in Europe. In November 2008, Sprint and Clearwire closed a landmark deal where it acquired a large stake (54%) in Clearwire and in return, offered it all of its licensed 2.5 Ghz spectrum and its WiMax-related assets. Clearwire also received funding of $3.2 billion from Comcast, Intel, Time Warner Cable, Google and Bright House Networks, who jointly owned a 22% stake in the new company.
By the end of 2010, Clearwire operated its 4G network in 71 markets across the U.S. covering more than 110 million people. However, although Clearwire called this 4G, it was only an advanced Wimax technology.
By 2010, the WiMax technology had been outdated by newer 4G-LTE technology that offered faster cellular broadband. Disagreements between the company directors, huge debts and layoffs and the need for new direction forced Craig McCaw to resign as Chairman of the company and leave the Board of Directors in December 2010.
Developing 4G - According to Clearwire website, Clearwire is the pioneer in 4G and operator of the first 4G network in the country.
The Clearwire 4G mobile broadband network covers more than 130 million people in the U.S. including 35 of the top 40 U.S. markets. Our WiMAX network represents one of the fastest expansions in history, and our 4G network is highly scalable and backed by a wealth of spectrum.

In 2011 Clearwire was one of the fastest growing companies in the wireless industry and today serves 11 million 4G customers.

Recent projections estimate that global mobile data traffic will nearly double annually through 2015. Our deep spectrum position enables long-term success in the high tonnage, video-enabled 4G world. Today we're working to deploy the first wide-channel TDD-LTE 4G network in the U.S. - a network that we believe will have the speed and capacity to outperform anything else in the market.
As noted before, Clearwire is technically not a pioneer in 4G technology, but it is indeed a pioneer in pre-4G Wimax technology, as well as in the 3GPP LTE (Long Term Evolution) technology. The LTE technology is the mobile broadband technology set to become the standard technology in the coming years. Clearwire plans to launch the TDD-LTE network during the first half of 2013 in 31 cities across the U.S.
LTE Advanced is a 4G technical standard that calls for peak download mobile speeds of at least 100 Mbps, which far exceeds today's commercial networks. Clearwire's LTE network will be "LTE Advanced-ready" meaning that it will use an ultra-high-capacity spectrum configuration that is superior to the typical configuration of the slower, more capacity-constrained commercial LTE network designs in the United States today (Source: Clearwire Report cited below).
According to Clearwire, here are some of the key differentiators of their offering:
Construction of the highest-capacity LTE network in the U.S. Clearwire anticipates having the first 5,000 sites on air by June 2013 with a longer-term objective of expanding the network to up to 8,000 sites.
Advance the development of multi-mode, multi-band chipsets and components compatible with both FDD-LTE and TDD-LTE technology, as well as the 2.5GHz frequency, to facilitate the availability of devices that will operate on the network.
Clearwire has provided unlimited data plans and enabled Sprint, their largest wholesale partner, to do the same for smartphone users. They have seen total 4G network tonnage increase 165 percent in 2011 and the average 4G smartphone user use 88 percent more data in the fourth quarter of 2011 than they did a year ago.
The above is in contrast to other providers who, although trying to secure more spectrum, have seen rate plan changes - including higher data plan rates, more restrictive caps on data usage, and limiting network speed - all targeted at inhibiting customer demand.
With their deep spectrum holdings of 160MHz of spectrum in the top 100 markets on average, and a flat, all-IP, flexible network, Clearwire believes that it is better positioned to meet this increasing demand than any other carrier.
The Emerging Mobile Video Market
A recent report published in Business Insider details the growth in the mobile video market. According to the report, in the last 2 years, American mobile video usage increased by 77% to 36 million viewers. As the smartphone and tablet market matures globally, this video usage is only bound to increase.
The report also says that as 4G LTE accessibility increases, more American consumers are expected to watch videos on their mobile devices. The fact that mobile video offers users the freedom to watch content where and when they wish has been instrumental in increasing usage. With the addition of larger screens and better processors in smartphones, the popularity of video watching is on the rise.
However, the main problem with the growth of mobile video comes from data carriers. Many data carriers are limited by the spectrum volume they possess. So, many will try to limit higher consumption with tiered plans and higher rates; in this space, if any carrier is able to provide a user-friendly plan, they will succeed more than anyone else.
Why Is Clearwire Best Suited To Mobilize This Market
As we have seen in the discussion above, Clearwire, although a pioneer in the industry, has not been as successful as other players. However, it still holds licenses to huge volumes of spectrum, which enables it to allow customers consume more data at high speeds than its competitors. Being a pioneer in the mobile data field, Clearwire also has a lot of experience and a good deal of infrastructure it can bring into action to mobilize the market. Furthermore, its understanding with Sprint gives it access to a lot more spectrum, bringing it into a unique position so far as mobile video is concerned.
Given below is data from an investor presentation from Clearwire: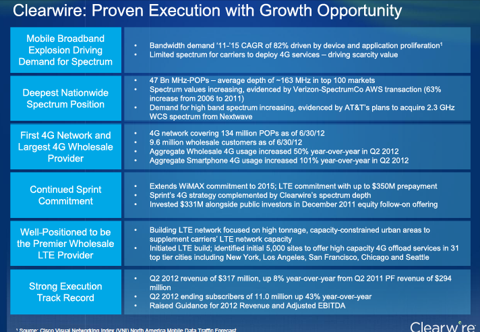 Click to enlarge
SoftBank's Clearwire Strategy
Masayoshi Son's purchase of a 70% stake in Sprint at $20.1 billion puzzled many analysts; as someone said, it appeared that Mr Son was biting off more than he could chew. However, Softbank has over 30 years of experience in Japanese and other markets through its various incarnations like J-Phone and Vodafone Japan. It is situated in a good position to enter the U.S. market. Buying Sprint enabled it to become majority shareholder in both Sprint and Clearwire, two underperforming companies with considerable depth in the industry, spectrum and infrastructure assets, and a loyal base of customers. Mr. Son has a reputation as a business leader who can turn around underperformers; he has done that for Vodafone Japan when it was losing customers. If Clearwire is part of Mr. Son's strategy, then I think there is a lot of upside in the company. However, we still need to wait to understand the exact strategy, because first, Softbank may be able to use Sprint's licensed spectrum without needing Clearwire, and two, Masayoshi Son has not disclosed much of the strategy.
If that is indeed his strategy, however, I think the first step he needs to take is spin off a new company with the best parts of the mobile data division of Sprint and Clearwire. That will give the new entity a clear field to begin work, while providing it with both Sprint and Clearwire's depth in the mobile data market.
Disclosure: I have no positions in any stocks mentioned, and no plans to initiate any positions within the next 72 hours. I wrote this article myself, and it expresses my own opinions. I am not receiving compensation for it (other than from Seeking Alpha). I have no business relationship with any company whose stock is mentioned in this article.