I would like to discuss the bear raid that occurred Oct. 17, 2012, on Questcor (QCOR). I will be approaching it in four parts: dissecting the bear raid, Citron's report, Citron's challenge, and my conclusion.
I will examine Citron's report, providing factual details regarding United HealthCare's (NYSE:UNH) documents and sharing my recommendations for investors.
Dissecting the Bear Raid
Citron Research released another rather questionable report Wednesday and the expected bear raid ensued. They initiated their "coverage" with a tweet at 10:23 a.m. ET, stating: "United Health restricts Acthar. Bad for $QCOR. Single digits sonner [sic] than later."
Within minutes, their website was flooded with investors and it overwhelmed the servers. Citron then tweeted: "Site is jammed ... thank you Kai Fu Read story here http://citronresearch.blogspot.com," at 10:45 a.m. to ensure everyone could read their report.
On the chart below, you can see that within minutes the climb to the highs flattened (green line), and the price headed down. It briefly bounced off a standard day trader intraday long EMA (blue line), and then continued down again -- until 1:03 p.m., when the real selling began. Subscribers to the The Fly On The Wall may want to take note, as they reported: "Questcor moves lower on a cautious report by CitronResearch" at 1:20 p.m. This coincided precisely with the low of the sell-off.
Click to enlarge images.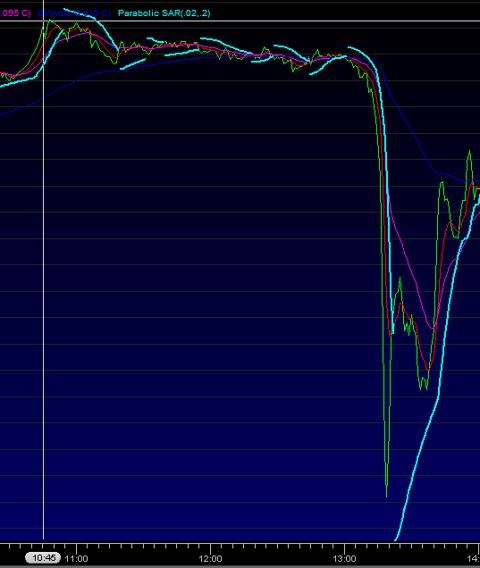 Note: Five-minute hash marks.
I first noticed the bear raid at 1:05 p.m. and started to scour the news sites, in a vain attempt to find a cause. A few minutes before The Fly On The Wall reported, I found the tweets and began to work.
Citron's Report
Citron's report, "Questcor: When things go from Bad to Worse, and even Worse," strikes me as having extremely sparse information for an entity that is very active in monitoring the Insurance Coverage for Acthar. Using the Internet WayBack Machine, we can find the 2010 and 2011 Prescription Drug Lists (PDL). The 2012 PDL is still the current one on UNH's website.
Citron claims UNH has changed their policy "for 2013, specifically tightening scrutiny on Acthar." Citron then provides the following "proof."
Status change summary : United Healthcare Acthar reimbursement policy

Prior Status for 2012

Tier 3

Medications that offer the least health care value (either clinically and/or financially) than similar medications in their therapeutic classes. No prior notification of the insurer was required.

New Status for 2013

Tier 3 plus Notification

Above definition plus "required to provide additional clinical information to verify member benefit coverage". No grandfathering.
Citron provides a hyperlink to a document, and based on its placement in the report we can assume this is the source of the "policy change."

There is one big problem with their claim. According to the 2010, 2011, and 2012 PDLs, Acthar never was mentioned. So we need Citron to answer where the statement "Prior Status for 2012" came from. If Citron can provide a valid source, I'm not sure it would change the rest of my thesis, but it would help validate Citron's statement.
It's also curious that these three PDLs all contain other classifications of drugs that may be used for Muscular Sclerosis, but not Acthar. The question then becomes: What is the intent and purpose of the document on the UNH website that Citron is citing? The answer is at the beginning of the document. It is a Benefit Plan update effective Jan. 1, 2013, and it will be mailed to all members to notify them of an update to the PDL.
Citron's Challenge
I think most readers will agree, this is an insurer getting their documentation in order. However, I don't want to leave my conclusion there. Citron made a challenge to readers of any other report, "Some may spin this as good news -- the 'nothing is changed' justification -- the argument is the company is already accustomed to having to get individual prescriptions approved for reimbursement." I can only think that Citron has read my articles, and I'm flattered.
I will rise to the challenge to bring a better understanding of UNH's documents. After all, "Tier 3 plus Notification" sounds cryptic, and maybe a bit scary. Here are the UNH ratings definitions, straight from their document. Note that there isn't anything we would not expect, based on our knowledge of Acthar and how it is prescribed.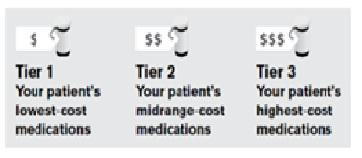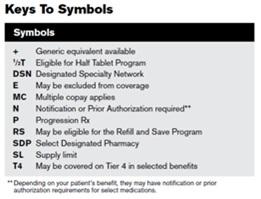 For comparison purposes, what follows are the other drugs UNH covers for MS, and their ratings. All of them require "Notification" and are present in the 2012 PDL.
Miscellaneous Neurological Therapy -- Tier 2
Ampyra DSN N SL
Gilenya DSN N P SL
Copaxone DSN N SL
INTERFERONS -- Tier 2
Avonex DSN N SL
Copaxone DSN N SL
Rebif DSN N SL
INTERFERONS -- Tier 3
Betaseron DSN N P SL
Extavia DSN E N P SL T4
Conclusion
UNH is adding Acthar into the PDL that members and physicians use. Maybe it should have already been in the older versions, maybe not. This is their documentation to update as they please.
Based on what we know about Acthar from other insurers, multiple studies, and Questcor, Acthar is intended as a second-line drug for those patients with contraindications for steroids. We also know that it is standard procedure for insurers to require notification and medical reviews before prescribing. Oxford's update was also misinterpreted as a restriction, when in reality it was a slightly positive update of their policy, with information that now matches the prescribing information.
One final thought: If one wants to follow Citron's path of logic, then what would one conclude, investors should do, based on the Tiers and notification requirements for all the other drugs in the UNH PDL?
Coverage Recommendation
I am continuing my Buy recommendation on Questcor, with near-term target prices of $28 to $34 based on the 15% increase in the reporting quarter's prescriptions, and technical support/resistance levels of the last year.
You can find additional information in my previous articles:
Disclosure: I am long QCOR. I wrote this article myself, and it expresses my own opinions. I am not receiving compensation for it (other than from Seeking Alpha). I have no business relationship with any company whose stock is mentioned in this article.