Ultimate Software Group, Inc. (ULTI) has a fast-growing customer base and a high customer retention rate, which should serve this cloud-based solutions provider well when its reports third-quarter results later this month. Moreover, this Zacks #1 Rank's (Strong Buy) expected earnings growth rate is 26.0% over the next five years, which is roughly double the 13.7% expected for the industry.
Solid Recurring Revenue Led to Second Quarter Beat
Ultimate Software Group will report its third-quarter results on October 30. At the moment, the Zacks Consensus Estimate is at 18 cents per share.
On July 31, 2012, Ultimate Software Group announced second-quarter earnings per share (EPS) of 9 cents, up 200.0% from the year-ago quarter and ahead of the Zacks Consensus Estimate by 12.5%.
Revenue grew 23.3% year over year to $79.2 million, driven by new client increases and steady contribution from existing clients (the customer retention rate was more than 96%). Recurring revenue went up 24.3%, Service revenue advanced 19.1% and License revenue increased 20.1%.
The company expects recurring revenue of $68.0 million and total revenue of $84.0 million in the third quarter, reflecting sequential growth. For fiscal 2012, recurring revenue is expected to grow 25.0% year over year while total revenue is expected to grow 23.0%.
Earnings Estimates Show Firm Y/Y Comps
Over the last 60 days, the Zacks Consensus Estimates for 2012 and 2013 have been maintained at 63 cents and 97 cents, respectively. The estimate for fiscal 2012 represents an increase of 293.8% from 16 cents reported in fiscal 2011, while the estimate for fiscal 2013 represents a year-over-year increase of 54.0%.
Premium Valuation is Justified
Considering the company's growth prospects, a premium valuation appears justified. The stock has a PEG ratio of 6.8, compared with the peer group's 0.7. Ultimate Software is also trading at a P/S and P/B of 9.14x and 26.38x, respectively, representing a premium of 168.0% and 440.6% from the peer group averages.
Chart Shows Growth Potential
The 12-month EPS chart clearly shows that both share prices and earnings have trended upward over the last few years. The current momentum appears to be driven by the growing client base and price increases, which are reflected in estimate growth trends.
Currently, the share price is hovering around $90.00. The consensus estimates for 2012 and 2013 are trending upward. The estimate revision graph indicates a steep rising trend through fiscal 2015. As illustrated in the chart below, share prices should increase at a similar or higher rate than the estimate revision trend.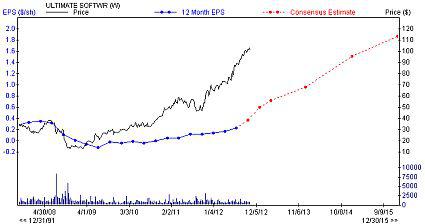 Ultimate Software Group develops and provides unified human capital management (NASDAQ:HCM) software-as-a-service (SaaS) solutions to various industrial sectors. The company offers HR, payroll, and talent management solutions through its flagships UltiPro Enterprise and UltiPro Workplace software. The company has a strong customer base of 2,300, as of fiscal year ending 2011. Ultimate Software competes with Automatic Data Processing Inc. (ADP), Oracle Corp. (ORCL) and Paychex Inc. (PAYX).
Read the full analyst report on ULTI (email registration required)