Introduction
With the ECB, Federal Reserve and other central banks embarking on fresh rounds of "quantitative easing," various global currencies are being debased at an unprecedented rate. As a result, precious metals have awakened from their momentary slumber, sitting bolt upright as of late.
Gold has risen nearly 10% since the start of August and silver is up well over 20%. Consequently, the miners have really started to shine, with various gold producers showing greater than 25%+ increases in their stock price in only a few months.
Yamana Gold (NYSE:AUY) is one of these solid performers, returning 31% since August. AUY is primarily a gold producer, but mines other industrial and precious metals, including silver, copper, molybdenum and zinc. Operations are geographically focused in stable jurisdictions with mining pedigree, mainly in the countries of Mexico, Brazil, Argentina and Chile. Within these countries, AUY has 8 operational mines.
Click to enlarge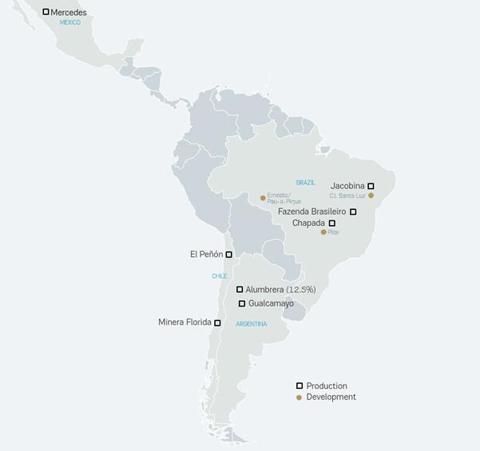 Click to enlarge
Future Prospects
What we like about AUY is its intense focus on future growth and performance. The corporate strategy is:
To continue to deliver shareholder value by:
· Increasing production
· Optimizing and expanding existing operations
· Advancing development projects
· Focusing on exploration
· Increasing mineral reserves and mineral resources
· Containing costs and growing cash margins
· Managing capital expenditures effectively
· Delivering strong financial results
This rhetoric is typical of most companies and the cynical would write it off as sales talk, but Yamana is an exception - it walks the talk.
We genuinely believe in the emphasis on growth. The exploration budget has increased 300% over four years to $125 million for 2012; $125 million represents a not insignificant chunk of $2.2 billion in annual revenue.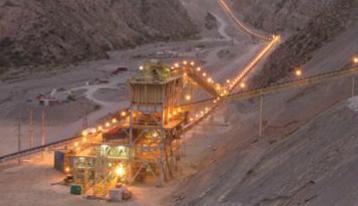 With expansions at current operations and projects currently under development, production is expected to increase by over 60% to be at a sustainable level of approximately 1.75 million gold equivalent ounces by 2014. This combined with even modest increases in the price of precious metals will see a big jump in earnings.
Financials
AUY has a market cap of $14.4 billion, making it the world's 6th largest gold mining company and hence liquidity is of no concern. With gold near its yearly highs, Yamana at $19.33 (accurate at time of writing) is trading near its 52-week high of $19.65. The 52-week low of $12.68 coincided with gold's yearly low in early May. It is important to remember if gold corrects back to the $1,500 range, AUY is susceptible to a drop down to $13 or so.
The trailing PE is relatively high at 34, but this isn't of too much concern to us, as the forward PE is a more appealing 12.89. If forecast production growth is realised, AUY is a very attractive buy at these levels. If one sees gold rallying past $1,800 or higher longer term, A.U.Y. again screams B.U.Y. A profit margin of 18.9% is also very enticing, giving credibility to Yamana's claimed goal to contain costs and grow cash margins.
Debt to equity is very low at 1:10 and the cash assets are over $750 million, ensuring solvency and stability. Dividends aren't huge at $0.26 per share, but are showing good growth, having been increased 18% in the last quarter. Retained earnings are largely reinvested in exploration and development projects for longer-term capital gain, and this is what we like to see, especially in mining stocks.
2012 Q3 earnings are to be reported on October 29th and given the recent gains in metals, we believe results may come in above expectations. If this happens, not only will AUY see a short-term boost, a glimpse into future profitability given higher gold prices will be allowed.
Morgan Stanley has set Yamana a price target of $25. This is supplemented by RBC Capital's recent target price increase from $21 to $24. Analysts give AUY an average assessment of "outperformance."
In August, Yamana completed the acquisition of Extorre Gold for $403 million. Yamana's CEO Peter Marrone was quoted saying: "It is a relatively small transaction in that it represents only 3 percent of Yamana's market capitalization yet it could ultimately deliver more than 10 percent of our total gold equivalent production."
Management
AUY's board and management are highly respected within this industry. Board members are all vastly experienced in mining/geology and/or business and executive management. It really is an all-star team and that's evident in the success enjoyed by Yamana thus far. Directors have been with the company long term, all having started between 2001 and 2007 with one exception.
The management team is just as experienced, led by CEO, founder and board Chairman, Peter Marrone. Mr. Marrone has been with the company since 2003, and was appointed Chairman in 2007. With more than 25 years business and capital markets experience, Mr. Marrone has been on the boards of a number of public companies and has advised companies with a strong South American presence. Prior to Yamana, Mr. Marrone was the head of investment banking at a major Canadian investment bank.
We are reminded of Yamana's sheer scale by its impressive number of employees - over 9,000.
Yamana's Chart: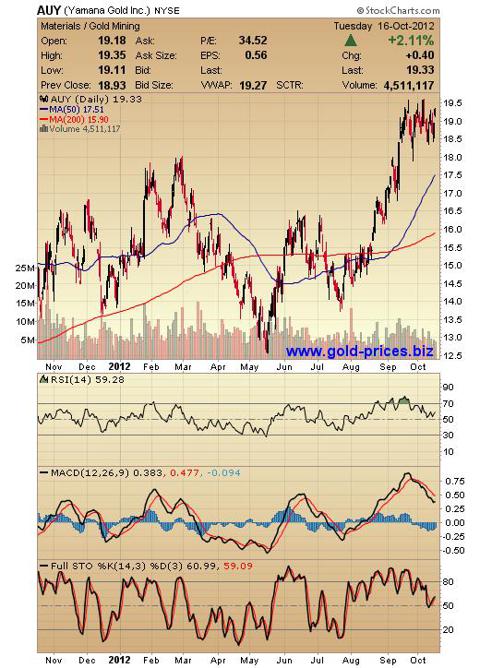 Click to enlarge
It is good to see the above progress made by AUY, but whether this company is a buy is primarily dependent on the direction one thinks gold will take. We are bullish on gold prices and think Yamana will do very well in the coming quarters. However, as our readers know, we are still a little wary of the mining sector at the moment and would like to see AUY continue to rally and the HUI outperform gold prices before we would be tempted to part with our hard-earned cash. For those investors looking for leverage to the gold price, then you may want to consider some well thought out options trading strategies to provide you with a leveraged return worthy of taking the risks associated with this sector.
Yamana Gold trades on the New York Stock Exchange (NYSE) under the symbol of AUY, on the Toronto Stock Exchange (TSX) under the symbol of YRI and on the London Stock Exchange (LSE) under the symbol of YAU, so your stock broker should be able to execute your trades in this stock.
Have a good one.
Disclosure: I have no positions in any stocks mentioned, and no plans to initiate any positions within the next 72 hours. I wrote this article myself, and it expresses my own opinions. I am not receiving compensation for it. I have no business relationship with any company whose stock is mentioned in this article.
Additional disclosure: We are long GLD via options.
Disclaimer: www.gold-prices.net or www.skoptionstrading.com makes no guarantee or warranty on the accuracy or completeness of the data provided. Nothing contained herein is intended or shall be deemed to be investment advice, implied or otherwise. This letter represents our views and replicates trades that we are making but nothing more than that. Always consult your registered adviser to assist you with your investments. We accept no liability for any loss arising from the use of the data contained on this letter. Options contain a high level or risk that may result in the loss of part or all invested capital and therefore are suitable for experienced and professional investors and traders only. Past performance is not a guide nor guarantee of future success.