Shares of Questcor Pharmaceuticals (QCOR) experienced a bear raid Wednesday afternoon around 1:30 p.m. ET. We will analyze the events that triggered the bear raid, which, in our view, reflects no fundamental change in QCOR's business situation.
A Sour Note From Citron
Notorious short selling firm Citron research published a blog post entitled "Questcor -- When things go from bad to worse -- and even worse." The blog post was actually recycled news regarding United Health Group's (NYSE:UNH) recent policy clarification (PDF) about H.P. Acthar Gel, QCOR's drug that has come under some scrutiny ever since Aetna (NYSE:AET) revised its reimbursement policies for it.
What's truly laughable about the Citron piece is that, up front, it clearly indicates that the news is old. The blog post starts:
A few weeks ago, another ominous datapoint was disclosed in regard to the status of health insurers' reimbursement policies for clinical use of Questcor's primary drug Acthar. United Healthcare, the largest health carrier in the US, has issued new guidelines for 2013, specifically tightening scrutiny on Acthar, and taking it to the highest of all scrutiny levels
Notice the first four words: A few weeks ago. This is not some new development, but rather, a rehash of old news designed to spook investors who have not been following the QCOR story closely enough.
The document Citron links to in their piece is a prescription drug list and benefit plan summary of changes, which is simply notifying pharmacies that the coverage will somehow be modified. What Cirton does is draw conclusions and use scare tactics to attempt to induce fear. The blog post says:
This is a notification document, not a conditions of coverage document. Conditions of coverage are proprietary to the company, and might or might not be released.
This is completely misleading. Citron implies that information regarding the specific changes to policy are not available to the public. Their wording is very careful: "might or might not be released." A simple web search quickly turns up the UNH clinical policy bulletin (linked above) that contains exactly this information:
Click to enlarge images.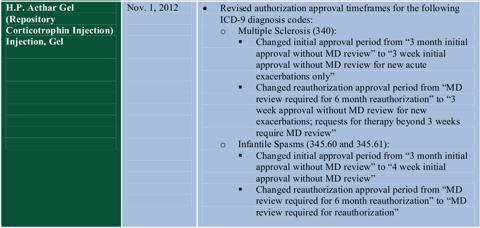 For a detailed look at the implications of these policy bulletin changes, see this Seeking Alpha article.
The blog post goes on to say:
This document doesn't specify the medical conditions under which Acthar is prescribed, but only to the increased scrutiny such prescriptions will be subject to prior to reimbursement.
This sentence, while technically correct, is simply fear mongering. Citron uses a PDL summary document in its link and then says that the document does not specify the medical conditions under which Acthar will be prescribed. The PDL summary is not the correct document to look at to determine which conditions will be covered. But the implication of Citron's statement is that perhaps Acthar will not be covered for MS exacerbations and Nephrotic Syndrome.
Citron then includes a table comparing the 2012 and 2013 coverage for Acthar. The table uses large font size and bold typeface to try to convey emphasis for a rather dubious argument. According to Citron, Acthar, which is classified as Tier 3, falls into a tier of drugs that constitute:
Medications that offer the least health care value (either clinically and/or financially) than similar medications in their therapeutic classes.
In reality, Tier 1 drugs are mostly generics. Tier 2 are brand name drugs, and Tier 3 are brand name drugs that are not first-line therapies. Acthar is not a first-line therapy for MS or Nephrotic Syndrome, but this is not new information. While one might interpret a second- or third-line therapy as having "the least healthcare value." In reality, for the patients who fail earlier therapies, these medications are their best hope.
The Citron blog post faults QCOR for not publicizing the UNH policy bulletin update. Drug companies deal with dozens if not hundreds of insurers and plans. QCOR did hold a conference call after the Aetna policy change because there was a decrease in the scope of coverage for Acthar. The notion that a drug company would update the market whenever insurance companies make internal changes in coverage procedures is preposterous. These are the kind of things that should be noted in quarterly reports unless there is material change to the business prospects. Clearly, for the UNH policy bulletin, while the procedures to obtain reimbursement have changed, the actual coverage has not.
The blog post poses the question:
How can the company justify a growth path when it is obligated to pre-authorize every single prescription by submitting individual patient medical records while under an open investigation from the Department of Justice on its sales and marketing practices?
Again, this is a misstatement. It implies that QCOR is "obligated to pre-authorize." In reality, pre-authorizations are something handled by doctors' offices. The UNH policy change requires the doctor to obtain prior authorization before prescribing Acthar for more than the initial three weeks. So, in reality, a patient in need gets an initial supply of the medication right away, and then the doctor must provide information to UNH. This is a very reasonable policy, and for patients who need the drug, their doctors will do the required paperwork.
Citron goes on to suggest that the entire QCOR business operation is:
a hand-holding operation on how to skirt insurance company reimbursement procedures and policies...
Citron is trying to conflate the government investigation into QCOR's promotional practices with insurance company policy changes to imply that the company is doing something fraudulent in the area of reimbursement. Considering the series of misstatements explained above, no one should be surprised to see this type of statement toward the end of the blog post.
Our view is that the company is being up front with investors. Note that, according to their 8-K (linked above), QCOR became aware of the government investigation on Sept. 21. Here is what QCOR management said about the proper use of Acthar during their conference call the day before the government contacted them about an investigation:
We do not claim in any way that Acthar should compete with or superior to primary drugs such as IV steroids for MS relapses.

Rather Acthar should actually be withheld just for those patients who have already been through the primary treatment regimens and the doctor determines that the patient still requires another treatment approach. This is where Acthar can be an important FDA approved treatment option and this is where we as a company recommend that it be utilized.
Clearly, the statement above contradicts Citron's implication of strong-arm sales tactics and skirting insurance reimbursement policies.
A Bear Raid and a Tweet
Here is QCOR's intraday chart from Wednesday: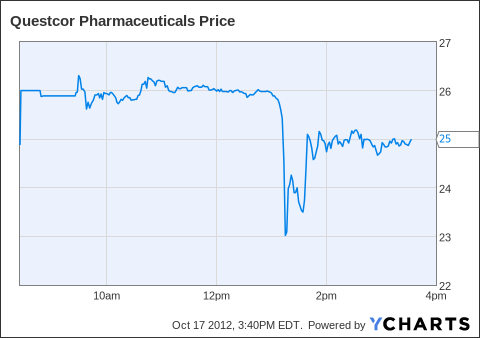 At 1:23 p.m. ET, Citron tweeted the following:
United Health restricts Acthar. Bad for $QCOR. Single digits sonner than later
Interestingly, the sell-off in QCOR actually began a few minutes before this tweet came out. Around 1:13 p.m. QCOR began a strong downward move on increasing volume. Around 1:20 p.m., 491,300 shares of QCOR were traded and the share price bottomed at $22.30. More than 369,500 shares traded hands at prices below $23 before the share price quickly recovered as traders stepped in. On the way back up, the stock oscillated between $24 and $25 as traders made a quick $1 or $2 gain from a clearly mispriced stock.
Much of the downward slide happened because of trailing stop orders. Traders often use trailing stops to protect gains on stocks that are making large advances. Trailing stops are orders to sell at prices below the market price of the stock. Whenever the stock ticks up, the trailing stop's trigger price automatically increases, but when the stock ticks down, the trailing stop's trigger price remains unchanged. If the stock price goes down to the order's trigger price, the trailing stop becomes a market order.
Depending on how close to the actual stock price traders have set their trailing stops, it may not take many shares to trigger a cascade effect. The 95,000 shares traded at 1:13 p.m. were likely the beginning of the domino effect as trailing stops got triggered and became market orders. As more and more market orders come in, the price drops, triggering more trailing stops set at wider levels to the stock price.
Eventually, buyers step in when they recognize that the stock is oversold, and they stand to make a quick profit if the original downward move had no fundamental reason behind it -- as was the case with QCOR Wednesday.
Support for QCOR
QCOR has expressed its confidence in the business by increasing the share buyback and declaring a dividend. These moves force short sellers to pay out dividend for shares held short, and decrease the available float with which to cover shorted shares. Clearly the company is signaling that they will not be bullied by short sellers.
As a counter-balance to Citron, on Oct. 15, noted Biotech hedge Fund Deerfield Management disclosed through 13-G filings that it has a 5.82% stake in QCOR. The 13-G indicates that the event that triggered the requirement to file happened on Sept. 26. At that time, QCOR was trading for $18.24. Clearly, Deerfield saw value in QCOR at these levels and, based on their connections within the medical community, it is likely that Deerfield has a better read on the likely sales trajectory for QCOR than does Citron.
Conclusion
In our view there is no altruistic public service motivation behind Citron's blog post. Rather than cite the actual clinical policy bulletin, the post quotes a prescription drug list summary of changes and then implies that the public might not be able to gain further insight when, in reality, the changes have been documented as outlined herein and in articles we link to.
It is notable that Citron's blog post comes after four straight days of almost $1 per day gains in QCOR's stock price. It's no secret that Citron's business model is to short companies that they believe are vulnerable and then to make hay out of issues so that nervous longs sell indiscriminately. Clearly, in this case, their tactics are questionable. Citron's track record on their picks is not particularly noteworthy, they've made a few good calls and been very wrong on others.
With both options expiration this week and earnings on Oct. 23, expect volatility to remain high in QCOR. The earnings conference call will give analysts a chance to ask for more details from the company, and will help indicate whether or not the sales trajectory will be affected by the insurance policy changes or the government investigation.
In our view, the Aetna policy change caused an over-reaction in the market. While a change in coverage for a one-product company deserves careful scrutiny, since Aetna only represents 5% of QCOR's sales, a 50% haircut was unjustified. The UNH policy bulletin brings their coverage in line with the FDA approved label for Acthar, but it also reaffirms that UNH will continue to cover Acthar for approved indications beyond infantile spasms (the indication approved most recently in 2010). The company's statements regarding the proper use of Acthar on a conference call the day before the government decided to investigate promotional practices is also a positive sign. Our view is that the sell-off is overdone and that a fair price for QCOR stock lies somewhere between the recent lows around $18 and previous highs of $50. Should QCOR's sales trajectory continue as before, the stock is much more likely to see $30-$35 rather than single digits in the near future.
Disclosure: I am long QCOR. This article was written by Rajesh Patel, PhD, Red Acre's managing director for equities. I wrote this article myself, and it expresses my own opinions. I am not receiving compensation for it (other than from Seeking Alpha). I have no business relationship with any company whose stock is mentioned in this article.