Intel Corporation (NASDAQ:INTC) saw its stock price continue to sink in trading Wednesday, with the stock dropping nearly three percent after third quarter earnings were released after the bell Tuesday. INTC hit a 52-week low in early trading, before recovering slightly, continuing its months-long descent: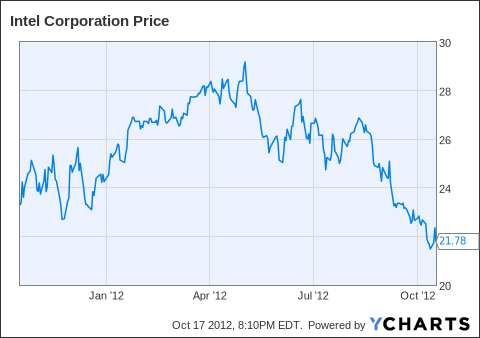 The company's third quarter actually came in at the high end of the company's (previously lowered) guidance, but it was weak Q4 projections and muted commentary on 2013 that appeared to spook the market. But, for Intel, the long, slow decline in its stock price has not been driven by short-term factors. Rather, Intel has been pressured by a number of questions about its long-term future:
Is recent weakness in the PC business a short-term blip, caused by a stagnant economy and users waiting for the launch of Windows 8 from Microsoft (NASDAQ:MSFT)? Or has the long-predicted "death of the PC" finally arrived, as tablets and smartphones replace desktops and laptops?
Can Intel re-create its market dominance in the mobile and tablet sphere, or do rivals such as Qualcomm (NASDAQ:QCOM) have too big a head start?
Is the slow-down in enterprise spending cyclical, similar to PC struggles, or will the move to "cloud computing" add further margin pressure for Intel's server chips?
Will the company's responses -- such as next year's launch of its Haswell line and a move to 14 nm technology -- keep Intel ahead of the game?
To break it down to one simple question: is Intel, a tech leader for decades, headed in the same direction as Hewlett-Packard (NYSE:HPQ), Dell (NASDAQ:DELL), and Microsof

t,

former industry giants who have been damaged by a failure to anticipate and react to the increased adoption of mobile and cloud computing?
The answer, of course, is simple: I have no idea. I'm not supposed to say that, of course; any decent columnist should know the first rule of commentary is "often wrong, never in doubt." But, to be honest, nobody knows. Intel is in an industry at a clear inflection point; the convergence of electronics and the movement to the cloud are only adding to the challenges in the traditionally cyclical and cutthroat semiconductor business. And opinions on its future diverge dramatically.
For instance, the well-respected website AnandTech raved about the Haswell architecture, noting that "as a platform, Haswell looks awesome." Yet much of Haswell's promise comes from its ability to boost performance and battery life in ultrabooks, whose sales have been disappointing. Are ultrabook sales down due to customers waiting for Windows 8? Poor marketing? Or is there simply not a major market for high-performance $1000 laptops when many personal -- and even corporate -- customers use mobile devices for little more than email, calendar management, and Web searches?
In mobile, Intel is pushing its "Intel Inside" marketing campaign -- a long-running success in its legacy desktop business -- onto Intel-powered smartphones. Will it work; or as Reuters noted, might it actually hurt Intel's image in its legacy businesses if Intel-powered phones don't compete with leaders such as the iPhone? Getting back to the company's core business, the arguments about the "structural vs. cyclical" nature of PC and IT spending have been raging for the past few years.
Even Intel's near-term future is up for debate. StreetInsider.com compiled analyst commentary on Intel's earnings, showing a clear divide on Wall Street. MKM Partners wrote that "investors seem to equate weak macro + OEM disarray ahead of Win 8 to mean 'the PC is dead' and INTC is going with it...that seems structurally too pessimistic to us," and maintained a Buy with a $27 price target. Nomura Securities countered by arguing that "this was the first quarter Intel acknowledged that tablets and phones are eating into PCs, [and] this is a significant headwind to growth." The brokerage maintained its "Reduce" rating and a price target of $19. Heavyweights UBS and Deutsche Bank responded to the report by maintaining Buy ratings; Goldman Sachs maintained a Sell rating while cutting its price target.
With such a variety of opinions, and a wide range of potential outcomes, investors should focus on one thing: Intel, a powerhouse in tech for over thirty years, is trading at just over ten times its trailing earnings. Its dividend yield is over four percent. The stock is trading near a 52-week low. Yes, Intel is facing some challenges; but this is hardly a company unused to changing seas. It the largest, greatest, and most powerful semiconductor company in the world, and it is available at a historically low valuation: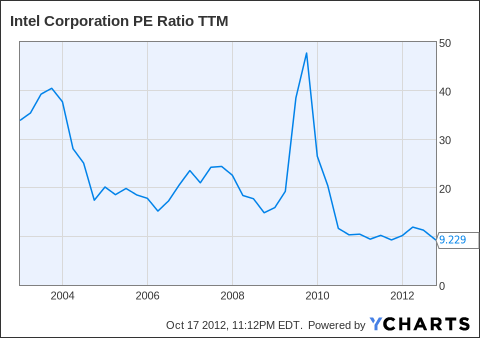 INTC PE Ratio TTM data by YCharts
Last weekend, I wrote a piece here on Seeking Alpha arguing that Procter & Gamble (NYSE:PG) was severely overvalued. Though operating in (obviously) vastly different industries, Intel and P&G are facing somewhat similar challenges. Both companies are seeing their legacy customer bases -- Intel's PC users, P&G's middle-class consumers -- dwindle amid economic challenges and changes in their markets. In that piece on Procter & Gamble, commenter 'jnpfl' made an interesting point in rebutting my thesis:
The Federal Reserve effect supports lofty prices on blue chip stocks that can substitute for bonds. There is near-zero return on fixed income and PG is very secure in sustaining its income and dividend. You worry about dividend growth; fine, but even very modest-to-no dividend growth on a very solid company's stock is still going to draw investment cash from yield hungry bond investors. This is essentially the "Bernanke Put".
Intel no doubt does not have the same long-term income security as PG. But it also has a far more tempting valuation, with Intel trading around 10.3x earnings (based on Q4 guidance) and PG trading at 17.8x earnings (based on the midpoint of guidance for the fiscal year ending June 2013). Intel's yield is higher and its payout ratio lower; that, combined with Intel's $1.40 per share in net cash, could support dividend raises even if earnings growth disappoints in the near term.
Meanwhile, Intel's dividend yield is 4.13% (and climbing). And perhaps the final question on Intel is this: is there any chance, in this environment, that a company like Intel will offer a 5% yield? The answer is: it is highly unlikely. That yield should provide near-term support (and a nice income stream); in the long run, Intel's long history and still-dominant market share make it worth the risk at current levels.
Disclosure: I have no positions in any stocks mentioned, and no plans to initiate any positions within the next 72 hours. I wrote this article myself, and it expresses my own opinions. I am not receiving compensation for it (other than from Seeking Alpha). I have no business relationship with any company whose stock is mentioned in this article.