Folks, there is a race going on north of the border. The race is for natural gas resources that are needed to feed liquid natural gas [LNG] export facilities that are going to be built off the West Coast of Canada.
The first shot fired in this race to secure natural gas assets in Northern British Columbia and Alberta occurred when Petronas agreed to acquire Canadian producer Progress Energy for $4.7 billion. That offer was a 77% premium to Progress's prior day closing share price. Petronas is involved in building an LNG terminal that will be located in Price Rupert British Columbia, so securing a source of natural gas to supply that terminal was obviously important.
Progress Energy held 820,000 acres of prime Montney shale gas land, which is located in an ideal location for pipeline transport to the West Coast.
It is important to note that Petronas did not win those Montney assets without a fight. Subsequent to the bid from Petronas, Progress received an unsolicited bid from a "mystery" third party. This forced Petronas to come back with a better offer in order to finally complete the acquisition.
That mystery bidder was rumored to have been Exxon Mobil (NYSE:XOM), so perhaps it shouldn't have been surprising today when Exxon announced that it had agreed to purchase another Canadian natural gas player (Celtic Exploration) for $3.1 billion. This deal is a 40% plus premium to the most recent closing share price for Celtic (OTC:CEXJF). The prize assets of Celtic are 649,000 acres of Montney and Duvernay shale rights. Those rights can provide years worth of natural gas feedstock for the proposed West Coast LNG terminals.
I don't know about you, but the takeout premiums of 77% for Progress (actually more eventually after the mystery bid arrived) and 45% for Celtic have caught my attention. Not only because of the size of the premiums, but because I know there are likely more to come. Perhaps other Canadian unconventional shale gas producers might offer a similar investment result (a big takeover premium) over the next year or so.
There are currently at least four proposed LNG export facilities in the planning stages for the West Coast of Canada with expected startup beginning as early as 2017. The motivation behind building these facilities is the big difference in price that producers receive for natural gas in Canada, versus what they could receive exporting it to Asian markets. That difference in prices has been shocking in 2012 with British Columbia wellhead prices being under $2.00 per mcf vs $14.00 plus per mcf in Asian markets. It is hard to imagine that Asian buyers are paying 7 times the price that North Americans are for the very same commodity.
With the Progress and Celtic deals taking place so far in 2012, the list of assets that can be acquired to feed those LNG facilities has been shortened. The company that I would think would be at the top of that short list and could command a significant premium to its current share price in a takeover is Painted Pony Petroleum Limited (OTCPK:PDPYF).
Like Progress and like Celtic, Painted Pony is sitting on a big position in the Montney gas fairway. The Montney is ideally suited location wise for the proposed LNG gas terminals and Painted Pony itself is actually a member of the proposed Douglas Channel, Kitmat Co-operative LNG terminal.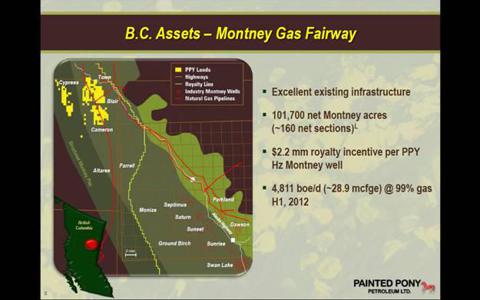 Clearly based on the Progress and Celtic deals, which were focused on the Montney, Painted Pony has the acreage that would be attractive for an LNG operator. But while the assets are in demand, the question we as investors need to answer is whether a takeover is likely to come at a significant premium to Painted Pony's current enterprise value.
The only way to determine that is to crunch some numbers.
At $11.55 per share Painted Pony has an enterprise value of just under $800 million. In February of this year Mitsubishi paid $2.9 billion for a 40% interest in Encana's (NYSE:ECA) 409,000 Montney acres. Doing some simple math on that deal will result in the conclusion that Mitsubishi paid $17,726 per acre.
Painted Pony has 101,700 acres in the Montney, which if valued at the price Mitsubishi paid would be worth $1.8 billion. That is more than double the current enterprise value of Painted Pony and certainly looks interesting.
Additionally Painted Pony has 80,000 acres in the Saskatchewan Bakken where it is producing 1,500 barrels of oil per day and another 28,000 acres in the Alberta Viking that the company is just starting to drill.
Given that the Mitsubishi deal metrics suggest that Painted Pony's Montney acreage is worth more than double the current share price it seems likely that a takeover bid would come at a very significant premium to the current share price. The nice thing about Painted Pony is that as you can see from the metrics below, the company has no debt and does not need to be in a hurry to sell and can wait for a fair price.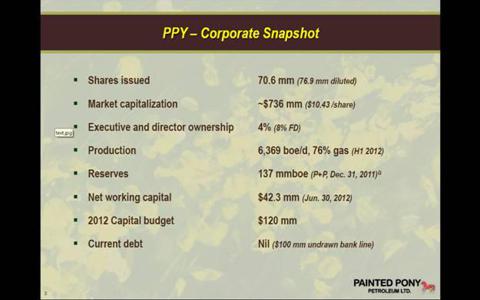 I looked at all of the companies that hold Montney natural gas acreage early in 2012 because I thought that a takeover wave was likely to commence at some point in the next couple of years. Much to my dismay I elected to pass on these companies and instead focus on unconventional oil-waited names.
Despite missing out on the recent takeovers though, I likely wouldn't be buying Painted Pony immediately. I think I'd give Mr. Market a couple of months to forget about the Celtic deal and wait to see if the stock price drifts back down. If it does, then I'll pounce.
Disclosure: I have no positions in any stocks mentioned, and no plans to initiate any positions within the next 72 hours. I wrote this article myself, and it expresses my own opinions. I am not receiving compensation for it (other than from Seeking Alpha). I have no business relationship with any company whose stock is mentioned in this article.