Kansas City Southern (NYSE:KSU) has been experiencing substantial growth in its revenue and cash from operations over the last few years. It has a rail network which:
"...comprises approximately 6,200 route miles extending from the Midwest and southeast portions of the United States south into Mexico and connects with all other Class I railroads, providing shippers with an effective alternative to other railroad routes and giving direct access to Mexico and the southeast and southwest United States through alternate interchange hubs." (Kansas City Southern 2011 10-K, p. 3)
The recent success of this connection in and through Mexico gives Kansas City Southern a distinct advantage. With revenue and earnings increases, Kansas City Southern's share price has been increasingly bid upward:
Click to enlarge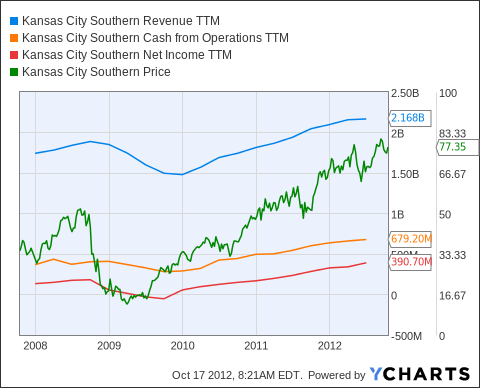 KSU Revenue TTM data by YCharts
Mexico
Around 20% to 25% revenue[1] has historically come from Kansas City Southern's cross-border service, some of which is intermodal. As I noted above, the Kansas City Southern's track is one of the few which moves across the U.S. and Mexican boarder. It is also the only railway to access the rapidly growing Port of Lázaro Cárdenas. See Kansas City Southern's rail map below: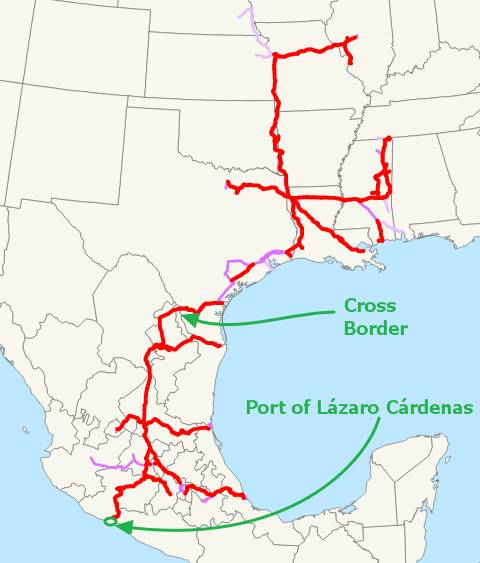 (Source: Wikipedia Commons, located here.)
The cross border intermodal business has performed better each year since it was initiated in 2009. In the second quarter 2012 conference call (transcript), CEO David Starling said:
"In 2011, cross-border intermodal carloads increased by 56%. We were very impressed by that until the first quarter of 2012 when carloads increased by 78%. Again, we were impressed with this growth until the second quarter when the year-over-year volume growth hit 106%. It's very exciting to see the percentage growth nearly double from 56 to 106% as the base actually gets larger."
All this growth in Kansas City Southern's intermodal business is because it is in the:
"…enviable position of being the only railroad that had single-line service on both sides of the border and controlled the primary gateway between the U.S. and Mexico…And what is especially exciting, we're still at the very beginning of what promises to be many years of expansion growth." (transcript)
In addition to being the only carrier serving both sides of the U.S. Mexico border, intermodal traffic from Mexico is specifically important because:
"…it represents some of the longest haul traffic on our network, which along with the high incremental margins we're enjoying in this business segment makes this line of business quite profitable." (transcript)
This growth in Mexico, concomitant with revenue growth in other parts of its business, has investors (and one SA author) thinking this stock is a "buy."
Valuation
From a superficial glance, Kansas City Southern's PE ratio is a bit pricey compared to its peers CSX (NYSE:CSX), Union Pacific (NYSE:UNP) and Norfolk Southern (NYSE:NSC):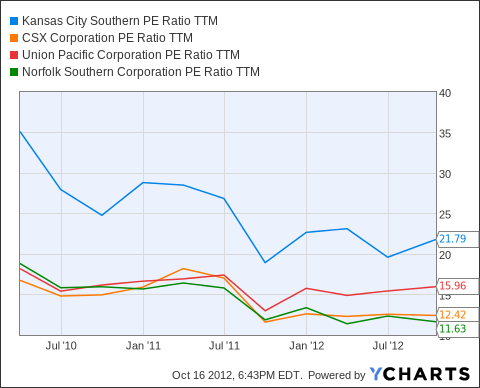 KSU PE Ratio TTM data by YCharts
As we noted above, Kansas City Southern has posted very good operating statistics lately and it appears the volume and revenue growth has pushed up the share price.
There is, however, one problem with this picture and it is not that Kansas City Southern is more expensive than its peers on a earnings basis. It is that the capital expenditures for Kansas City Southern have been larger than its depreciation charges -- indicating that GAAP earnings perhaps overstates the cash flow being generated by Kansas City Southern. For instance, free-cash-flow has been running below GAAP earnings: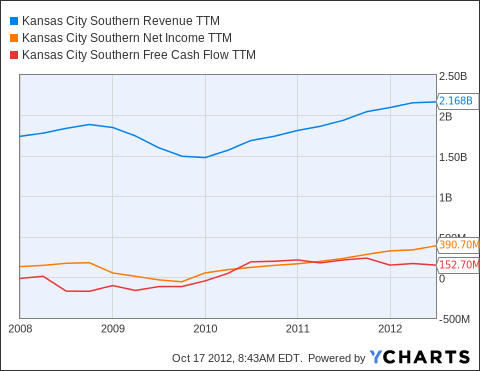 KSU Revenue TTM data by YCharts
If we use free-cash-flow[2] instead of GAAP earnings, we can see that Kansas City Southern has a TTM free-cash-flow of approximately $152.7 million. With the current market capitalization of $8.51 billion, the free-cash-flow yield would be about 1.7%. Comparing that figure with its peers we see the following: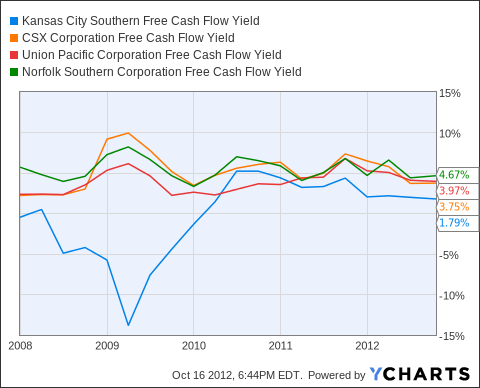 KSU Free Cash Flow Yield data by YCharts
None of the railroads appear worthwhile investments from a free-cash-flow yield perspective, but Kansas City Southern is at the bottom of the pack. Since free-cash-flow is here defined as:
Free-Cash-Flow = Cash From Operations - Capital Expenditures
The level of capital expenditures becomes all important since, as we noted in a graph at the start, Kansas City Southern's cash from operations has been steadily increasing. Management, in the second quarter conference call, implied that capital expenditures have no reason to decrease and will continue for the foreseeable future at about "17 to 18%" of revenue[3].
Indeed also, the free-cash-flow numbers that YChart uses in the graph slightly overstates free-cash-flow because of Kansas City Southern's investment in the Meridian Speedway[4]. As one can see on its latest 10-Q filing dated June 30th, Kansas City Southern has made material capital expenditures through its ownership of Meridian Speedway, LLC ("MSLLC" below):

In 2011, Kansas City Southern's total capital expenditures in the Meridian Speedway was about $33 million in total. All this is to say that if we also take out this investment from free-cash-flow, the yield drops to 1.4% -- not an appealing buy.
Third Quarter Earnings (October 19th, 2012)
Kansas City Southern lowered its annual guidance during the second quarter conference call. With excepted annual revenue growth in the "mid-single digits," we can reasonably anticipate similar results this coming quarter (ending Friday, October 19th).
On the second quarter conference call management said that the stronger U.S. dollar against the peso offset second quarter revenue by some 4%. This coming quarter, with the U.S. dollar falling against the peso, Kansas City Southern's earnings will likely be positively impacted, just as it was negatively impacted in the previous quarter. See the U.S. Dollar to Peso exchange rate below: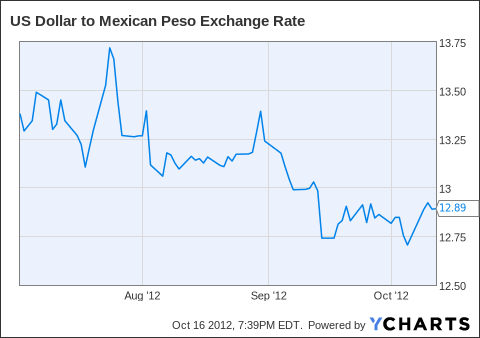 US Dollar to Mexican Peso Exchange Rate data by YCharts
Lastly, I don't typically care what Wall Street analysts think, but mean estimate is $0.85 per share -- an increase of about 8.9% over last year. That number seems achievable, particularly if the U.S. dollar is weaker. But even if it is achieved, it doesn't change the low free-cash-flow yield.
Conclusion
Kansas City Southern has a prime position to move goods in and out of Mexico. It also is powerfully situated at the Port of Lázaro Cárdenas. The problem is that the current valuation is rich -- too rich. The capital expenditures needed to maintain the business (not with standing that its locomotive purchases last year will not recur in full) have allowed GAAP earnings to "overstate" the firms cash generating abilities.
To maintain and increase earnings, it needs to spend money on capital expenditures -- and the capital expenditures are greater than the depreciation charge, indicating that actual "cash earnings" are less than its GAAP earnings. Given that the corporation is already trading at a rather high 21.79 price-to-GAAP-earnings ratio, the additional observation that it suffers a low free-cash-flow yield strongly suggests that Kansas City Southern is overvalued.
Notes:
See Second Quarter Analyst Presentation (pdf), slide 19.
Free-Cash-Flow = FCF = Operating Cash Flow - Capital Expenditures
Second Quarter 2012 Conference Call (transcript).
"Meridian Speedway [is] a seventy-one percent-owned consolidated affiliate that owns the former KCSR rail line between Meridian, Mississippi and Shreveport, Louisiana, which is the portion of the KCSR rail line between Dallas, Texas and Meridian known as the "Meridian Speedway." Norfolk Southern Corporation ("NS") through its wholly-owned subsidiary, The Alabama Great Southern Railroad Company, owns the remaining twenty-nine percent of MSLLC. Ultimately KCS will own seventy percent and NS will own thirty percent of MSLLC upon the contribution of additional capital by NS to MSLLC" (Kansas City Southern 2011 10-K, p. 3)
Disclosure: I have no positions in any stocks mentioned, and no plans to initiate any positions within the next 72 hours. I wrote this article myself, and it expresses my own opinions. I am not receiving compensation for it (other than from Seeking Alpha). I have no business relationship with any company whose stock is mentioned in this article.