The recent performance of Energy Transfer Partners LP (NYSE: ETP) demonstrates the importance of distribution growth as a catalyst for unit price appreciation in the MLP space. (I tackled this subject based on historical return data among energy-focused MLPs in Investing in MLPs: Yield vs. Distribution Growth.)
The midstream operator hasn't increased its payout since July 24, 2008, when management announced that the MLP would hike its quarterly disbursement to the current rate of $0.89375 per unit. During this extended fallow period, Energy Transfer Partners issued additional units on eight occasions, raising $3.4 billion in capital.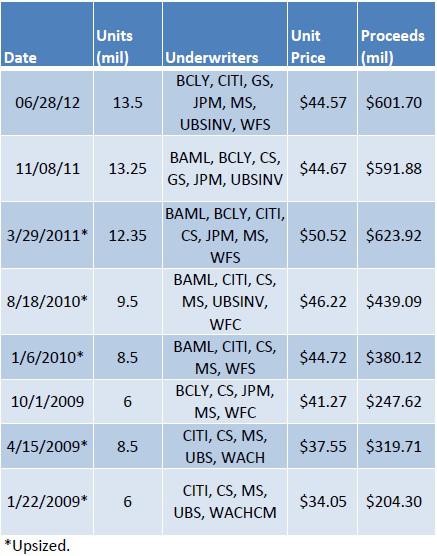 Source: Bloomberg
That Energy Transfer Partners has issued equity this many times in the past four years isn't necessarily alarming.
As pass-through entities that disburse the majority of their cash flow to their investors, publicly traded partnerships rely on the debt and equity markets to fund growth projects or acquisitions. For example, blue-chip midstream MLP Enterprise Products Partners LP (NYSE: EPD) has placed seven equity offerings since July 2008, raising $2.45 billion in capital.
In many instances, these secondary issues give savvy investors an opportunity to purchase units of their favorite MLPs at a slight discount; the market's knee-jerk reaction to this ostensibly dilutive move is to sell the stock.
However, these equity issues often enable an MLP to pursue expansion projects and asset acquisitions that will enable the firm to grow its cash flow and quarterly distribution - a prospect that outweighs any short-term dilution. To return to our example, Enterprise Products Partners has grown its quarterly payout by 19.2 percent since July 2008.
Investors' patience with Energy Transfer Partners has thinned in recent quarters, with the stock appreciating only 1.5 percent and returning a total of 26.8 percent over the past three years. In contrast, the Alerian MLP Index has rallied 59.8 percent and generated a total return of 93.3 percent over the same period.
Within the midstream space, we favor Enterprise Products Partners LP and Western Gas Partners LP (NYSE: WES) because of their potential for superior distribution growth. However, the recent rally has pushed these stock prices beyond our buy targets.
At current valuations, units of Energy Transfer Partners yield 8.2 percent and offer the best value in the midstream segment. Of course, some stocks deserve a low valuation because they lack an upside catalyst. With a number of organic growth projects and recent acquisitions expected to bolster cash flow, units of Energy Transfer Partners could stage a significant rally if the MLP finally ends its dry spell and raises its distribution in 2013.
Over the past 24 months, Energy Transfer Partners and its general partner, Energy Transfer Equity LP (NYSE: ETE), have closed a number of major deals in an effort to diversify its business, overcome weakening cash flow in its intrastate transportation and storage unit, and jump-start distribution growth.
Intrastate transportation and storage, which in 2011 accounted for 38 percent of the MLP's adjusted earnings before income, taxes, depreciation and amortization (EBITDA), has borne the brunt of depressed natural-gas prices and narrowing basis differentials within Texas. Whereas the decline in gas prices has compressed profit margins on retained fuel, the declining differential between various sales hubs in Texas - a product of rising production - has lowered throughput and pressured renewal rates.
In the second quarter of 2012, these headwinds combined to reduce intrastate transportation and storage's adjusted earnings before interest, taxes, depreciation and amortization to $156.9 million - an 8 percent decline from year-ago levels. Over these three months, volumes on the intrastate pipeline system averaged 9.9 billion cubic feet per day, compared to 1.4 billion cubic feet per day in the second quarter of 2011.
Management has moved aggressively over the past two years to diversify Energy Transfer Partners' business to include exposure to midstream infrastructure that handles crude oil and natural gas liquids (NGL), a group of heavier hydrocarbons such as ethane, propane and butane.
In May 2011, Energy Transfer Partners and Regency Energy Partners LP (NYSE: RGP) announced that their 70-30 joint venture in the Eagle Ford Shale, Lone Star NGL LLC, had closed its acquisition of Louis Dreyfus Highbridge Energy LLC for $1.92 billion in cash. The midstream assets involved in this transaction include NGL pipelines, fractionation capacity and storage facilities.
Since the deal closed, Energy Transfer Partners and Regency Energy Partners have focused on expanding this system to serve the Eagle Ford Shale, a capacity-constrained unconventional field in Texas where drilling activity continues to accelerate.
In the second quarter of 2012, Energy Transfer Partners' NGL transportation and services segment grew its adjusted EBITDA to $39 million, up roughly 58 percent from a year ago.
Although this business segment has steadily grown to about 8 percent of the MLP's second-quarter adjusted EBITDA, we expect cash flow from this segment to increase significantly in early 2013.
Energy Transfer Partners' extensive investments in the Lone Star NGL system will begin to pay off when the second phase of the Rich Eagle Ford Mainline pipeline, the West Texas NGL pipeline, and the first phases of the Jackson County and Karnes County processing plants come on-stream in late 2012. The MLP's wholly owned Justice NGL pipeline - a 300-mile system that will deliver output from the Chisholm and Jackson County processing plants to the joint venture's Mont Belvieu fractionation facility - is also slated to begin operations in the fourth quarter.
Energy Transfer Partners and Regency Energy Partners expect the first of two Mont Belvieu fractionation plants, each of which will boast a nameplate capacity of 100,000 barrels per day, to start up in the first quarter of 2013.
This new strength in NGL-related transportation and processing likely helped the MLP secure a long-term contract with Exxon Mobil Corp (NYSE: XOM) to build a 117-mile gathering system and processing plant that will handle volumes from the Woodford Shale. This pipeline is expected to come on-stream in the fourth quarter of 2012, while the processing facility will be completed in the third quarter of 2013.
Investors also shouldn't discount contributions from drop-down transactions related to Energy Transfer Equity's $7.9 billion acquisition of Southern Union Company.
In the first of these deals, Energy Transfer Partners purchased a 50 percent interest in Citrus Corp., which owns Florida Gas Transmission, a 5,300-mile pipeline system that stretches from Texas into the Florida Peninsula. This $2 billion drop-down transaction, coupled with expansions to two of the MLP's other interstate pipelines, more than doubled the interstate transportation segment's second-quarter adjusted EBITDA on a year-over-year basis. Over the long term, this pipeline system should benefit from rising demand for natural gas among electric utilities and industrial customers in the Southeast.
More recently, Energy Transfer Partners and Energy Transfer Equity announced that the general partner will contribute the assets acquired in its takeover of Southern Union Company to ETP HoldCo Corp. Energy Transfer Partners will hold a 40 percent stake in this new entity and assume operational control of these midstream assets, while Energy Transfer Equity will retain a 60 percent interest.
This move effectively enables Energy Transfer Partners to benefit in the near term from having operational control of these assets, without assuming additional debt or issuing equity. That being said, Energy Transfer Equity's management team affirmed that the eventual goal remains to sell these assets to the two MLPs in which it owns an interest.
Here's a list of the former Southern Union businesses that Energy Transfer Equity has contributed to the ETP HoldCo.
Panhandle Eastern Pipeline Company owns and operates a 6,500-mile pipeline system that can deliver up to 2.8 billion cubic feet of natural gas per day to markets in the Midwest and East Coast from the Midcontinent region.
Trunkline Gas Company owns and

operates

a 3,000-mile pipeline that can transport 1.5 billion cubic feet of natural gas per day to markets in the Midwest and East Coast from suppliers on the Gulf Coast.
Trunkline LNG Company owns and operates an import facility for liquefied natural gas that's located near Lake Charles, La.
SeaRobin Pipeline Company owns and operates about 960 miles of interstate pipelines that connect developments in the offshore Gulf of Mexico to gas-processing infrastructure in south Louisiana.
Southwest Gas Storage Company owns and operates MidContinent and Midwest gas storage assets with a total capacity of about 60 million dekatherms.
Southern Union Gas Services owns and operates five gas-processing plants with a total capacity of 450 million cubic feet per day, 930 million cubic feet of treating capacity and a 4,000-mile network of gathering pipelines in the Permian Basin.
Missouri Gas Energy is a regulated gas distribution company that serves a half million customers in western Missouri.
New England Gas Company serves about 50,000 customers in Massachusetts.
Management has indicated that the two gas distribution companies would be divested and hinted that the gathering and the processing assets would likely be sold to either Energy Transfer Partners or Regency Energy Partners. Energy Transfer Partners is also reportedly investigating the conversion of one of the long-haul pipelines-probably the Trunkline-acquired from Southern Union into an oil-carrying system.
Meanwhile, Energy Transfer Partners has agreed to convey the non-logistics assets acquired in the takeover of Sunoco to ETP HoldCo, including about 4,900 retail gasoline outlets that last year generated $261 million in EBITDA. Although management has indicated that ETP HoldCo will explore "MLP-friendly" options for the retail business - one of which would be to lease the gas stations to a third-party operator - the industry consensus is that these assets will be divested.
However, Energy Transfer Partners will retain its general partner interest, incentive distribution rights and 32.4 percent equity stake in Sunoco Logistics Partners LP (NYSE: SXL). The latter owns 2,500 miles of refined-product pipelines, 5,400 miles of oil pipelines and terminals capable of holding 42 million barrels of liquids. In 2011 Sunoco collected $97 million in pretax distributions from Sunoco Logistics Partners, an income stream that will now accrue to Energy Transfer Partners.
Not only does this move further diversify Energy Transfer Partners' business away from its legacy intrastate pipeline holdings, but Sunoco Logistics Partners' extensive system of oil and refined-product pipelines also stands to benefit from the upsurge in onshore oil output.
In the run-up to the acquisition of Sunoco, the two companies were discussing potential joint ventures in Texas that would involve Energy Transfer Partners' Texoma pipeline to carry crude oil and connecting it to Sunoco Logistics Partners' Nederland terminal. We would expect plans of this nature to go forward.
The firm has also reduced its exposure to commodity prices and another slow-growing business by divesting its retail propane operations to AmeriGas Partners LP (NYSE: APU) for $1.46 billion in cash and $1.32 billion in the acquirer's common units.
Although the equity issued by Energy Transfer Partners to cover the acquisition of Citrus Corp. reduced the MLP's distribution coverage to about 90 percent in the second quarter, the aforementioned expansion projects and recent acquisitions could prompt management to hike the distribution in 2013. Such an announcement would be a welcome catalyst for the stock.
In the meantime, patient investors can collect a quarterly payout of $0.89375 per unit, which equates to a distribution yield of 8.3 percent at the current quote.
Disclosure: I am long ETP. I wrote this article myself, and it expresses my own opinions. I am not receiving compensation for it. I have no business relationship with any company whose stock is mentioned in this article.