We have softened our critical outlook on Hewlett-Packard (NYSE:HPQ) over the last few months in comparison to our June report. While we are not ready to join Ralph Whitworth of Relational Investors and Seth Klarman of Baupost in buying the stock, we are seeing a number of trends that encourage us to actively evaluate the company in order to try to pinpoint a "perfect pitch entry point" for our portfolio book. We will be carefully evaluating this company because although we have respect for Meg Whitman (HPQ's new CEO) as a manager, we are concerned that Hewlett-Packard's declines could extend past 2013.
We like that Whitman has recently disclosed at HP's Annual Securities Analyst Meeting that HPQ will be seeing its estimated FY 2013 adjusted EPS decline by 10%-15% versus expected 2012 levels. We were surprised that FactSet had consensus estimates for $4.17 for HPQ in FY 2013 as recently as 30 days ago. We also like that Whitman disclosed that of the $3.40-$3.60 in adjusted estimated EPS for HPQ in FY 2013, it would be incurring $1.30 related primarily to the amortization of purchased intangible assets, restructuring charges and acquisition-related charges. The good news is that its forward PE is 4X adjusted FY 2013 EPS, it generated $5B in free cash flows (excluding acquisition costs) over the last twelve months and has leading activist value investors. Unfortunately, we are not ready to pull into Bill and Dave's garage just yet since we see that the company won't see its financial performance stabilize until 2014-15.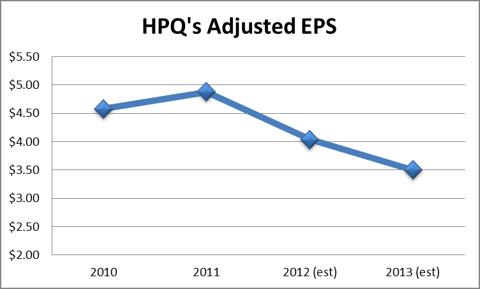 Source: FactSet Marquee
HP Enterprise Services: Mike Nefkens, Acting Global Leader of HP Enterprise Services, also presented at the analyst community along with HP Enterprise Services COO JJ Charhon. We give them a lot of credit for presenting live in person considering the sad news that HP Enterprise Services has been dealing with. Because of exceptional runoff in four major accounts and selective pursuit of deals to ensure the appropriate margin structure, HP anticipates revenue declines of 11 to 13 percent in fiscal 2013 with operating margins between 0 and 3 percent.
The good news is that the division has already written down $8B (62% of its $13B 2008 purchase price) from this purchase and that the company only has $5B of assets related to this deal that it could potentially write down. Nefkens and Charhon outlined a turnaround plan to expand its offerings in higher-growth services such as cloud and information management; strengthening accountability and empowering account executives; optimizing the cost structure; and improving operating excellence. Nefkens and Charhon are targeting long-term revenue growth at 3 to 5 percent annually, operating margins between 7 and 9 percent, and 15 to 25 percent return on invested capital for HP Enterprise Services. Unfortunately, the new operating margin targets of 7-9% are less than the 11% HP Enterprise Services earned in 2012.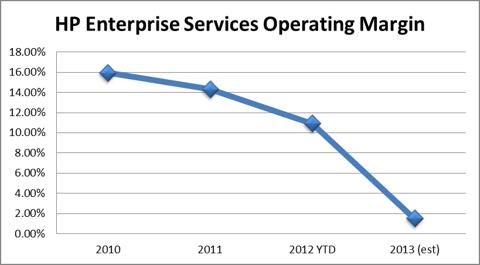 Source: Hewlett Packard's Earnings Releases and Security Analysts Meeting
HP Printing and Personal Systems: Todd Bradley, EVP HP Printing and Personal Systems (PPS), discussed how HP PPS has been focused on consolidating supply chain functions and shrinking from six sales teams to three, while reducing functional support organizations from 12 to seven. In addition, the group is focused on simplifying the business by reducing the number of SKUs in the printing business by 30 percent and the number of platforms in the PC business by 25 percent by the end of 2014. We remembered how when Bradley took over HP PPS, he was surprised that HP makes 2,100 different printers. It absolutely boggles our minds that a company can make 21 different printers, let alone 2,100.
The PC group within HP PPS launched the HP ElitePad 900, the first tablet specifically designed for businesses big and small, and is reinvesting in mobility with a dedicated leadership team. Of course it would be foolhardy to think that the HP ElitePad 900 will generate the same level of sales as Apple's iPad device.
HP Enterprise Group: Dave Donatelli, HP Enterprise Group's EVP and General Manager, addressed the company's strategy to transform the infrastructure industry and lay the foundation for widespread cloud adoption. The HP Enterprise Group has brought together its industry-leading server, storage, networking, management software and technology services offerings to deliver Converged Infrastructure solutions for enterprise customers that will help them make this critical transition. HP expects to grow over the long term both revenue and market share in the key areas of networking, storage and cloud, while increasing revenue from HP's industry-leading x86 server business. HP expects that by 2015, ARM and Atom servers will represent 15 percent of the global server market.
HP Software: George Kadifa, HP Software's Executive Vice President, discussed how HP Software is focused on integrating its acquired businesses and technologies with its existing software portfolio to deliver innovations in cloud management, security, big data and meaning-based computing. We were surprised that HP Software serves almost the entire Fortune 100 and has No. 1 and No. 2 leadership positions in key segments within the enterprise software market, which is expected to grow to a $54 billion market in 2015. Considering that HPQ spent $11B to acquire the serially acquisitive broken growth company known as Autonomy PLC, we should expect that HP Software hold the No. 1 and No. 2 position in certain enterprise software market segments. UBS Analyst Steve Milunovich not only recommended a sell rating on HPQ, but also speculated that HPQ could write down $3B of its $11B purchase of Autonomy PLC. HP hired George Kadifa in May to run HP Software and recently hired Microsoft's North American President Robert Youngjohns to run Autonomy PLC. In its most recent 10-Q, we find that HP Software has $14.6B of goodwill, including $6.9B relating to Autonomy. The Autonomy acquisition also added $4.7B amortizable intangible assets to the balance sheet.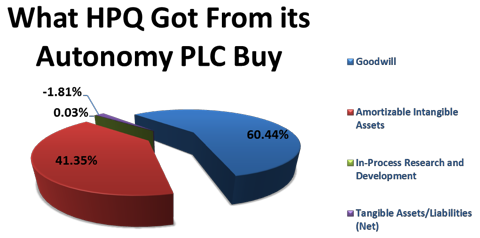 Source: HP's 2011 Annual Report
Corporate Financial Position: Normally, we would be excited about a company with $9.5B in gross cash and $10.5B in long-term interest bearing assets with nearly $32B in book value. Unfortunately, HPQ is not a normal company - it is a technology company and as such needs to have a lot of cash in order to maintain its operating liquidity. Also HP's $10.5B in long-term interest bearing assets is from its portfolio of long-term financing receivables as opposed to liquid and marketable fixed income securities. While HP Financial Services generated a 3.1% annualized estimated ROA in YTD 2012, maybe the company should consider monetizing the value of these assets by selling them to a dedicated financial institution. We also noted that HP has no tangible equity as its $32B in book value is more than offset by $44.8B in goodwill and intangible assets. Finally, we are also displeased to see that HP has gross debt of $30.15B and net debt of $20.6B.
In conclusion, we're giving Meg Whitman a 3 year grace period to turn things around and that Whitman and her team have used up one of those three years. While Léo Apotheker did such a terrible job running HPQ and left a severe mess for whoever would be succeeding him, we have to set a firm limit with regards to the grace period that we are going to give Hewlett-Packard. We think that Ralph Whitworth and Seth Klarman were a little bit early with regards to pinpointing HP's turnaround. Although HPQ's Adjusted Forward PE of 4X 2013 EPS is very tantalizing, we are going to refrain from jumping in right now. We are patiently evaluating it because Ralph Whitworth and Seth Klarman have a combined original investment cost basis of $1B but we believe that it is too early to jump into HPQ based on what we have seen so far in its turnaround project.
Disclosure: I have no positions in any stocks mentioned, and no plans to initiate any positions within the next 72 hours. I wrote this article myself, and it expresses my own opinions. I am not receiving compensation for it (other than from Seeking Alpha). I have no business relationship with any company whose stock is mentioned in this article.
Additional disclosure: This article was written by an analyst at Saibus Research. Saibus Research has not received compensation directly or indirectly for expressing the recommendation in this article. We have no business relationship with any company whose stock is mentioned in this article. Under no circumstances must this report be considered an offer to buy, sell, subscribe for or trade securities or other instruments.