Picking up on an idea from my previous article on this topic, I would like to make a couple of points to add to the body of information about the mortgage REIT price correction that happened earlier in the week.
To review, here is what happened. The action was especially chaotic on Monday:
It is quite true that this sector had been weak for a few days before, after some downgrade news for Annaly Capital Management (NYSE:NLY), but the action on Monday, especially in the trading of American Capital Agency (NASDAQ:AGNC) was completely disproportionate.
It is also quite true that because of QE3 the underlying mortgage rates that are this industry's revenue stream are under pressure.
However, there are a couple of pieces of evidence that something unusual happened:
1. The sell-off was indiscriminate.
Consider the case of Dynex Capital (NYSE:DX). This small fund was caught in the same downdraft as the rest of this group, despite the fact that it has increasing dividends: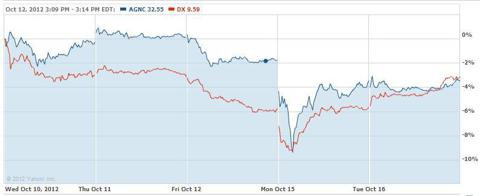 Dynex Capital has a 50-basis point advantage in interest rate spread over the larger AGNC. Even though a substantial portion of the business is still in residential mortgages, it should not have been punished in the marketplace to the same extent as AGNC, if the source of the worry is the shrinking spread and refinance rates. The same might be said for some of the other mREITs that are in different markets and have different strategies.
2. The Timing was Unusual
Normally, because of the high dividends, the prices of these funds reach their peak right before the ex-dividend date of most of these stocks, which this quarter occurred in early September. A "human" investor that wanted to exit the marketplace would have done so just before the ex-dividend date in order to maximize selling price. The fact that it happened just afterward suggests that some of the action on Monday was something other than "human", and may have been triggered by the weakness the few days before.
3. Trading Activity was Extremely Unusual
I would throw this in for the statisticians that may be followers: The average AGNC sales volume since early July has been 8.1 million shares per day, with a standard deviation of 7.9 million.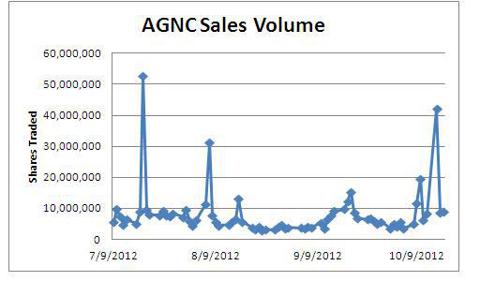 The 42 million share event on October 15, was therefore a 4.29-sigma event, which has something like a 1 in 100,000 chance of happening randomly. The thing about the AGNC chart is that these non-random events have occurred more than once. There was a 52-million share event that happened on July 18, which turned out to be favorable for the stock to the tune of $1 per share or so. There was a similar event on March 8, of over 60 million shares.
Only 41% of AGNC is owned by institutions and large shareholders, according to Yahoo Finance. Only six institutional or individual shareholders own more than 4 million shares, making it all the more unusual that the stock would have 4.2 million shares changing hands at 10:35 AM on the 15th, which according to NASDAQ is exactly what happened. So, for this sales volume to have happened there would have had to have been a lot of rapid-fire transactions.
For Annaly Capital Management the trading volume for Monday was 51.4 million shares, and the 90-day trading average is about 11 million shares, so this fund also had an unusually busy day, all of which suggests that the entire group was involved in whatever happened.
So, what are we to make of all of this?
Well, it appears that in addition to all of the other perils, headwinds, government policies and other uncertainties that affect this group, we small stockholders occasionally have to deal with the effects of unusual activity in the marketplace from some source. I would make the assertion that the source is electronic, unless someone steps forward with other information.
Sometimes this activity helps the stock price, sometimes, not so much. It does appear to be in excess of what any number of small investors can do collectively.
This is probably one more reason to be resolute in sticking with the mREIT group if you firmly believe that the underlying fundamentals are going to support the pricing level going forward. There may be no real effect on the nice dividends, which caused us to go long in the first place. The last couple days of recovery, at more normal trading levels, are a couple more data points in support of this idea.
Do with this information what you will, keeping in mind that the world is chaotic, and there are no guarantees on anything.
Disclosure: I am long AGNC, MTGE, ARR, CYS, IVR, TWO, NYMT. I wrote this article myself, and it expresses my own opinions. I am not receiving compensation for it (other than from Seeking Alpha). I have no business relationship with any company whose stock is mentioned in this article.