On Wednesday, shares of Green Mountain Coffee Roasters (NASDAQ:GMCR) rallied more than 6% on news that the company hired someone to oversee the international development of its business. Green Mountain, which currently operates in the United States and Canada, is looking for a way to boost revenue growth. Green Mountain's growth has hit a solid wall, as I've described in the past. Fiscal 2011 (the company's fiscal year ends in September) revenues were up 95%, while the current fiscal year is expected to show growth around 44%. However, in Fiscal 2013, revenues are expected to rise by less than 20%. An international move would certainly help grow the top line, but there surely would be some questions to ask here.
The following statement was taken out of an 8-K filing that Green Mountain followed with the SEC.
On October 15, 2012, Green Mountain Coffee Roasters, Inc. (the "Company") entered into an offer letter (the "Geoffrion Offer") with Gerard Geoffrion, age 60, pursuant to which Mr. Geoffrion will serve as the Company's President, International Business Development effective immediately. Mr. Geoffrion has most recently served as President, GMCR Canada Holding, Inc. and President, Canada Business Unit ("CBU"). In his new role, Mr. Geoffrion will lead the exploration of business opportunities outside North America. Pursuant to the terms of the Geoffrion Offer, Mr. Geoffrion will work for the Company on a full-time basis and will receive an annual base salary of $390,000 and other benefits, including short-term (with an opportunity at target for Fiscal Year 2012 of 60% of base salary) and long-term incentive (with an opportunity at target for Fiscal Year 2012 of 120% of base salary) bonus compensation based upon the Company achieving certain operational and financial goals, as determined by the Company's board of directors in its sole discretion.
Green Mountain has stated in the past that it plans to expand beyond North America. No concrete plans have been announced yet.
But the real question here is, how are they planning to do such a move? Green Mountain, which had a very low cash position to begin with, announced a $500 million stock buyback with last quarter's results. It didn't seem like the company had the money to do it, but they also announced they were lowering their capex forecast by $50 million, to a new range of $475 million to $525 million. Looking forward to fiscal 2013, they only expected to invest $380 million to $430 million. So what are they planning to really do over the next two years? Are they going to buy back stock, or are they going to expand internationally? One can assume that an international expansion would definitely cost a bit up front, unless that is what they are planning to do with the large amount of inventory they are always criticized for?
So would investors prefer international expansion and revenue growth, or should the company use the money strictly on buybacks? I would guess that most would prefer the expansion. While the buybacks would certainly improve earnings per share more, at least in the short term, the international expansion would certainly help with the revenue growth problem. Increase the top line first, then work on the bottom line.
Maybe Green Mountain can learn a little from the international expansion underway at SodaStream (NASDAQ:SODA), a company that many regard as a similar name to Green Mountain (a coffee version versus a soda version). As you can see in SodaStream's second quarter results, SodaStream is doing quite well internationally. SodaStream more than doubled its Americas and Asia-Pacific revenues over the prior year's period. Remember, SodaStream is based in Israel and up until a few years ago, relied mostly on Western Europe for revenues. Then they jumped into the US, and are currently working on expanding in Asia. Green Mountain could be going the opposite direction, starting in North America and going to Europe potentially next, although Asia is also a possibility. Since SodaStream is another growth name that sometimes trades similarly to Green Mountain, SODA shares rallied 2% on Wednesday as Green Mountain jumped. Remember, most of these names are heavily shorted, so even one small piece of positive news can send shares spiking higher quickly.
Additionally, shares of Coffee Holding Company (NASDAQ:JVA) spiked more than 4% higher on Wednesday. Since Green Mountain and Coffee Holding Company conduct a significant amount of business together, these two names tend to move in tandem. When Green Mountain shares jump, so do those of Coffee Holding Company. The same is usually true when Green Mountain drops. If you don't believe me, just look at how similar the 3-month charts are.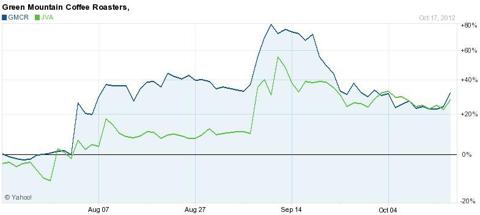 (Source: Yahoo! Finance)
Wednesday's news that Green Mountain has hired an executive to oversee its international business development sent shares higher. While no concrete plans have been developed, an international move would certainly combat the company's growth problem. However, questions do remain as to how the company would be able to afford such a move, as they are currently slashing capital expenditures in order to buy back stock. The company's cash position is already low, so I wouldn't exactly buy into this news just yet. It certainly is a step in the right direction, if the company can afford it. Hopefully, we'll get a bit more clarity when Green Mountain reports fourth quarter and full year results (no date scheduled yet). Until then, there will be plenty of speculation as to whether Green Mountain is in the process of going global.
Disclosure: I have no positions in any stocks mentioned, and no plans to initiate any positions within the next 72 hours. I wrote this article myself, and it expresses my own opinions. I am not receiving compensation for it (other than from Seeking Alpha). I have no business relationship with any company whose stock is mentioned in this article.