Kinder Morgan Inc. (NYSE:KMI) is the largest midstream and the third largest energy company in North America with a combined enterprise value of approximately $100 billion. It owns an interest/operates roughly 75,000 miles of pipelines and 180 terminals. Its pipelines transport natural gas, gasoline, crude oil, CO2 and other products. Terminals store/handle petroleum products, chemicals, ethanol, coal, petroleum coke and steel.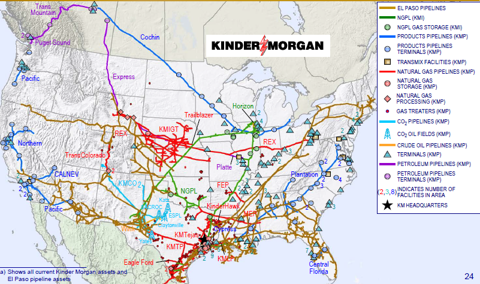 Aside from diverse exposure to multiple commodities and a vast web of pipelines, KMI's firm foothold in the industry is enhanced by relationships forged with natural resource leaders. Back in July, Peabody Energy Corporation (BTU) agreed to utilize Kinder's Gulf Coast export platform for their Colorado, Illinois Basin and Powder River Basin coal products. With this agreement, BTU plans to increase its annual Gulf Coast coal export output by at least 5 million tons by the year 2020. KMI's relationship with this coal industry leader is certainly a positive long term. KMI has ties to other companies as well...
KMI owns the general partner (GP) interest of Kinder Morgan Energy Partners (NYSE:KMP) and El Paso Pipeline Partners (NYSE:EPB), and shares in Kinder Morgan Management (NYSE:KMR). Because of KMI's complex tiered IDR interest in KMP, KMI's payouts will most likely increase faster than that of KMP. Although KMI is fairly dependent on KMP's performance, I feel the Kinder product to hold for the long term is KMI. Lets take a look at the recent history of distributions to examine how KMI's GP interests has effected the increases of both companies since KMI's IPO in 2011.
Ex Date
KMI Dividends
% Increase Q/Q
KMP Distributions
% Increase
4/2011

.14

NA
1.14
NA
7/2011

.30

114%
1.15
.87%
10/2011
.30
0%
1.16
.87%
1/2012
.31
3.3%
1.16
0%
4/2012
.32
3.2%
1.20
3.44%
7/2012
.35
8.75%
1.23
2.5%
10/'12 Est
.36
2.78%
1.26
2.4%
Total Increase
157%
10.5%
Increase Since 7/2011
20%
9.56%
Excluding KMI's first dividend in April of 2011, KMI's increases blew away that of KMP's, totaling 20% and 9.56% respectively. I see this trend of enhanced dividend increases to continue for KMI, especially once its recent acquisition of EPB starts to be accretive and really takes hold. Although KMP has more attractive distribution of 5.74%, it's just a matter of time before KMI's 4% dividend gains ground. In fact, KMI's report on 10/17/12 stated:
"As a result of the acquisition of El Paso and KMIs normal expected annual growth, KMI continues to expect its dividend per share to grow at an average annual rate of around 12.5 percent through 2015 from its budgeted 2011 dividend of $1.16 per share"
As a testament to KMI's strength, in this report Chairman and CEO Richard D. Kinder said:
"KMI had an outstanding quarter and our cash available to pay dividends nearly doubled compared to the third quarter of 2011...... As the largest natural gas transporter and storage operator in North America, the Kinder Morgan companies are well positioned to play a leading and integral role as demand for natural gas continues to increase."
In consideration of KMI's broad asset base, its GP interest in both industry lion-hearts KMP and EPB, and a fast growing dividend, KMI seems like a great long term buy; especially if you believe in the future of US based natural resources. But how can investors who have conviction in the long term story of KMI get even "longer" than buying shares? How can investors enhance profits if KMI excels over the next say, 5 years? Warrants.
Warrants Explained:
For those that aren't aware, a warrant is a security that entitles the holder to buy the underlying stock of the issuing company at a fixed exercise price until the expiration date, much like an option.
As with options, warrants can offer intense leverage, allowing the possibility of mammoth profits relative to the amount of capital put at risk. Warrants can be more advantageous than options for several reasons, but particularly because they can expire at dates years into the future, which allows more time for the stock to rise enough to make the warrant profitable. When buying warrants so distant from expiration, time decay is usually of little significance, which often is a disadvantage when getting long call options.
KMI Warrants:
Because of the EP acquisition, there are warrants for KMI stock. Each warrant gives the buyer the right to buy 1 share of stock at $40/share, for $3.86 in premium. The warrants expire 5/25/2017. Here are the basics:
| | |
| --- | --- |
| Expiration: | 5/25/2017 |
| Exercise Price: | $40/share |
| Price: | $3.86 |
| Break Even by 5/25/17 | 43.86/share |
The break even price of $43.86, or a 22.6% increase from today's price of $35.77, seems like an unachievable goal at a glance. However, keep in mind that 55 months until expiration is a very long time. If you believe in KMI's long term prospects as much I do, these warrants are a worthy consideration. Perhaps buying shares in tandem is a wise choice, as the enhancing dividends from KMI will help fund this investment.
The symbol varies by brokerage, but in TDA the symbol is KMI+, and in Yahoo/Finance the symbol is KMI-WT.
Disclosure: I am long KMI. I wrote this article myself, and it expresses my own opinions. I am not receiving compensation for it (other than from Seeking Alpha). I have no business relationship with any company whose stock is mentioned in this article.
Additional disclosure: I may initiate a long position in the warrants mentioned at any time.