Commodity Chart Of The Day

Daily RBOB
(click image to enlarge)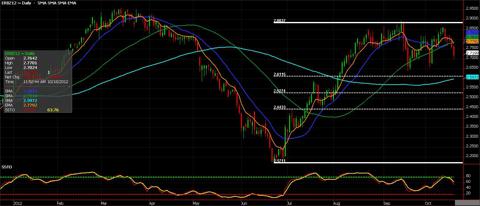 For the last five days, RBOB prices have dropped, depreciating approximately 15 cents/gallon. With prices now under the 8, 18 and 50 day MAs, I think we finally have a real correction underway. There have been a few head fakes recently, but this could be the correction forecast in recent weeks. Support is seen about 5 cents below today's low, but this being the third attempt at that level, I suspect we see a trade under the 100 day MA in the coming weeks. That pivot point is identified by the light blue line, and prices have been above that level since early August.
My stance is the entire energy complex could trade lower in the coming weeks. On a 50% Fibonacci retracement, which would drag prices 20 cents from current prices, we would start to see some relief at the pump, since prices have been well over $4/gallon for months now. Relief in energy prices right around the election -- coincidence, or not?
Risk Disclaimer: The opinions contained herein are for general information only and not tailored to any specific investor's needs or investment goals. Any opinions expressed in this article are as of the date indicated. Trading futures, options, and Forex involves substantial risk of loss and is not suitable for all investors. Past performance is not necessarily indicative of future results.
Disclosure: I have no positions in any stocks mentioned, and no plans to initiate any positions within the next 72 hours. I wrote this article myself, and it expresses my own opinions. I am not receiving compensation for it. I have no business relationship with any company whose stock is mentioned in this article.