Over the years I have found success myriad times in betting on once highflying retailers that have hit a rough patch but look like they will eventually rebound. I love picking up these once loved stocks after their valuation has come down substantially and now offer good value given their continued, if somewhat diminished, growth prospects. I did this recently with Vera Bradley (NASDAQ:VRA) in late August after it posted a poor earnings report and stock plunged to under $22 a share, less than half what it sold for just a year before. The stock has since rebounded to $29 a share and I still hold it. Another retailing stock I think offers the same potential value here is Crocs, Inc. (NASDAQ:CROX), the one-time cult stock and purveyor of some of the most comfortable shoes on the planet.
Crocs, Inc. provides footwear, apparel, and accessories for men, women, and children in the Americas, Europe, and Asia
8 reasons CROX offers solid value at just over $16 a share:
Stern Agee reiterated its buy rating today on the shares as it has more recent confidence in the company's ability to meet quarterly and full year guidance. It has a $30 a share price target on the stock.
Crocs has a robust balance sheet with over $250mm in net cash on its books (Over 15% of current market capitalization at current prices).
The company should post 13% revenue growth in 2012 and analysts expect the same increase in sales in FY2013. The stock sports a five year projected PEG of under 1 (.60).
The eight analysts that cover the stock have a median price target of $24 a share on CROX, around 50% above the current stock price.
The company has more than doubled its operating cash flow over the next three years.
The stock is selling near the bottom of its five year valuation range based on P/E, P/B, P/S and P/CF.
The company has beat earnings estimates for twelve straight quarters. The average beat over consensus for the last four quarters have averaged 19%.
The stock has good long term technical support at just under these levels and the stock sold for almost twice the current price a year ago (See Chart).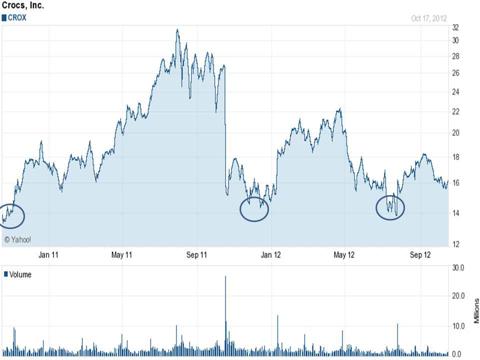 Disclosure: I am long CROX, VRA. I wrote this article myself, and it expresses my own opinions. I am not receiving compensation for it (other than from Seeking Alpha). I have no business relationship with any company whose stock is mentioned in this article.