Introduction
Cal-Maine Foods (NASDAQ:CALM) is the largest producer and marketer of shell eggs in the United States. The company's size provides it with benefits including the ability to purchase large scale machinery that smaller competitors cannot, make acquisitions to expand market share, and vertically integrate its operations to reduce costs. Investors can be confident that egg demand will continue indefinitely. However, industry growth will approximate US population growth, providing the company little opportunity for top line growth. Additionally, the competitive nature of this commodity industry has given the company little opportunity for cost reduction. Thus, the key determinant of profitability of the company is the market price of eggs, over which the company has no control. The variability of prices and the investments in capital required for this business makes the business cyclical. Current valuations, price levels and profits provide evidence that it is not a strong time to buy Cal-Maine, even though it is a strong company. Yet investors can be confident that history will repeat itself, and strong buying opportunities will present themselves to the patient investor, allowing for outsized gains.
Industry
The industry is inherently driven by population growth. Eggs have been and will remain an essential part of people's diet. However, barring any major permanent change in the population's taste, eggs will not replace another portion of the diet, and new "diets" should be met with skepticism as a potential company catalyst. The company's statement in the most recent 10K that, "Based on historical consumption trends, demand for shell eggs increases in line with overall population growth, averaging an increase of about 1% per year" is reasonable. Companies in the industry will not be able to ride industry trends to growth. Outsized long-term profits will come through organic growth of market share, or lower costs.
The industry as a whole is extremely competitive because eggs are a true commodity. There is little brand name recognition, preventing companies from charging more than competitors. There has been a recent rise in specialty eggs such as cage free or organic eggs, but once again there is little difference between manufacturers, and margins for these products are similar to other eggs. On the production side the only thing limiting low cost production is scale and amount of integration. Companies that are more vertically integrated, from the incubation of hens to the physical distribution, have lower variable costs, resulting from larger fixed upfront capital costs. Additionally, scale helps companies achieve lower costs because it allows them to use mechanized products that decrease costs but require high production levels to pay for themselves.
The nature of the consumer makes demand very inelastic in this industry. The competitive nature of the industry whittles away profits to the point where suppliers would be better off if they jointly produced less; but they all produce more than they should. This is illustrated in the conceptual graph below, which illustrates how the industry producer surplus is greater when the supply curve is steeper leading to lower production levels. Additionally, price is very sensitive to small changes in the supply curve because demand is inelastic, which is supported by the company's statement that a 1% increase in industry supply would decrease prices by 7%.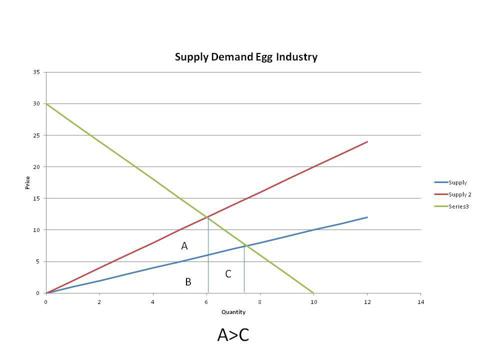 Click to enlarge
Producers can only lower costs over the long run, and are short term price takers, implying that industry prices are the largest determinant of most companies' profits. Cal-Maine's net income versus egg prices over the past 10 years illustrates this phenomenon.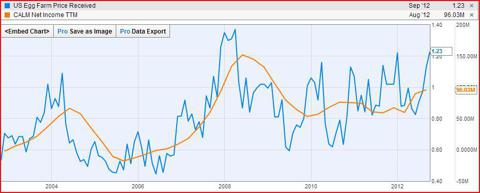 Click to enlarge
Source: ycharts.com
When prices fall enough, profits can turn to losses especially for smaller producers who have higher breakeven prices. This can cause many of them to exit the business which results in industry consolidation or other producers increasing supply. Conversely, high prices lead to industry entry which increases supply, lowers prices, and then forces companies out of the industry. Cal-Maine agrees with this trend when it states in its 10K that:
"The shell egg industry has traditionally been subject to periods of high profitability followed by periods of significant loss."
This concept is extremely important to an investor trying to understand the company.
Qualitative Analysis Of Cal-Maine
The most significant feature of Cal-Maine is that it is the industry's largest producer. The company purchases about 25% of the eggs it sells. Of the remaining 75%, the company produces and distributes from start to finish 92% of the eggs, while providing contract producers with resources to produce the remaining 8%. The company is actively seeking economies of scale, as illustrated in its 10K when it states:
The "in-line" facilities result in the gathering, grading and packaging of shell eggs by less labor-intensive, more efficient, mechanical means.
Unfortunately, the company will not be able to increase profits faster than revenue, as the company has already reached low cost production. This is illustrated by company figures over the past five years as seen below, found in its most recent 10K.

Click to enlarge

Click to enlarge
Source: 2012 CALM 10K
Examining growth of revenue vs. growth of costs is inaccurate to determine increasing efficiency because revenue can grow because of changes in industry price and not just production volume. To determine economies of scale, it is appropriate to compare COGS and SG&A expense to total number of eggs sold. Over the past 5 years, the company's egg production has increased approximately 30%. COGS has increased 48%; this may not necessarily indicate diseconomies of scale because the company cannot control feed cost as this is another commodity. However SG&A expense has increased about 50% over the time period. At the same time, this does not indicate diseconomies of scale because the price of SG&A and COGS not only rises with volume of production but with inflation, rise in wages etc. In short, Cal-Maine is unlikely to experience margin expansion because it is already the low cost producer.
The above figure appears to provide evidence for significant revenue growth, while net income declines result from falls in egg prices. The company has not organically increased its market share because it somehow produces a better egg than competitors or can magically increase production without increasing average costs and driving down selling prices. Rather the company has pursued an aggressive acquisition policy. Cal Maine has acquired 16 companies since 1989, 3 companies since 2009, and is on the verge of acquiring the egg business of Pilgrim's Pride. The company's total flock has increased from 28.4 million to 32.8 million from 2007 to 2012 or about 15%. Since the company has increased its total egg production by about 30% over a similar time horizon, the company has been able to take smaller companies' assets and made them more efficient, providing evidence of its low cost production. Given that goodwill makes up only 3% of its balance sheet, the company has not had to pay significant premiums for these companies, while still being able to generate some form of synergy.
Given that this company will not be able to significantly decrease production costs moving forward, has been able to increase revenue organically only slightly faster than the slow pace of industry growth, lacks a real brand name, and operates in an extremely competitive industry, it may be unclear as to why this company could be a strong investment on a qualitative basis. Most importantly, this company is the lowest cost producer at the largest scale in a stable industry that will exist indefinitely. Further evidence of its low cost is that Wal-Mart and Sam's Club make up over 30% of its revenue, and Publix, a leading grocery chain in the southeast where Cal-Maine has many of its production facilities, constitutes almost 10% of Cal-Maine's revenue. These companies are low margin businesses that force them to find cheap suppliers. Furthermore, very few companies can produce on the numerical or geographic scale required by these stores, giving Cal-Maine some bargaining power. Sourcing from numerous companies and transportation costs are the basis of this advantage. As a low cost producer, it will survive declines in the price of eggs, which over the long run are inevitable, as the industry overextends capacity. While this period will hurt in the short run, it will be beneficial in the long run because competitors will exit decreasing supply. This will allow the company to increase production without causing prices to spike, or acquire other producers at bargain prices. This is the main way in which the company can grow organically.
Risks And Weaknesses
The company certainly possesses some idiosyncratic risks and weakness, in addition to industry characteristics, such as dependence on egg prices or industry competition. The company does have antitrust issues. The company has been able to have all of its acquisitions approved by the appropriate governing bodies as it has grown in size. However, the company has been named in an ongoing suit which names Cal-Maine and other large producers for colluding to keep industry supply. The company has other litigation issues, but the following statement regarding legal issues from the company in its 10K is troubling:
"In management's opinion, the likelihood of a material adverse outcome is remote in regards to all matters except the egg antitrust litigation."
There are two issues if this case does not end favorably for Cal-Maine. If found guilty, egg prices may perpetually trend lower than they currently would project to be, because supply would permanently increase. This would cause competitors to go out of business, but it would hurt the profitability of the industry as a whole. Additionally, it would signal that Cal-Maine may not be able to continue acquiring indefinitely.
Another interesting feature of the company is that it is principally controlled by the Adams family. This can be beneficial because a perpetual shareholder has the long-term interests of the company in mind. However, there could also be nepotism which could hurt the company. The presence of Mr. Adams' son-in-law as CEO and Chairman of the company, who may very well be qualified, causes one to wonder. Additionally, the family must be in control or else some of their debt is callable.
One risk that actually is not and may help the company long term is the humane society's push to increase cage space for the chicken. This would inevitably create significant costs up front, to overhaul the facilities. But it would decrease industry supply, which is actually good. Increased costs could put some producers out of business, providing more opportunity for Cal-Maine.
There are other risks inherent to the industry such as fluctuations in feed cost, FDA compliance, and contamination lawsuits. However, these issues are difficult to control and the company has done a good job of controlling them in the past.
Financial Analysis
The company has consistently had a conservative capital structure with total debt currently totaling less than 10% of assets, and has operated with a similar ratio over the past 5 years. Additionally, the company has over the same period had cash and short-term equivalents of more than double its long-term debt. The company sports an interest coverage ratio of approximately 17x which is healthy. These factors indicate the company will not have difficulty meeting credit obligations and in the case of a recession or industry downturn, the company will not become insolvent.
For a relative valuation, the company does not have any direct comparables as Cal-Maine's direct competitors are small and private. The next best peer group are other animal and meat commodity producers. These include Tyson (NYSE:TSN), Smithfield Foods (NYSE:SFD), Hormel (NYSE:HRL), Hillshire (NYSE:HSH) and Pilgrim's Pride (NYSE:PPC). There are definitely some major differences between the companies beyond the fact that they are not primarily egg producers. Smithfield and Hormel have significant international operations while Cal-Maine is strictly located in the United States. Some would say that Tyson has a brand name. Regardless, key industry forces are similar and they at least provide a general indication of valuation.
| | | | |
| --- | --- | --- | --- |
| | P/E | EV/EBITDA | FCF Yield |
| CALM | 10.73 | 7.02 | 4.45% |
| TSN | 11.92 | 4.75 | 6.36% |
| SFD | 9.06 | 5.21 | 13.72% |
| HRL | 15.92 | 8.75 | 4.21% |
| HSH | 3.87 | 7.01 | NA |
| PPC | NA | 12.57 | 5.20% |
Sources: Google Finance, ycharts.com, bloomberg.com
This search began under the premise that CALM appeared undervalued based upon a screen, and then further investigation would prove whether or not the undervaluation was warranted. However, further research into valuation illustrates that Cal-Maine is not likely undervalued as compared to many similar companies, it is actually overvalued. Tyson and especially Smithfield Farms appear significantly more undervalued in comparison. There may be reasons for these companies being undervalued. However, a strong investment is one that is strong qualitatively and one that is undervalued relatively and absolutely for unwarranted reasons. Cal-Maine does not currently fit this description.
Historical valuations for Cal-Maine further support that the current price of the stock is not an attractive one, but industry features could present investors with an attractive opportunity in the future. As shown in a graph earlier, Cal-Maine's net income rises and falls with the price of eggs. It is reasonable to assume that in the long run, egg prices will rise. More importantly, prices will in the long run exist at levels to ensure a long-term profit. There will be periods in which egg prices are elevated, which is actually the worst time to buy the company, and periods in which egg prices are low in which it is the best time to buy the company. The following 3 charts from ycharts.com help illustrate this.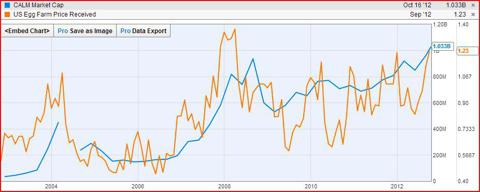 Click to enlarge
Click to enlarge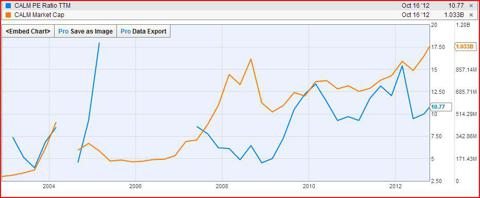 Click to enlarge
Source For 3 Charts Above: ycharts.com
Egg prices and FCF further support the idea that profits for Cal-Maine will rise and fall over the years. The graph of market cap vs. P/E ratio generally tells us that when the P/E ratio is low or even negative, the company could be in store for a large rise. It also indicates that the company is trading at the lower end of its more recent historical range, but Cal-Maine is not trading at historically low levels. Market cap vs. egg prices is most telling, has a higher correlation, and has a stronger qualitative basis behind it. Low prices (2004, 2009) inevitably cause smaller or negative profits for the company, as supported by the free cash flow or net income graphs. This causes most investors to run for the exits causing a sharp drop in the market cap of the stock. The reverse is true with a rise in egg prices (2003, 2006-2008). Yet in the case of a decline in egg price, one should know that the negative profits are temporary, and the price must rise to ensure supply and demand equilibrium. Furthermore, the decline in profits will hit competitors harder allowing Cal-Maine to gain market share or make cheap acquisitions. Evidence for this comes from the fact that in periods following troughs in egg prices, Cal-Maine has quadrupuled its market cap, and thus price, in a relatively short period of time.
Given that Cal-Maine is not currently relatively undervalued, historically undervalued, and that egg prices have not dropped precipitously, the company is not a good buy at this point in time. But if egg prices decline significantly in the future, this could be a great addition to a portfolio. Additionally, the recent drought will likely raise COGS across the industry. If companies cannot pass these costs along to customers causing profits to turn to losses, a similar consolidation cycle could occur, from which Cal-Maine should emerge stronger. Consequently, there are likely future buying opportunities for the patient investor, namely when egg prices or profits are up. However, one must be sure that the decline in income results from lower egg prices, and not a loss of production efficiency.
Conclusion
In summary, Cal-Maine is a very strong company as the industry's low cost producer. This position and the industry is stable. The company is unlikely to experience significant organic growth due to features of the industry and consumer demand. This is further underscored by poor current indications of value. However, there is likely to be a chance in the future to add this company when conditions actually appear bleak.
Disclosure: I have no positions in any stocks mentioned, and no plans to initiate any positions within the next 72 hours. I wrote this article myself, and it expresses my own opinions. I am not receiving compensation for it (other than from Seeking Alpha). I have no business relationship with any company whose stock is mentioned in this article.