After looking into Hewlett Packard's (NYSE:HPQ) value, I turn to Dell (NASDAQ:DELL), where I find a very significant upside. As I noted in this article HP: Once-In-A-Lifetime Opportunity Or Value Trap?, both HP and Dell are going through a transition towards a more service- and corporate-focused business model.
HP looks to be ahead in this process, but Dell on the other hand has a long-term strategic view driven by Michael Dell, back in the CEO seat since 2007. History shows us that in the technology sector, managers have tended to be the main drivers of success (for example Steve Jobs with Apple (NASDAQ:AAPL), Bill Gates with Microsoft, Larry Ellison with Oracle or Lou Gerstner at IBM (NYSE:IBM). In addition, Michael Dell holds 11% of the firm, which clearly aligns shareholders' interest with his own.
Basic facts
Dell's market cap is only $17bb, in spite of a fairly sizable free cash flow (NYSE:FCF) of $4.8bb, and $62bb in sales.
Since 2012, Dell started paying a dividend with a yield of 3.3% at current market prices.
Looking at the massive sell-off that the stock has been through (-40% YTD), we might miss the fact that Dell is profitable, and just had its best year in 2011 if we take a look at the revenue and FCF numbers: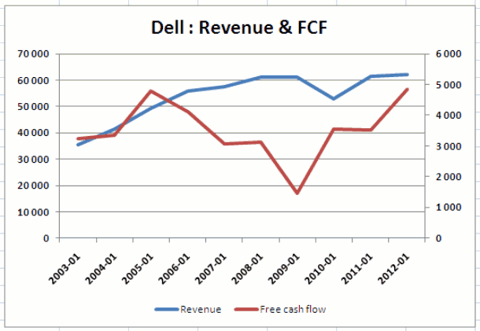 However the last two quarters were quite disappointing: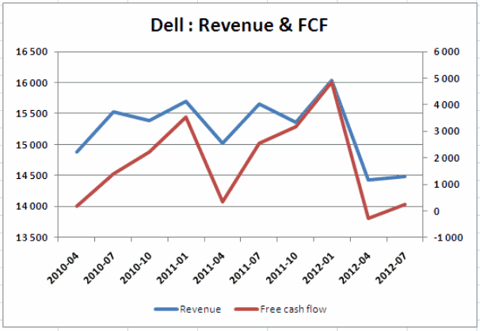 The drop in revenue and FCF is mainly due to some difficulties in the desktop PC and mobility divisions, which account for half of total sales: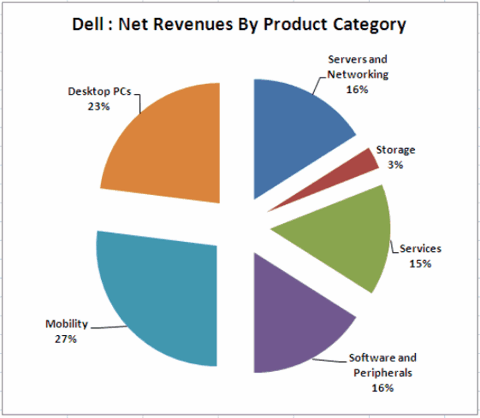 The reasons that have been mentioned for the lower sales figures were:
Tablets cannibalizing PC/laptop sales
The economic context
Postponed purchased decisions as customers waited for Windows 8
A commoditization of PCs, leading to reduced pricing power by manufacturers such as Dell or HP competing with cheaper builders (like Acer)
So there are both a fundamental trend (tablets, commoditization), and a temporary effect on top (Windows 8).
In any case, Dell's strategy calls for keeping its Desktop PC and Mobility divisions, but reinvesting FCF in other departments, either through acquisitions or organic growth: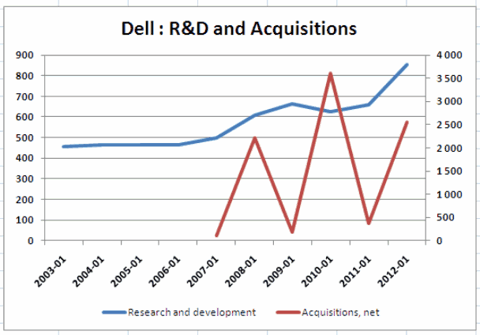 Super-investors
Before starting with our valuation estimate, let's note that there are two "super-investors" actively buying Dell: Lou Simpson (former President and CEO of GEICO, who was for a time seen as taking over from Warren Buffet) and Prem Watsa from Fairfax Financial: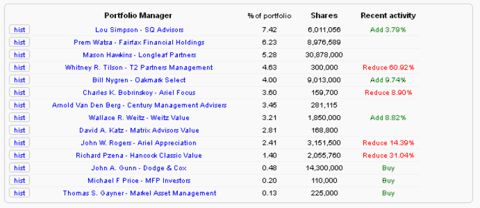 Source : Dataroma
However David Enhorn (Greenlight Capital) cut his position (at a loss) on Dell last quarter. Hence Dell is not unanimously considered as a good buy by value investors.
As I did when looking at HP, I use the tool XlsValuation in order to come up with a fundamental value estimate for Dell.
Historical multiples
As a first step we pull from MorningStar the highest and lowest PE, price to book and price to sales multiples since 2009:

The price to sales multiple will be weighted a bit more (47%) since it is less variable than the other two, which suggests that it is more "reliable."
Peers
Our comparable universe is :
HP

: closest to Dell
Lenovo (OTCPK:LNVGY): A competitor for Desktop PC and Mobility
IBM (IBM): The benchmark for Dell and HP
Cisco (NASDAQ:CSCO): A competitor for Servers

and

Networking and Storage divisions
The average of comparable multiples is shown below:

The weights are based on the variability of the multiples across the 4 comparables.
Normalized data
EPS: I use the consensus estimate from Bloomberg, which is close to the estimate that management provided in the latest quarterly presentation, and lower than last year's EPS.
Sales: Management expects a drop by 2-5%, so I take last year's figures and cut them by 5% (conservatively)
Operational margin, being conservative again we take 5.7% from Q1, even though it was at 6.2% in Q2.
Tax rate: Expected to be in the 20-22% range by management, so we assume 21%.
Cash and debt, I use the most recent figures (last quarter).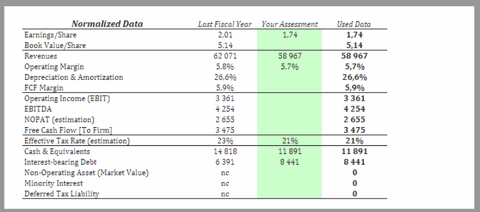 Present value rate
We follow Damodaran's recommendations and use a bottom-up beta, rather than a CAPM beta:

Dell does not specify the exact share of software in sales, so we did not include it in the beta calculation.
We use an unlevered beta of 1.14 for services (15%) and 1.33 for the rest (85%), which results in an aggregate unlevered beta of 1.30. Reflecting leverage, we end up with a levered beta of 1.82.
For the risk-free rate, we use the 10-year Treasury Bond (1.66%) and for the equity risk premium we follow A. Damodaran (6.35%).
This leads to a cost of equity of 13.2%. Including the cost of debt (post-tax) of 3.4%, the weighted average cost of capital is 10%:

Growth
That's where the question is. Quite frankly I have no idea what the ROIC is on Dell's recent or projected acquisitions. So I just keep the historical ROIC and will have to trust Michael Dell to make the right choices for his future acquisitions.
I don't know either how PC sales will evolve, but it looks to me that Dell is diversified enough so that it will avoid turning into a Nokia or RIMM.
In any case, in order to be conservative, we will assume that for the next 5 years Dell's operating income will decline by 5% a year:

Valuation
I apply the following weights to the three valuation methods:
Historical multiples 20% (as Dell is progressively diversifying away from its original business)
Comparable multiples: 40%
Discounted Cash Flows: 40%
The results are shown below:

The comparable multiples method is the most favorable to Dell, with an estimate at $19-20 a share.
Historical multiples, implicitly assuming a return to a long-term mean, would value Dell at $17 a share.
Finally, discounting the NOPAT gets us the most pessimistic valuation at $15 a share. If we did not assume negative growth by 5% a year, the estimate would be at $17 a share.
The weighted average yields a valuation at $17 / share, to be compared with a market price of $9.8 / share.
Conclusion
Considering a safety margin of 10%, and a target price of $15.5, we see an upside of 60% relative to current market price.
The 3.3% dividend could help us to wait around for the stock price to come back up, and is for the time being largely covered by the FCFC. However it could eventually be reduced depending on how the Desktop PC and Mobility divisions fare (further drops or flattening).
At current market prices I prefer HP to dell, but under $10 we buy the cheap upside of Michael Dell successfully turning Dell into a global leader in corporate IT solutions and services.
Hence, I own both Dell and HP, with a little more weight on HP.
What do you think of this valuation estimate? Do you also see the upside in Dell's transformation?
Disclosure: I am long DELL, HPQ. I wrote this article myself, and it expresses my own opinions. I am not receiving compensation for it (other than from Seeking Alpha). I have no business relationship with any company whose stock is mentioned in this article.