With the S&P 500 up nearly 16% year to date,(as of 10/18/12), it's getting harder to find undervalued dividend stocks with good growth and solid financial metrics. However, we did find a pipeline company, Tesoro Logistics LP, (NYSE:TLLP), which, even though it's had a big run since this summer, still looks undervalued for growth:

As you can see, TLLP has run up from a summer low of $30.10 to its present $45.38 price, a 51% gain. So how can it still be undervalued, i.e. what are investors seeing?
In a word - growth - big growth. TLLP looks undervalued for growth on a PEG basis:

For its most recent quarter, TLLP posted EPS and sales gains of over 60%, and is expected to grow over 23% for the next 5 years: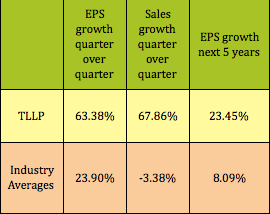 Dividends: Since its 2011 IPO, TLLP has increased its distributions each quarter, going from $.24, to its present $.41, a 71% rise. TLLP's Distribution Coverage also increased from .86 to 1.30, in the second quarter:

The valuation picture isn't all rosy - although it has a lower P/E, you can't really say that TLLP is undervalued on a Price/Book or Price/Sales basis, vs. its peers: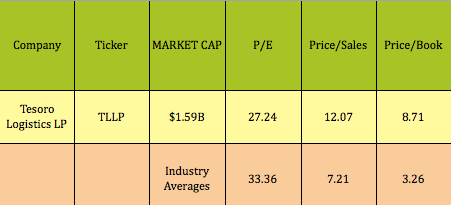 One alternative to buying TLLP outright at its current price would be to sell cash secured puts.
This trade, from our Cash Secured Puts Table, features a March 2013 $45.00 put, which is below TLLP's current price. This put offers a $2.60 premium, a bit over 3 times the value of TLLP's next 2 quarterly dividends. The break-even is at $42.40 which 6.6% below TLLP's current price/share.

Financials: In addition to boasting a much higher Operating Margin, TLLP's Management Efficiency ratios are way above industry averages. Although it carries a slightly higher debt load, it has a 20.0 Interest Coverage Ratio.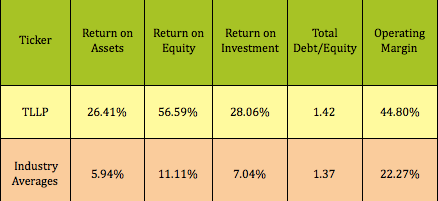 Company Profile:
Tesoro Logistics LP, headquartered in San Antonio, Texas, is a fee-based, growth-oriented publicly traded master limited partnership formed by Tesoro Corporation in 2011 to own, operate, develop and acquire crude oil and refined products logistics assets.
TLLP's logistics assets are integral to the success of Tesoro Corporation's refining and marketing operations and are used to gather, transport and store crude oil and to distribute, transport and store refined products. The initial assets consist of a crude oil gathering system in the Bakken Shale/Williston Basin area of North Dakota and Montana, eight refined products terminals in the Midwestern and western United States and a crude oil and refined products storage facility and five related short-haul pipelines in Utah.
Disclosure: Author held no TLLP shares at the time of this writing.
Disclaimer: This article is written for informational purposes only and isn't intended as investment advice.
Disclosure: I have no positions in any stocks mentioned, and no plans to initiate any positions within the next 72 hours. I wrote this article myself, and it expresses my own opinions. I am not receiving compensation for it (other than from Seeking Alpha). I have no business relationship with any company whose stock is mentioned in this article.