On Thursday, August 28 after-hours, PetSmart Inc. (NASDAQ:PETM) reported Q2 earnings of $0.30 per share or $37.2 million on $1.24 billion (up 11%) in revenue vs. $0.35 per share or $47.1 million (down 21%) on $1.12 billion a year ago. Results included a one-time benefit of reductions in insurance, stock option expenses, and timing of rent reimbursement from MMI Holdings. Analysts expected earnings of $0.28 - $0.29 per share on $1.22 billion in revenue, beating both earnings estimates and revenue targets. Shares gapped up to open at $26.15 and rose higher throughout the day to close at $27, up $2.58 or 10.56% on 10.83 million shares traded. 
Same-store sales rose 4% and management plans to slow growth of new PetSmart and PetsHotels stores to 100 – 104 and 45, respectively. Due to an increase in the cost of sales, gross margins declined to 29.5% from 31% a year ago. In addition, slower traffic and demand for pet toys and apparel should be offset by rising pet ownership. Despite an economic downturn, owners are not giving up on their pets as much as they would, let's say, on apparel shopping. Over 63% of households own a pet, and that number is growing. 
The outlook for the industry is neutral. The pet product industry is divided into 6 categories: pets, food, supplies, medicine, services, and veterinary care. The American Pet Products Manufacturers Association (APPMA) estimates that in 2007, food and treats accounted for 39% of the market, while veterinary care, services, and pets accounted for 25%, 7%, and 5%, respectively. The APPMA estimates 2008 growth at 5.8% to $43.4 billion from $41.2 billion. 
Management also provided guidance for Q3 and the full 2008 fiscal year. In Q3, PETM expects to earn $0.25 - $0.29 per share with same-store sales in the mid-single digits. In fiscal 2008, PETM expects to earn $1.51 - $1.59 per share with same-store sales to increase in the mid-single digits, reiterating their previous guidance. Analysts expect earnings of $.027 in Q3 and earnings of $1.49 for the full fiscal year, exceed analysts' forecasts.   
Currently, 18 firms publish recommendations on PETM with 9 "Buy" ratings and 9 "Hold" ratings. On August 29, 4 firms publish notes on PETM:
Wedbush Morgan – Reiterated "Buy" rating, raised target price to $29 from $27
Deutsche Bank – Reiterated "Buy" rating, raised target price to $28 from $26
Credit Suisse – Reiterated "Neutral" rating, raised target price to $26 from $20
Robert W. Baird – Reiterated "Neutral" rating, raised target price to $27 from $25
I agree with the target prices for all the mentioned analysts and believe the highest target will be met soon. The only thing I do not like is how analyst ratings still come too late. 
Over the past 12 months, insiders purchased 0 shares and sold 93,815 shares (direct). Comparing Q2 to Q1, there was a 29% change in institutional ownership of a net 25.55 million shares sold.  
Technically, PETM showed a classic flag set-up for a long position and formed a breakaway gap in the mid-term which can also be construed as a continuation gap in the short-term. A break from the neutral trading range on 4x the average daily volume is a huge positive and PETM is an excellent candidate for a long position. PETM meets resistance at $29, however, major resistance was broken and PETM is highly likely to continue upward.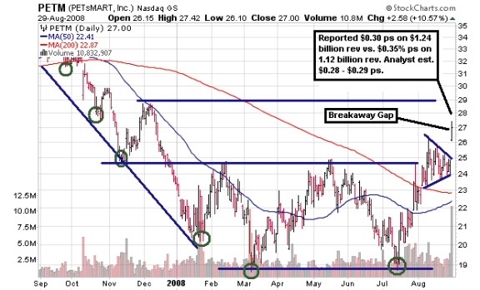 Click to enlarge
Full Disclosure: None, but will consider going long PETM on a tight, low volume consolidation in several days.