Johnson & Johnson's (NYSE:JNJ) stock has had a nice run, and although the gigantic company has brought new products in the market, the growth rate -- which would warrant further price appreciation -- is unlikely. Austerity measures in Europe and sluggish overall economic recovery do not bode well for its Medical Devices and Diagnostics and Pharmaceutical segments. Also, the company has shied away from following an industry preferred strategy of downsizing to achieve growth and has instead relied on inorganic growth. Plans to tap the emerging markets to achieve growth for its MD&D segment is strategically sound, but returns are far in the future. In light of these findings, we recommend the dividend paying stock as a hold.
Backed by strong sales momentum of key products, product launching, and its investment in the acquisition of Synthes, JNJ posted a sales figure of $17.1 billion, registering a 6.5% year-over-year sales growth for the third quarter. Domestic and international sales were up by 13.4% and 1.4%, respectively. However, owing to litigation, integration, and factory upgrades, EPS for the quarter declined 7%. The diluted EPS figure of $1.05 included special items of $533 million, chiefly relating to non-cash charge to in-process research and development owing to cancellation of the Phase III development of bapineuzumab IV, costs relating to the acquisition of Synthes and DePuy ASR Hip.
Excluding the aforementioned items, EPS was $1.25, representing a 0.8% growth compared to the same period in 2011. Analysts were expecting an EPS figure of $1.21. The company also updated full-year earnings guidance to $5.05-$5.10.
The consumer segment suffered the most and posted a decline in sales of 4.3%. All areas within the segment such as Baby Care and Oral Care witnessed declines except OTC/Nutritional, which experienced a minor growth of 0.6%. Pharmaceutical segment's sales were up 7% this quarter on the back of strong performance by key products and the launch of Zytiga. Table 1 below highlights the performance of selected products within this segment.
Table 1: Pharmaceutical Segment Products
| | | | |
| --- | --- | --- | --- |
| | Q3 2011 | Q3 2012 | % Change |
| Remicade | $ 1,408 | $ 1,591 | 13% |
| Prezista | $ 316 | $ 364 | 15.2% |
| Velcade | $ 295 | $ 327 | 10.8% |
| Zytiga | $ 95 | $ 265 | ~180% |
Like other major pharmaceuticals, JNJ is not immune to patent losses. Patents expired for Concerta, Levaquin, and Invega last year. As expected, with the exception of Invega, these drugs witnessed falls in sales (see Table 2 below). Aciphex is set to lose its patent in 2013.
Table 2:
| | |
| --- | --- |
| | % Change |
| Concerta | (10.2%) |
| Invega | 11.1% |
| Levaquin | (20%) |
JNJ's Medical Device and Diagnostics segment grew 12.5% owing to the 65% increase in orthopedics. Overall, the Medical Device remained the largest segment with its 42% contribution, followed by Pharmaceutical's 38% and Consumer's 21%.
Medical Devices, Pharmaceuticals, and Emerging Economies
A key driver in the latest performance of the company has been the acquisition of Synthes in June 2012. The transaction of $19.7 billion was the biggest in the history of JNJ as it aimed to move more rapidly and aggressively into the $5.5 billion orthopedics surgery market. To satisfy the regulators, JNJ had to divest its DePuy Orthopedics subsidiary. The Swiss based Synthes is the largest manufacturer of implants to fix broken bones, and it also produces advanced biomaterials, surgical power tools, and metal disks for the spinal cord. As the world population ages and emerging economies spend larger shares of their budgets on healthcare spending, the deal with Synthes seems lucrative given its leadership position and strong presence in key market areas of China, India and Russia.
Medical Devices is a potential $362 billion market with rapid growth to be witnessed in the emerging economies. Recently, with the slowdown in the world economy and western countries going through spending cuts, demand from the developed world for medical devices has been largely subdued. On the other hand, emerging economies continued to expand and helped companies generate revenues from this segment. However, evidence does suggest that even the traditional stalwarts including the likes of China, Brazil, and Russia have begun to feel the pressure of a global slowdown, a fact that will force companies to cut their initial projected growth figures. But once the developed economies (especially Europe) free themselves from the current mess, emerging economies will pick up on growth. In fact China and India are projected to be the leading players in the global spending on healthcare in general and in the medical devices segment in particular.
Many big pharmas are optimistic about the promise of emerging economies, but as far as the medical devices business is concerned, international businesses will face a tough time in the presence of low-cost manufacturers. In this scenario, the task may seem daunting, but JNJ might have a strategy to find a way around this dilemma.
To bolster its medical device business in China and India, JNJ is working in their rural areas to make the devices less complicated (to make them less costly), for example, by designing glucose monitors with less features. It has an innovation center in Suzhou City, China, along with one in Mumbai, India where researchers with insights in their respective markets will work on altering devices for better penetration. Also, to mark its presence in the market, JNJ is spending on training centers which provide guidance to doctors on the use of devices.
Clearly, in theory it's a nice way to make inroads into these markets, but the strategy is dependent upon the successful implementation of the several healthcare reforms that make access to healthcare more affordable because, currently, 1) patients do not have the money to spend, and 2) only a limited number of doctors are available. But once these reforms take effect, JNJ would wish to see itself at the center of the change. Strategic moves in these areas will bear fruit in the long term, but the tactical moves by the company are commendable.
Moving on to its pharmaceutical business, although the division has been battered by lawsuits, product recalls and increasing competition from generics, it has remained one of the key drivers of growth. But there are several factors that investors must be aware of before they conclude that the division will achieve superior growth. For example, the launch of Zytiga in the Oncology department of the company will face competition from Medivation's (NASDAQ:MDVN) Xtandi for prostate cancer. Also, JNJ's Incivo (for Hepatitis C) will feel the pressure from Merck's (NYSE:MRK) Victrellis, which was approved in May 2011 and promises to increase the chances of recovery while shortening the recovery time.
Valuations
Chart 1: Price Performance
Click to enlarge image.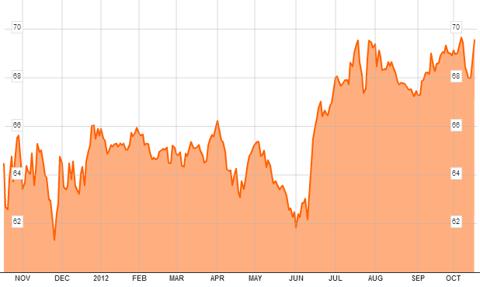 Click to enlarge
Despite the difficulties, the stock has managed to continuously push higher, from the lower $60s to now trading at its all time high of ~$70. Growth from its two largest segments of MD&D and Pharmaceutical will likely be limited owing to austerity measures in Europe (which would lead to sluggish demand for MD&D and Pharmaceutical segment), and a general slowdown, aggravated by Europe's debt worries, will likely limit the growth of the Consumers segment. Furthermore, potential competition for JNJ's Zytiga and Incivo will raise doubts on the business's ability to grow further, to warrant any further increase in the price.
The company generates healthy cash flows and we do not see any shortcomings relating to its dividend paying ability. In fact, its three-year average dividend coverage ratio is 2.3 times, which highlights its strong position. Its total debt to equity ratio is 30%, an impressive balance sheet position strengthened by its 34 times interest coverage ratio.
Table 3: Competitors
| | | | | | | | |
| --- | --- | --- | --- | --- | --- | --- | --- |
| | Johnson & Johnson | Pfizer (NYSE:PFE) | Roche (OTCQX:RHHBY) | Novartis (NYSE:NVS) | GlaxoSmith Kline (NYSE:GSK) | MRK | Avg |
| Forward P/E | 13x | 11x | 13x | 12x | 10x | 13x | 12x |
| Dividend Yield | 3.58 | 3.5 | 3.81 | 4.03 | 5 | 3.68 | |
Given the fact that we do not expect a growth rate that warrants substantial price appreciation, we recommend the stock as a hold. Also, its five-year expected PEG ratio of 2.32 does not indicate an attractive buy. Although it provides a safe dividend, investors looking for capital appreciation should look elsewhere.
Disclosure: I have no positions in any stocks mentioned, and no plans to initiate any positions within the next 72 hours.
Business relationship disclosure: The article has been written by Qineqt's Health Care Analyst. Qineqt is not receiving compensation for it (other than from Seeking Alpha). Qineqt has no business relationship with any company whose stock is mentioned in this article.