Stocks To Trade
Today, we are looking at an earnings trade in DirecTV (DTV), longs in Lululemon (NASDAQ:LULU) and Verizon (NYSE:VZ), as well as shorts in Royal Dutch Shell (NYSE:RDS.A) and Priceline.com (NASDAQ:PCLN).
For an earnings trade, we are looking at DirecTV. DTV was one of our Top 5 Large-Cap picks for earnings season this quarter, and we believe recent weakness is providing a great buying opportunity for the stock. First off, the $50 line held very well, and DTV has bounced right off that great support line. It now has taken its 20-day MA, and it is very close to retaking its 50-day MA. We believe that right now, going long off that break would be a nice position to hold up until early November earnings. Earnings are expected to show an over 30% increase, as well as over 8% increase in revenue. Further, the stock has good value, with future PE under 10. The stock was under fire after getting downgraded by J Morgan and investors learned that the FCC denied satellite companies the right to have content shared from local cable. We believe this issue provided a nice buying opportunity, though, as the company has fully priced in these losses and other concerns.
Trade: DTV, Long
Buy Point: Break of 50-day MA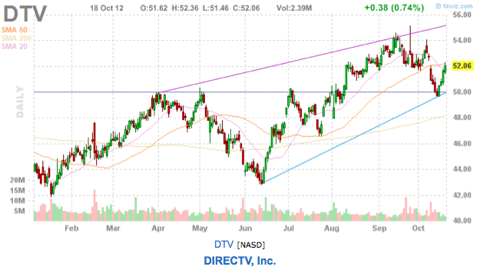 Click to enlarge
For longs, we like the looks of Lululemon and Verizon. Lululemon has been coiling right along its upward resistance line, looking ready for a breakout above it. What could catalyze the stock? Earnings are not until December, and the last round was a major buying point. The stock, though, has been flat since. Yet if it gets going, this stock attracts a lot of attention from momentum traders, and could be ready for a breakout. The stock has been very quiet. We believe over the next week or two, any news of significance would provide a nice catalyst and allow this stock to get going. Wait to buy on the breakout, but we like it above 76.50.
Verizon reported another solid round of earnings today, and this telecom giant continues to look quite attractive. With a dividend yield over 4.5% and good earnings in its back pocket, we like VZ for a bull put spread. The iPhone 5 supply issues were not a concern, and buyers may have been adding, as they expect Q4 to really shine once those supply issues are taken care of and allow VZ to get more phones sold. We think the $42 line looks very solid to hold for the next one to two months, given the strength at $44.
Stock Trade: Long, LULU
Breakout Point: 76.50
Options Trade: VZ, Dec20, 42/40 Bull Put Spread
Max Gain: 6.5%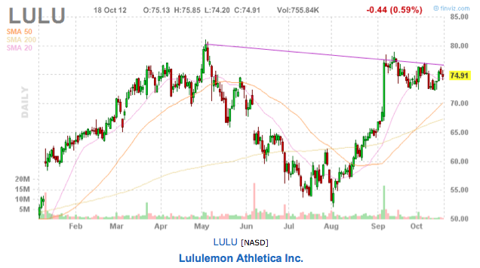 Click to enlarge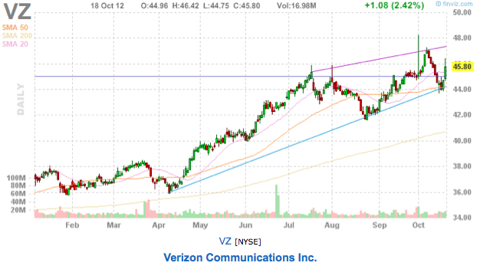 Click to enlarge
For shorts, we like the looks of Royal Dutch Shell and Pricline.com. RDS was downgraded to Sell from Neutral by Goldman Sachs (NYSE:GS) today, and that downgrade is historically a sell signal in the market. It tends to generate, on average, a 2% movement down in the next two weeks. Not only does that downgrade create our bearish outlook, but a number of other indicators show up as negative. First, the stock broke its 20-day MA today, and is heading towards its 200-day MA. A break of that would be a technical nightmare. Further, the company's fundamentals are looking so-so. Oil has been weak, and should remain so moving forward from here. Major integrated oil companies are expected to show flat growth YoY, which will not provide much of a catalyst, either. The stock looks generally to have very little going for it right now, and we believe shorting to the 200-day is a great start to a trade. From there, if it breaks, it should fall more and can be added on the breakout.
PCLN has also looked very weak as of late. The company is filling the gap, it appears, back to where it landed at 550 after earnings. Earnings are not until later in early November, so there is plenty of time for November options to decay. We like taking the 640/645 bear call spread on, as that was the high for the company before it started this downtrend.
Stock Trade: RDS.A, Short
Breakout point: Break of 200-day MA
Options Trade: PCLN, Nov17, 640/645 Bear Call Spread
Max Gain: 25%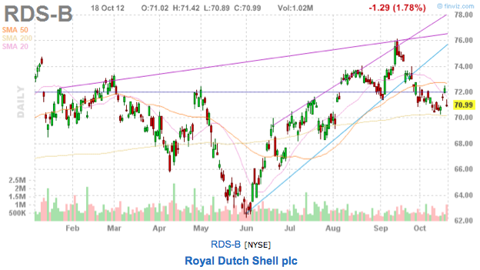 Click to enlarge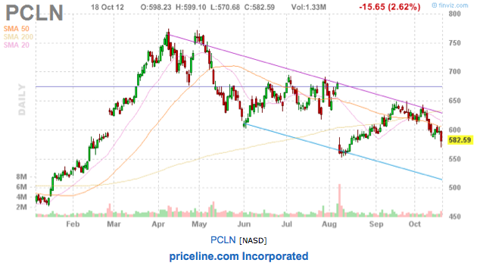 Click to enlarge
Tomorrow's Outlook
The market has looked solid this week, but today we saw some more negative headlines gracing the market. The intraday earnings debacle for Google (NASDAQ:GOOG) was weak, but the market stayed strong. The jobless claims were weak, coming in well above expectations, but the market stayed pretty strong. With options expiration tomorrow and the market seeming to slow in its upside, we could see a consolidation day where things are pinned to key levels for expiration. The market will most likely wait to its next big move until next week, when we get a lot more earnings to react to, like Apple (NASDAQ:AAPL). The only thing we would really watch for is the European ministers' meeting, which could present some headlines about potential Spanish bailout.
Our Moves/Holdings
We had a decent day in the market, as we were able to sell our Ctrip (NASDAQ:CTRP) position for a solid 2.25% gain. We also locked in a 2.5% gain in our Michael Kors (NYSE:KORS) long, Ralph Lauren (NYSE:RL) pair trade. We, however, took a 1.5% loss in Whiting (NYSE:WLL), and a 2.5% loss in Northern Oil & Gas (NYSEMKT:NOG). We added a long in CBRE Group (NYSE:CBG) and reverse iron condor in Chipotle (NYSE:CMG). We added a short in Royal Dutch Shell to Goldman Trades.
We have the following positions:
In our Short-Term Equity Portfolio, we are long Visa (NYSE:V) and CBRE Group .
In our Options Portfolio, we are long Urban Outfitters (NASDAQ:URBN), Discover (NYSE:DFS), Intuit (NASDAQ:INTU), Williams-Sonoma (NYSE:WSM), Wal-Mart (NYSE:WMT), and ExxonMobil (NYSE:XOM). We are short United States Oil (NYSEARCA:USO).
In our Earnings Alpha Portfolio, we are long Northern Oil & Gas, Allstate (NYSE:ALL), Michael Kors, Disney (NYSE:DIS), Alexion (NASDAQ:ALXN), Crocs (NASDAQ:CROX), and Continental Resources (NYSE:CLR). We are short Polo Ralph Lauren. We have a reverse iron condor in Chipotle.
In our Goldman Sachs Up/Down Paper Portfolio, we are long CSX (NYSE:CSX), Teradata (NYSE:TDC), Host Hotels (NYSE:HST), and Netsuite (NYSE:N). We are short Royal Dutch Shell.
Charts courtesy of finviz.com.
Disclosure: I have no positions in any stocks mentioned, and no plans to initiate any positions within the next 72 hours.
Business relationship disclosure: The Oxen Group is a team of analysts. This article was written by David Ristau, one of our writers. We did not receive compensation for this article (other than from Seeking Alpha), and we have no business relationship with any company whose stock is mentioned in this article.