Chipotle Mexican Grill (NYSE:CMG) reported Q3 '12 results on October 18th.
Key highlights:
Revenue: $700.5 million, +18.4% y/y
Comp Sales: 4.8%
Restaurant operating margin: 27.4%, +0.7% y/y
Net income: $72.3 million, +19.6% y/y
Diluted EPS: $2.27 per share
What I liked: New restaurant opening on track
Management expects new restaurant openings to be at or above the previously announced 155-165, and the store comps to be in the mid-single digits for the full year.
Given the weak comp sales and the lack of price increases, Chipotle can only increase the number of stores to maintain its revenue momentum.
What concerned me: Weak comp sales, revenue, and EPS miss estimates
Both revenue and EPS were below the consensus of $702.5 million and $2.30 per share, respectively. Most importantly, comp sale was 4.8%, the lowest level in two years.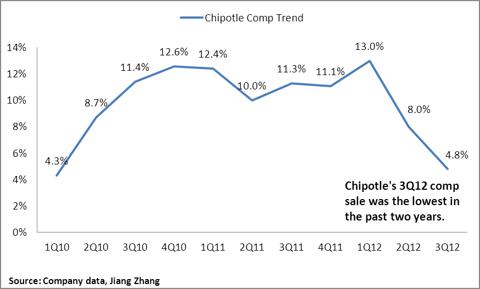 The weak performance is mainly due to:
Weak macro environment
Competitive landscape
The weak macro environment is forcing QSR diners to look for value and unfortunately, Chipotle is not known for their value menu. With average spending per visit around $15, patrons are thinking twice about visiting Chipotle and looking for alternatives such as eating at home, or at cheaper Mexican-themed restaurants, which brings me to my second point.
When investing in Chipotle, investors should take a closer look at the core products the company is selling, namely burritos, burrito bowl, tacos and salad. The products offered at Chipotle are easily replicable, meaning that the business Chipotle operates in has extremely low barriers to entry and competition can easily heat up from both the established QSR chains such as McDonalds (NYSE:MCD) and Taco Bell (NYSE:YUM) as well as from mom-and-pop shops, whose products are priced at least 40% below than that of Chipotle.
As I mentioned in my earnings preview (view report), Chipotle is facing increasing competitive pressure from Taco Bell after Taco Bell introduced their new "high-end" Cantina Bell menu. Given the extremely weak comp sales from this quarter, Chipotle might be losing more business to competitors than previously expected.
In the near-term, the stock price will likely to face downward pressure as the current valuation is not supported by the weak comp sales and growth. Unless Chipotle can show a rebound and acceleration of comp sales, analyst downgrade on the stock price is a real possibility.
Disclosure: I have no positions in any stocks mentioned, and no plans to initiate any positions within the next 72 hours. I wrote this article myself, and it expresses my own opinions. I am not receiving compensation for it (other than from Seeking Alpha). I have no business relationship with any company whose stock is mentioned in this article.