US Steel (NYSE:X) is one of the favorite stocks of hedge fund managers to play an economic recovery. We think, in a bullish scenario, the stock has the potential to double its value by next year. However, in the short term we are neutral rated. The calculations for our target price are towards the end of the article along with reasons of being neutral in the short term.
Company Description:
X is an integrated steel maker with a steel making capacity of over 31 million tons, with majority of its operations in North America and Eastern Europe. Flat-rolled Products, Tubular Products and U.S. Steel Europe (USSE) are X's three main reporting segments.
U.S. Steel Revenue by Segments ($million)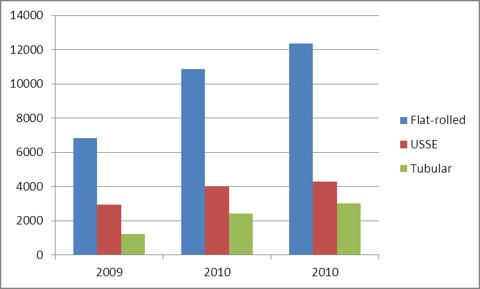 Source: Company Documents
In addition to its steel making business, U.S. Steel is involved in rail and barge transportation operations, iron ore and coke production, real estate, and it provides engineering and consulting services.
Q2 Earnings:
U.S. Steel reported Q2'12 earnings of $0.69 against estimates of $0.47. The better than expected Q2 results were driven by better average realized prices in the US flat rolled segment and resilient results from X's USSE operations, which reported profit for the first time since Q2'10. USSE segment reported an income of $34m compared to a loss of $18m in the same quarter last year. U.S. also reported an increase in reported income of 12 percent, from $295 million in Q1 to $330 million in Q2. X reported Q2 net income of $101 million compared to a loss in the first quarter of $219 million.
Q3 Earning Guidance:
Due to continued weakness in Europe, North America and emerging markets, US Steel indicated that it expects Q3 results to be weaker than that of Q2. X also expects tubular profits to remain essentially unchanged in Q3 compared to Q2, as lower costs offset lower prices and volumes.
Bullish factors:
Auto Sector Rebounding:
U.S. auto sector is experiencing continued improvement in sales as is evident from US SAAR below, which shows an annualized rate of auto sales in U.S.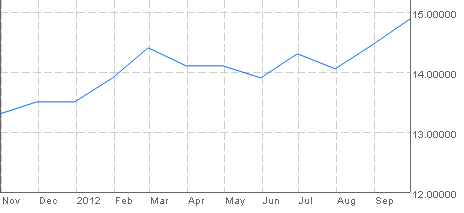 Source: Bloomberg
X will benefit from this increase in demand in car sales as its shipments to the auto industry account for as much as 15 per cent of its total shipments (as of 2011) and it has grown its business in this market by almost 80 per cent in the past three years. (See chart below)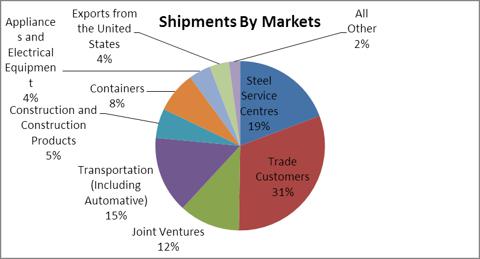 Source: Company Documents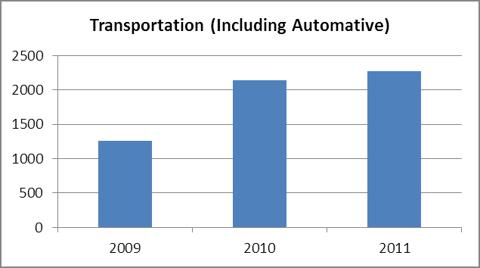 Shipments by thousands of tons (Source: Company Documents)
Strong Financials:
X has a leverage cash flow of $471 million. It has $565 million in cash and an operating cash flow of $991 million. A current ratio of 1.70 shows that X can easily meet its short term obligations. It has an estimated long term earnings growth rate of 6.50 percent and next year earnings rate of a whopping 50 percent. X is also a favorite stock of institutions and hedge funds as 71% of its shares are held by institutions. It also has a reasonable dividend yield of 0.90 percent.
The worst is already priced in:
The stock is down almost 22 percent year to date and more than 50 percent in the last two years. We believe the worst is already priced in the stock. Though it may be long before it regains the 80 percent fall in price in the last five years, it has long term potential for new buyers. X conducted large scale BF repairs in Q3, and as such repair costs decline in Q4 we expect earnings to increase.

X's five years stock performance (Source: Yahoo)

X's YTD stock performance (Source: Yahoo)
Bearish Factors:
As stated in our previous article, the weak global economic outlook, continuing eurozone debt crisis and sluggish Chinese growth has resulted in a slowdown in the demand of steel, particularly in countries like China and India. This slowdown poses the biggest near term risk to steel companies including U.S. Steel. The World Steel Association (WSA) has cut its forecasts for both next quarter and next year, with the biggest decline coming in Europe and China.
However, according to WSA, demand in North, Central and South America and in Japan is expected to improve. Steel use in the NAFTA region is expected to grow by a significant 7.5 percent in 2012 due to robust performance by the automotive industry and improvements in the construction business, which is great news for U.S. steel companies.
X is a high beta stock compared to its peers. It has a beta of 2.4, and among its competitors only AKS has a higher beta of 2.53. U.S. Steel's raw steel capacity utilization for Q2 was 77% compared to 83% for Q1 and 81% for last year. Similarly, USSE capacity utilization was 94% for Q2 against 85% for Q2 and 78% for last year. For Q3, X is expecting breakeven results for its flat-rolled segment due to lower realised prices, suggesting that further price increases are necessary for X to deliver positive profits in its core U.S. business.
In the short term we remain neutral on X, as we believe X faces headwinds from oversupply of U.S. Flat rolled products, as Chinese production exceeded demand, and weakness in Europe. However in the long term we believe X is positioned to benefit when a floor in underlying steel prices emerges. The following valuation is only applicable in a bullish scenario when steel prices rebound.
Target Price:
Year

2011

2010

2009

2008

2007

EV/EBITDA

8.82

22.93*

N/A

2.03

10.46

Average EV/EBITDA

7.10

* Excluded for being an outlier

*

2012

2013

Annual EBITDA ($million)

1300

1445

=

EV ($million)

9234.33

10264.32

-

Debt

3810

+

Cash

565

=

Market Cap ($million)

5989.33

7019.32

No. of Shares Outstanding

144.28

Target Price

$48.65
The stock is currently near $23. Our long term target price of $48.65 represents an upside of more than 100%.
Disclosure: I have no positions in any stocks mentioned, and no plans to initiate any positions within the next 72 hours.
Business relationship disclosure: The article has been written by Qineqt's Basic Material Analyst. Qineqt is not receiving compensation for it (other than from Seeking Alpha). Qineqt has no business relationship with any company whose stock is mentioned in this article.