As the economy has cooled and the dollar rallied, crude oil prices have fallen. Lately oil appears to have formed at a minimum, a temporary support base. Whether it will fall further from here or rally remains to be seen but the fundamentals would seem to support firming energy prices. (Be sure to watch these peak oil videos.)
But whatever happens to the price of oil, the price of natural gas relative to oil is at historic lows as pointed out this week by Bespoke Investments. Given that cooler weather will begin to make itself felt in the weeks to come, the prognosis for natural gas looks promising. While oil has lost just over 20% of its value since the end of July, natural gas is down 42% from its peak.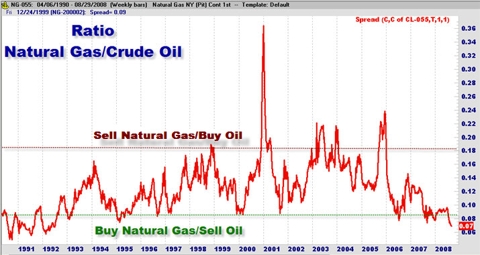 Figure 2 - Natural gas/crude oil ratio showing the best times to buy natural gas and sell oil (green zone bottom) and sell natural gas and buy oil (brown zone top). As we see from the chart, natural gas is cheaper in relation to oil than it's been in sixteen years.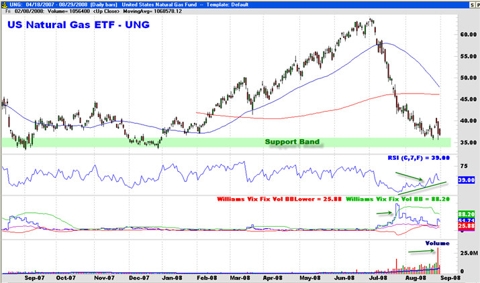 Chart by GenesisFT.com
Figure 3 – The U.S. Natural Gas ETF (UNG) is one way to play natural gas. Launched April 18, 2007 the daily chart shows the more than 40% drop in price from its July high and the major support band between $34 and $36. Also note the volume capitulation spike (see green arrow in volume subgraph), a Williams Capitulation spike (see green arrow in second subgraph) and strong positive divergence between the RSI (relative strength index) and price (see green line in RSI subgraph). Taken together with the historically low natural gas/oil ratio, this represents a potentially powerful buying signal.
According to Steve Moore in his excellent The Encylopedia of Commodity and Financial Spreads (Wiley 2006), a NG strategy to buy Nov natural gas calls and sell Oct NG calls on Aug 29 (bull call spread buying a closer to the money option while selling a further from the money options simultaneously) with a Sept 14 exit has a 100% win ratio over the last 15 years.
The natural gas/oil relationship does not guarantee that natural gas will rise tomorrow, next week or next month. Oil could drop further and so could natural gas. But if energy prices do begin firming in the near future, natural gas has the potential to significantly outperform crude oil.
Disclosure: none