How low can it go at Cott Corp (NYSE:COT)?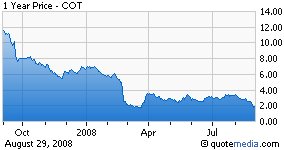 BMO Capital markets analyst David Hartley has lowered his target price to C$2 from C$3.25 after the soda pop maker cut its 2008 guidance and withdrew guidance for 2009. He also doubled the level of red on his predicted per share earnings estimates in 2008 to a loss of C$0.16 from a loss of C$0.08. His new 2009 per share earnings estimate has slid to a loss of C$0.05 per share from earlier estimated profit of C$0.14.

In a note to clients he wrote:
It seems odd that management did not extrapolate from weakening July volumes in considering its financial guidance for the Street. This guidance was provided on July 31, one month into the third quarter of 2008. Clearly, Cott remains a 'show me' story.
Mr. Hartley maintained his market perform rating on the shares and arrived at his price target by applying a multiple of five to blended 2008 and 2009 estimates on adjusted earnings before interest, taxes, depreciation and amortization.